EUROPEAN SUPER CUP
Super Cup 2018: Real Madrid 2-4 Atlético - match report, goals
Two goals by Diego Costa and one each for Saúl and Koke saw Atlético win their third Super Cup at the expense of city rivals Real Madrid.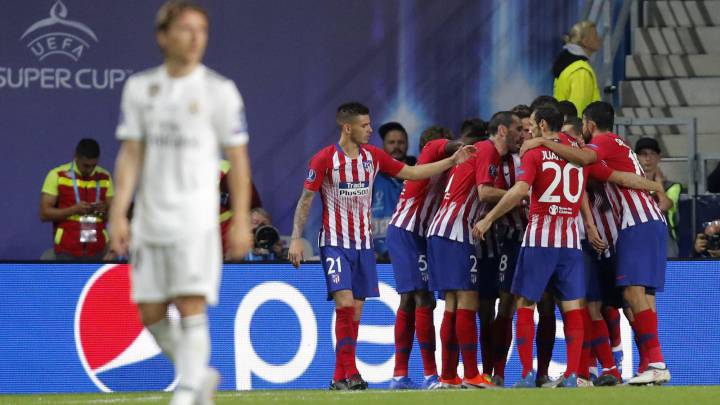 Super Cup 2018: Real Madrid 2-4 Atlético: match report
Atletico Madrid beat Real Madrid in the European Super Cup in Tallinn on Wednesday night after taking the lead, losing it and eventually wrestling it back off their opponents in extra-time. With Simeone in the stand serving a ban from last season's Europa League semi-final sending off, Atletico kept their cool and stayed on course, ultimately winning the game in the first half of extra-time with decisive strikes from Saul and Koke.
It was the start of a new era for both clubs in Estonia on Wednesday night. There have been changes galore at Real Madrid and Atlético Madrid this summer and question marks remain over their identities this coming season. One man who hasn't changed and doesn't seem to be planning on doing so is Diego Costa. He bulldozed his way into the penalty area, headed the ball delicately past Raphael Varane and then slammed a shot home from an almost impossible angle after 51 seconds.
Real Madrid under Julen Lopetegui could not have gotten off to a worse start. Slowly though, they wrestled control of the game back off their city rivals. Marcelo down the left, fresh off World Cup duty and Bale looking to replace Ronaldo in Real Madrid's hierarchy were both causing problems on either side. They were opening spaces inside with Asensio and Benzema picking up the pieces inside.
After 27 minutes, Karim Benzema had Real Madrid level. A ball in from Bale on the right, with his right-foot, landed perfeclty on Benzema's head and he slid it past Oblak in Atletico's goal.
In the second half, Sergio Ramos slotted home a penalty after Juanfran handled the ball from a deep corner aimed at Karim Benzema. Atletico looked like they had gone ahead too early and would have no response.
Some quick thinking from Simeone, however, and a rearrangement in his midfield saw Angel Correa come on to cause problems in Real Madrid's penalty area. He poked a pass to Diego Costa in the six-yard box on 79 minutes and the striker doubled his account and Atlético's with the score level and the end approaching.
With two sides suffering from fatigue and with both managers wanting to win while protecting their exhausted troops for the weekend with LaLiga approaching, the game went to extra-time.
A rojiblanco blitz with two goals in five minutes sealed matters.
The first came from Saul after Thomas squared to the waiting midfielder. It was the perfect volley and sent Atletico on their way. Just moments after, Vitolo clipped one towards Koke and he side-footed beyond Keylor Navas to leave Real Madrid with a mountain to climb and with a miracle needed.
They couldn't manage that miracle and Julen Lopetegui's job just got a lot harder having lost a final to a city rival in his first game. It was the first time Atletico scored four against Real Madrid in a final too, which won't help.
Diego Simeone, however, having lost so many finals to los Blancos, will be excited by the effort and the stubbornness his side showed to stay in the game and fight back to win. He'll know that Atletico aren't far off and if they can fight like they did in Tallinn on Wednesday night for the next 10 months, there will be more trophies to be collected when it's all said and done.
Super Cup 2018: Real Madrid 2-4 Atlético: as it happened
120'+1' GAME OVER! 
120'+1'   Carvajal slides in on Saul and that's it.
120'+1'   Another corner and it's headed out. Just one minute of added tim and it's nearly finished,
120'+1'  Headed out for another corner by Juanfran.
120'+1'   Corner for Real Madrid and Correa heads clear.
120'   Modric shot is head up into the air by Godin. 
120'   Atletico Madrid have retreated all the way into their own penalty area.
120'   Modric cross is headed clear.
118'   Cross comes in from the right and Oblak is comfortable.Varane the closest Real Madrid player to it but it's well over his head.
117'   Real Madrid keep attacking. Ball into Ramos and he goes flying through the air. Wins a corner but gets a knock to the head. He's laying it all on the line her. Another corner.
116'   Marcelo clips one into the box. Vitolo tries to see it off and Vazquez bulldozes him to the ground. 
115'   Lucas foul on Vazquez. Ball is flicked past him and he just catches the winger. Quite cynical but no yellow.
114'   Better from Real Madrid. Luka Modric with a strike and Oblak saves. It took a deflection too.
113'   A shoulder to Saul's chest. 
113' Saul hits the ground. Ramos booked for the challenge.
111'   Vitolo with a lovely move and loses Carvajal but doesn't shoot. He wasted the chance though. He has been impressive though.
110'   Correa breaks free but Varane covers well. He sends the ball across the field and it's picked back up by Real Madrid. Marcelo cross and that's cleared by Atletico. Heading the ball away now at will. 
109'   Modric fouled by Juanfran as Real Madrid try to mount an attack of some sort. They're struggling with ideas now. 
109' Diego Costa replaced by Gimenez. 
108'   Ramos takes Correa down. Fairly tame one but at this stage, with tired legs, Correa stays down. 
107'   Ball into Vitolo and he chests it down. But it's cleared by Real Madrid as his chested takedown is just a little too strong.
106'   Hardly any time for a break. We are back underway for the second half. 
105'+2'   That's it for the first half in extra-time. 
105'+2'   Atletico break and Partey falls over. So unlucky.
105'+2' Vitolo booked for not going back far enough.
105'+2'   Vazquez fouledby Lucas Hernandez. Sore one on his jaw that time. Some fairly full-blooded tackles going in here.
105'+2'   Up again. Costa and Carvajal get into it off the field. Costa the instigator. Corner for Atletico.
105'+2'   Vitolo down with a hamstring injury. He looks like he is in real trouble. Or is he just killing time.
105'   Now Real Madrid have to live through this for another 15 minutes. Can they respond.
104' Koke makes it 4-2. That is game over. Vitolo with a lovely ball to Koke and he hits it on the bounce.
103' Mayoral for Kroos.
102'   Benzema races through and Oblak is out to gather.
100' Lucas Hernandez gets a forearm to the face and Luka Modric is booked for it.
99' LORD! What a goal. Ball pulled back to Saul Niguez and he absolutely buries it. Thomas with the pull back.
98'   Atletico eventually get their feet on the ball. Ceballos fouls Koke and they have some respite.
97'   Marcelo with a cross that is way too deep.
97'   Corner now for Real Madrid as Lucas puts it out after Carvajal cross low.
96'   Loads of crosses now and Atletico under the cosh. 
95'   Ceballos with a nice ball out to Marcelo and Juanfran puts it out for a throw. Benzema brings it down the line and Thomas clears. Marcelo with another cross and Godin headers away. It lands to Carvajal and Oblak gathers it.
94'   Free for Real Madrid. Saul slides in on Vazquez and Atletico win a throw at the end.
93'   Varane all the way back to Navas after intercepting a dangerous ball in behind by Correa. 
92'   Real Madrid looking the fresher here so far. 
91'   We are back underway for the first half of extra-time.
90'+3' No more time as we are headed for extra-time.
90'+3'   Marcelo with an acrobatic effort but he missed the ball completely. Nice chance on the counter.
90'+3'   Into the last minute of added time now and Oblak clears. Correa wins after a mistake. He plays to Thomas and Atletico go all the way back. They're all set for extra-time too.
90'+2' Ceballos with a yellow card. He goes in hard on Correa after the ball and that's a foul. 
90'+2'   Three minutes of added time. 
90'+1' Thomas Partey on for Thomas Lemar.
90'   Long ball to Correa and he wins it. He plays it to Costa and instead of shooting, he hesistates far too long. 
89'   Saul in possession and proof that both sides happy with extra-time as he has an age to think about his pass.
88'   If Real Madrid don't steal one. They have been the better side for the last few minutes. They're failing to really trouble Oblak though.
88'   Looks like we are heading for extra-time here. 
87' And now Koke fouls Benzema. 
85' Koke lucky to win a free as Modric bundles him over. He was in trouble if the referee didn't blow the whistle there.
85'   Vitolo with a foul on Vazquez. Real Madrid continue to dominate since the goal. 
85'   Kroos with the cross and Benzema is whistled for a foul nowhere near the ball.
85'   Cross from Lucas Vazquez and it's blocked for a corner. 
83' Vazquez coming on for Isco.
83'   Throw for Real Madrid now. They have really picked things up after that goal. 
82'   costa offside as Juanfran plays one through to him. He needs to be careful now that he is on a yellow and has a word with the linesman on the endline.
81'   Modric plays the ball through to Bale and he has all of Atletico's player scrambling. Oblak rushes out and grabs it. Too heavy for Bale.
79' Ball into Correa and he nearly messes it up but it falls to Costa. What a finish into the roof of the net.
77' Casemiro off for Casemiro.
76'   Ceballos getting some instructions off Lopetegui now. 
75'   Atletico really dominant now. Lemar cross and Ramos really calm with the header down to a teammate. Real Madrid get it away.
74'   Excellent move again from Atletico. Lemar out wide and it's played to Correa. He pulls it across goal and Keylor Navas with safe hands down low.
73'   Clearance blocked by Correa and it's out for a throw. He didn't know a whole lot about that one.
72'   Lucas down the left. Atletico with loads of possession now but can't get any shots away.
70' Vitolo replaces Rodri.
70'   Worked short and it comes across to Varane. His left-footed effort curls into an Atletico defender. Modric tries his luck but that's over the bar.
70'   Bale with a run across the field. He gets into a difficult position and strikes but Juanfran puts it out for a corner.
70'   Lucas with a cross deep and out over the endline. Not how Atletico want to approach this one.
69'   Lemar fouled as he bursts through the middle. Isco the man at fault.
68'   Correa with a diagonal pass to Costa and Varane cuts it out. Isco slides in on Saul and it's a throw. 
67'   Real Madrid with some really slick passing through Atletico's pressing. They lose out in the end but Atletico's counter is of no use. Real Madrid recover.
67'   Real Madrid up the other end and Benzema has a shot. Saved by Oblak. 
66'   Juanfran on the endline and he passes it back but it's only as far as Kroos.
65'   Referee gives the two men a talking to and we are back in action.
65'   Hard to tell what's happening and whether Costa meant it but he definitely connected on the back of Ramos' head.
65'   Costa chases the ball down the right and he clips Ramos on the back of the head. 
64'   Isco versus Juanfran and he gets a cross in but Savic steps out and gathers.
64'   Bale fouls Lucas. How do Atletico Madrid respond to this.
63' Ramos slots it home. Slightly stuttered run up and he sends Oblak the wrong way.
63' Costa booked for talking to the ref.
62'   Penalty for Real Madrid. Benzema at the back post from the corner. Juanfran handles the ball.
61'   Ball across the field and into the penalty area for Bale from Isco. He chests it down and Lucas gets it away. Corner for Real Madrid.
61' Angel Correa booked just after coming on. He fouls Casemiro. Unneccesary kick across the back of the legs for the Brazilian.
60'   Bale with a chance outside the box. Godin with a foot on the ball through and Bale tumbles over his leg. No free.
60'   Through ball to Correa. Ramos records and clears. Atletico win it back but it ends up with Real Madrid and they counter.
59'   More good work from Lemar and the cross comes in but Costa can't reach it.
57' Correa on for Griezmann.
57' Modric on for Asensio.
57'   Griezmann hesitates with the free and the players making a run are offside. Handy one for Real Madrid to clear.
56'   Free for Atletico in a dangerous position now to whip it in. Hand ball by Kroos.
55'   Juanfran getting treatment on his ankle after that one. 
55' Marcelo goes through the back of Juanfran after the ball is gone and he gets booked.
54'   Modric warming up for Real Madrid.
53'   Asensio picks it off and Atletico win is straight back. Costa through as Griezmann pokes it to him. Out for a goalkick as Carvajal covers well.
51'   Atletico throwing the ball around now. No chances yet in this half but they have been the pore proactive side.
50'   Lucas jumps into Isco in the air and handles the ball in the process. Free Real Madrid and then Asensio hits the ground afterwards. 
50'   Lemar fouled as Casemiro crunches him in the ribs as he falls forward. Bale with the original foul as he pushed Lemar forward and into the Brazilian.
49'   Griezmann takes a shot and it rebounds off Varane and hits him. Out for a throw for Real Madrid.
49'   Juanfran in the penalty area and he fouls Kroos. A little over zealous there looking for the ball. He complains but no real question about that one.
48'   Saul hunting down the ball and Isco slides in and fouls him. 
47'   Real Madrid are patient and Atletico lose it. But Real Madrid's throw is off target and it goes straight back to Atletico.
46'   Atletico on the ball to start. 
46'   We are back underway and there are no changes for either side after the break.
45'+1'   Referee blows for half-time after the one minute of added time has elapsed.
45'+1'   Another counter and Costa's touch lets him down. 
44'   Kroos fouls Rodri. Atletico playing the ball around very deep. Lemar very impressive with his calm manner in the tighest of quarters.
44'   Two teams begging for the break now.
43'   Atletico win a corner.
42'   Lemar and Griezmann link up again. Lemar looks excellent so far.
42'   Juanfran nutmegged by Benzema. Atletico recover though and Atletico break with Rodri.
41'   Ball down the right to Koke and he squares to a waiting Navas. Teams tiring here. 
40'   Bale decides to go rogue and drives a shot from outside the box. It goes well wide but not a bad effort.
38'   Godin with the header and it's straight to Navas.
38'   Juanfran puts good pressure on Asensio and he kicks it to him. Corner for Atletico. What a half of football this is.
37'   Isco looks for a through ball to Marcelo. Nice idea but it's out over the endline.
37'   Really high intensity from Real Madrid again. They force Atletico into a long ball and los Blancos recover.
36'   He grazed the side of Costa's shoulder. 
36' Atletico counter and Asensio trips Costa. He gets himself a booking too but he's not happy. 
35'   What a pass from Bale to Asensio. He stalls and Atletico recover.
34'   Lucas with a nice cross in that is headed out to Rodri. His shot is blocked and Real Madrid break.
33'   Nice move from Atletico with Koke linking with Griezmann but Koke's pass to Costa is cut out and cleared.
32'   Marcelo fails to control a ball out wide to him. Throw for Atletico.
30'   Griezmann with an errant touch to give Real Madrid back the ball. Real Madrid with all the possession now.
29'   Asensio races clear and he cuts inside. He curls one with his right. So, so close. Rodri needed to put his foot out there and didn't. Real Madrid continue to improve here.
28'   A right-footed Bale cross too.
27' GOAL! Karim Benzema with the header from Bale's cross. Real Madrid have been improving. Lovely cross from the Welshman. 
25'   Marcelo cuts inside and shoots with his left. Over the bar. He had Oblak thinking about it though.
24'   Marcelo steals a march on Lemar with a nice move. Savic steps in and intercepts his pass through the middle though. 
24'   Lemar arrives late on Kroos. Free to Real Madrid.
23'   Real Madrid cough it up and Atletico try to build an attack. Real Madrid clear. Atletico on the ball again after some good Real Madrid possession.
Koke chases down a ball back to Navas. His clearance is out over the sideline.
21'   And now Lemar fouled by Benzema. 
20'   Bale goes down holding his calf. Lucas goes through the back of him. 
19'   Back in action and both players back on their feet.
18'   Costa and Ramos collide again. Both down and it's fairly obvious they clashed heads. No fault.
17'   Benzema inside the box and gets a couple of lucky bounces as Atletico fail to clear. Real Madrid win it back after Atletico do get it away. Marcelo cross, Asensio backheel and Benzema is in the mixer but can't do anything with it.
15'   Free for Atletico and it's a training ground effort as Lemar plays it short to Saul and then sends it towards Griezmann.
15'   Real Madrid camping out in Atletico's half. Lemar wins it back and runs into Kroos. Ref blows his whistle but more of a collision than anything else.
14'   Reall nice flick through two defenders by Bale and he is fouled. Free comes in and Atletico header it away. 
12'   Marcelo with a cross. Godin chests it down to Oblak. Danger averted.
11'   Isco with the ball to Kroos, and it's out wide left. Corner for Real Madrid. Diego Costa headers it away.
11'   A glimpse of Simeone in the box he has to stand in as he's banned from the touchline. Pacing up and back. 
10'   Savic with a perfectly times tackle to cut out the pass to Bale. Real Madrid growing into this one. But they can't get anything going.
9'   Throw for Atletico Madrid. 
8'   Sergio Ramos with a foul on Diego Costa. A fairly nasty elbow to the face there.
8'   Asensio out wide to Benzema and he plays to Isco. Cross is headed out and Lemar clears.
7'   Lucas Hernandez fouled by Gareth Bale as he tries to cut in from the right.
6'   Real Madrid finally win the ball and Ramos plays it to Benzema.
5'   Griezmann keeps the ball and plays to Lemar. Atletico have settled in way better to this game.
4'   Corner for Atletico Madrid. Griezmann delivers and it's headed out but Lucas wins it and loses it again.
3'   Real Madrid didn't even have a touch of the ball before that goal.
2'   Varane caught out completely with the header. 
2'   WHAT A GOAL! Costa heads it into his own path and he absolutely slams it home.
1' Atletico on the ball to start. Long ball down and Costa scores!
1'   We are underway! Simeone blesses himself. Hold on to your seats folks.
    Some version of an official Uefa European Super Cup anthem, it sounds like, as the teams stand before the trophy. Handshakes all around now as the teams make their way down the line. We are almost ready for action.
    Now there's kids singing a capela version of 'You got the love' as the teams get ready in the tunnel. 
    A mixture of some Irish dancing and Scottish country dancing too. 
    Some traditional Estonian dancing on the field now before the game.
    Lemar being put through the paces before the game. His first start in competitive action for Simeone and Atlético Madrid.

    Spanish teams just love winning the Spanish Super Cup. Nine winners from LaLiga in the last decade.

    Bale and Benzema out to prove a point tonight. 

    Diego Simeone will have to watch the game from his own private box after his sending off against Arsenal last year in the Europa League semi-final. The side feed off his energy and it will be interesting to see if his absence has an effect on his side.

    Both teams will play in their home strips tonight. Not a complete clash but the white on white might not be great. 

    A couple of surprises from Simeone. Filipe Luis was expected to start and instead Lucas Hernandez comes in fresh off his World Cup success. Meanwhile, Jose Gimenez doesn't start either with Stefan Savic replacing his teammate. Thomas is replaced by Rodri, which was expected and Griezmann starts.
    Atlético Madrid XI: Oblak; Juanfran, Savic, Godín, Lucas Hernández; Koke, Rodri, Saúl, Lemar; Diego Costa, Griezmann.
Casemiro starts despite good showing from Ceballos but he'll have to do more to earn a spot in that midfield. Isco starts and Bale, Benzema and Asensio are named in the attack. One of the main aspects of Lopetegui's attack is that his sides press high and play expansively. Atlético Madrid could hurt them on the break but Casemiro's presence at the base of midfield should certainly help there.
    Real Madrid XI: Keylor Navas; Carvajal, Varane, Ramos, Marcelo; Casemiro, Kroos, Isco; Bale, Benzema, Asensio.
    Team news coming soon....
    Both sides kicking off new eras. Real Madrid dealing with the trauma of losing Ronaldo as Bale and co. look to take charge and make their mark while Atlético Madrid spent a lot of money this season after keeping Antoine Griezmann from Barcelona's clutches. They have a squad to compete on all fronts and will be hoping to kickstart their season with a win over their bitter rivals in Estonia on Wednesday night. 
Hello and welcome to out live coverage of the European Super Cup between Real Madrid and Atlético Madrid from Tallinn with kick-off at 21:00 CEST.
Super Cup 2018: Real Madrid - Atlético live online: match preview
Real Madrid and Atlético Madrid meet in Tallinn, Estonia on Wednesday in the European Super Cup in what is a Madrid derby with a difference. It is the first European Super Cup between the sides after Atlético sealed victory in the Europa League over Marseille and Real Madrid beat Liverpool in the Champions League final. It's Julen Lopetegui versus Diego Simeone for the first time as managers of their respective sides. It's Griezmann versus Bale in the post-Cristiano world. It's Real Madrid versus Atlético Madrid for the first trophy of the season. Kick-off from A Le Coq Arena is at 21:00 CEST and there will be extra-time and penalties if necessary.
As far as team news goes, Diego Simeone can count on all of his players aside from Lucas Hernandez, who arrived back from World Cup duty and has not done enough training to make the squad. Antoine Griezmann returned after France's victorious trip to Russia this summer and has asked to play in Tallinn. He is competing for the Ballon d'Or and his manager says he is "well positioned" to win it and every trophy he can win between now and the end of the year will go a long way to helping him seal his first award of that kind. Gabi and Fernando Torres left this summer and Diego Godín has been named as the club's captain with Koke stepping into the second captain role and while the Uruguayan hasn't renewed his contract, his refusal to even listen to offers over the summer proves his loyalty and dedication to Simeone's project, if it needed confirming.
Atlético's summer has been exceptionally busy and we could get the first look at Thomas Lemar and Rodri in rojiblanco in competitive action. The French attacking midfielder has been under Simeone's watch for a couple of weeks having signed from AS Monaco and has been working hard after hearing about Cholo's excruciating preseason training. Rodri returns to Atlético, the club he played for as a kid, and should take the place left by Gabi and will likely start at the base of midfield. Jan Oblak recently rejected an offer from Chelsea, who were willing to pay his release clause and he will also start in front of an experienced back four that includes Juanfran, Godín, Giménez and Filipe Luis.
Real Madrid are entering a new era. They sold Ronaldo in the summer to Juventus in what was an unexpected move and while that is a blow, Sergio Ramos says Real Madrid won't stop winning just because the Portuguese left. It is Gareth Bale's time to shine now and he has had an injury free and successful preseason under new manager Julen Lopetegui. Luka Modric is the only player missing from Real Madrid's usual XI and new signing Thibaut Courtois is not in the squad as Keylor Navas has a chance to win playing time against Getafe on Sunday in the league with a good performance.
Casemiro and Marcelo were late back to training after their World Cup stint and there are question marks over their inclusion in Lopetegui's first ever starting eleven. This could be a blow considering Casemiro's record in European finals with Real Madrid. It could prove a chance for Dani Ceballos, however, who has impressed in preseason under Lopetegui amongst other youngsters.