LALIGA
Inter to take legal action against LaLiga president Javier Tebas
The Italian club has announced it is going to take legal action against Javier Tebas over his comments to a Spanish newspaper regarding Inter's alleged approach to Luka Modric.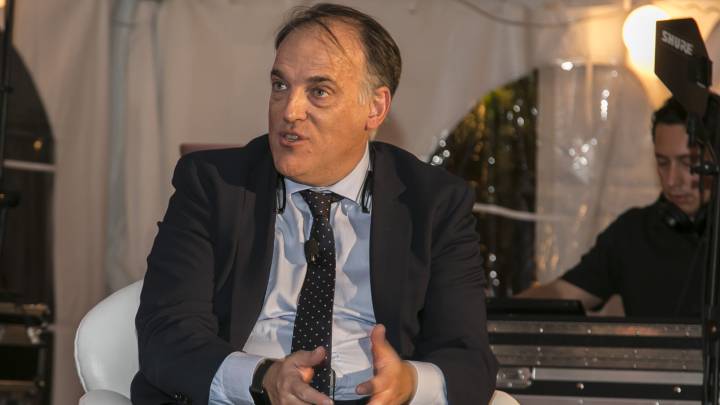 Inter Milan has issued an official statement this Friday in which it has announced that it will take legal action against LaLiga president Javier Tebas for his statements about the Italian club in an interview with Spanish newspaper ABC.
"FC Internazionale Milano confirms that the club will take legal action against Mr. Javier Tebas, after his statements made to the press today," read the brief statement.
In the interview published with ABC, Tebas is quoted in the headline as saying: "We cannot compete with clubs like PSG or Inter that cheat."
Inflating the market
Tebas goes on to say that: "We will have to ask ourselves why there are clubs that are inflating the market by buying players… Things happen that should not happen. I mean PSG, but also Juventus with the signing of Cristiano Ronaldo or these offers from Inter Milan, which has no money to sign players and then offers Modric a lot of money which it is going to get from I don't know where."
"You're talking about cheating by some other European clubs?" the ABC journalists asks him, to which Tebas responds: "At Juve, I don't know, we'll have to see how the operation (with Ronaldo) turns out in the end. But Inter's offer to Modric was cheating, the issue of PSG with Neymar was cheating."
Inter's intention to take legal action comes after earlier news this Friday that Real Madrid have made a formal complaint to Fifa about the Italian club for making an unauthorised approach to Luka Modric.
Inter have subsequently denied that they ever approached Modric. Whether true or not, any hope the Serie A club had of signing the midfielder have been lost, with the Italian transfer window now closed as of this Friday evening at 8pm.