FOOTBALL
Football Manager 2019 review: Bigger than ever, but better?
Sports Interactive has added new tactics and training modules to Football Manager, but how does the latest update play?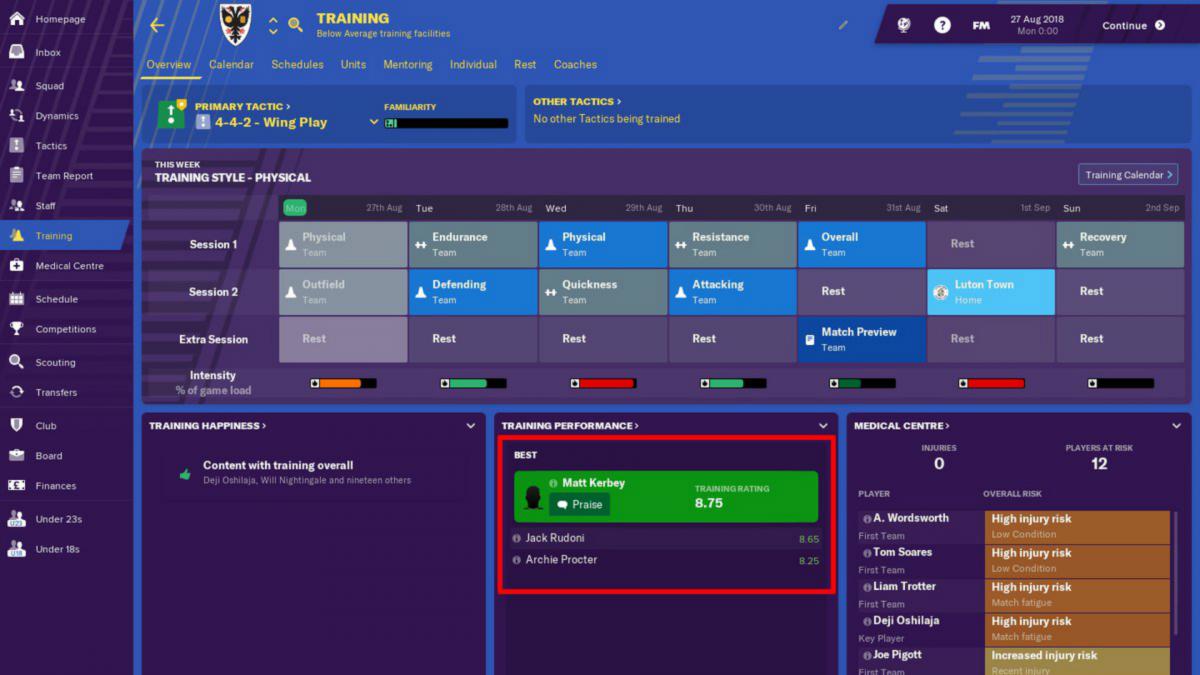 Football Manager is back and franchise fans will be ready to sign away all their free time to one of the most engrossing video games ever created.
Lambasted as a series of spreadsheets by people who have never experienced the glory of leading Dulwich Hamlet to the Champions League title, FM19 feels like a new chapter for the long-running management simulation.
Starting a fresh save offers a familiar process to regular FM players, but there is a clear attempt to simplify the admin side for those who have little interest in the nitty-gritty details of management.
LaLiga troubles for FM19
As usual, badges and faces are missing for many teams and players, while opening a career with Real Madrid presents league fixtures against 'Real Hispalis' and 'Real San Sebastian'. Completists may find this annoying, but this iteration of FM has added Bundesliga and Germany rights – at last.
There are few obvious changes to the layout of the main menu, with a navigation bar on the left allowing managers to move around their make-believe world. And as always, there is so much depth that it is easy to get lost for hours simply clicking through the maze. The overall look is undoubtedly a little cleaner than versions in the last few years, which could appear cluttered.
What's new on FM19
But what's new? Training and tactics have both been given a serious revamp, with the idea that changes made pre-match have more of a noticeable impact on what happens during games. Those who wish to do so can now spend hours fine-tuning their training and tactics before every single match in a bid to find that winning feeling, though more casual players will hope they are not punished for leaving all this to their assistant.
Detailed inductions are available so players are not just thrown into the deep end, but there is certainly a lot to take in when getting started. In truth, the training module may be too vast for most players to be interested enough to plan sessions in detail.
Starting a game with Madrid to try to improve on Julen Lopetegui's dreadful reign presents the obvious dilemma – how to replace Cristiano Ronaldo? Firing up the scouting system and searching for a complete striker produces an obvious candidate – trophy-winning experience in multiple leagues, knows his team-mates from international football and has played in LaLiga... it's Alvaro Morata. Oh.
Inter refuse to sell Mauro Icardi and Bayern Munich won't entertain offers for Robert Lewandowski, and a £55million budget does not stretch to top-tier talent anyway. Instead, we take a punt on Memphis Depay from Lyon to cover a few different attacking positions.
The match engine continues to pretty retro, but the animations work smoothly enough and, most importantly, players carry out instructions properly – including those given during a game.
Unfortunately, there is no 'score a goal' shout that can be used for Karim Benzema, but when substitutes Vinicius Jr and Marco Asensio combine for an extra-time UEFA Super Cup winner against Atletico Madrid by carrying out a mid-match tactical tweak to the letter, it feels fantastic.
Dealing with the media still seems like a distraction, which is probably how many managers feel, while the social feed remains in desperate need of an overhaul or being removed altogether. Annoyingly, some press conference questions have remained identical for years.
Running the game on a three-year-old mid-range laptop can be slow, but database size can be adjusted accordingly, and newer machines should cope just fine.
Like always, FM19 will demand a huge amount of time to get the most out of the game. Typically, players rack up hundreds of hours on their saves and this year's version will be no different.
The addition of much-needed levels of depth to tactics and training makes it easier than ever to get completely lost in the FM world.
Football Manager 2019 is released on November 2. We played a beta version.