Melilla-Real Madrid, Copa del Rey: match report, as it happened
Goals from Benzema, Asensio, Odriozola and Cristo give Madrid a comfortable first victory for interim coach Santiago Solari in the Copa del Rey.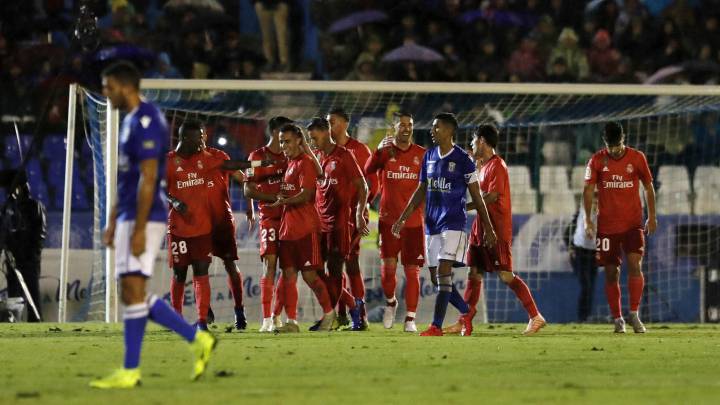 Melilla vs Real Madrid: match report
Santiago Solari got off to the perfect start as Real Madrid's interim coach when his side thrashed Melilla 4-0 in the Copa del Rey on Wednesday. In their first match since Julen Lopetegui was sacked after a dire run capped by a 5-1 loss to Barcelona on Sunday which left the European champions ninth in La Liga, Solari's side dominated their fourth-tier opponents.
Solari saved the likes of Gareth Bale, Luka Modric and Toni Kroos the trip to the north coast of Africa and the Spanish enclave of Melilla, but did start with captain Sergio Ramos and striker Karim Benzema in the round of 32 first-leg clash. Frenchman Benzema, who has struggled for form this season, broke the deadlock from close range after being teed up by Alvaro Odriozola. Real doubled their lead just before halftime after good work from Vinicius Junior, who found Marco Asensio in the box and the Spaniard fired home.
Brazilian striker Vinicius, largely ignored by Lopetegui, struck the crossbar in search of the third, which was eventually bundled in by Odriozola, another player who struggled to get minutes under Lopetegui. Substitute Cristo Gonzalez added a fourth in stoppage time to give Solari a convincing debut win. The second-leg matches take place between Decemeber 4-6.
UD Melilla - Real Madrid live online: match commentary
90'+2' GAME OVER!
90'+2' GOAL! 4-0. Cristo with the goal. Odriozola with the cross after the corner was worked short and the Castilla striker heads home. Barrio got a hand to it but couldn't keep it out.
89'   Nacho leaps for it but he can't get a head on it. Crossed back in and Barrio punches clear.
89'   Vinicius with a cross from inside the box. It lands to Cristo, who waits, waits and waits some more before shooting over the bar. Corner though as it took a nick on the way out. 
86'   Vinicius with a lovely pass into the path of Cristo but Barrio is off his line and he clears. Really nice through ball from Vinicius.
85'   Lucas tries a cross but it's blocked and Melilla counter. They've really run out of steam here. 
84' Bueno comes on for Garrido. Melilla's final sub.
82' Cristo coming on for Real Madrid. He replaced Asensio.
82'   Ruano bundled over by Lucas. 
81'   Vinicius with a lovely touch and run down the left. He leaves Chakla for dead and the cuts inside before winning the corner with his deflected shot. Impressive in these conditions. 
79' Odriozola drives home after a goalmouth scramble. Reguilon drills it towards goal and it bounces up to Vinicius as he slides in but Oriozola is on hand to finish it off. 
77'   Valverde with some lovely skill to send Vazquez down the right. That's a really well worked chance as Asensio shoots. Nearly 3-0 as Barrio beats it away.
77'   Another injury for Melilla. Chakla goes down now with what looks like a cramp.
74' Another change for Melilla. Martinez off for Braim Amar.
73'   Brian, the sub, almost gets on the end of a cross and Nacho gets across to cover. Ball back inside for Ruano and he blazes wide. So close. 
72'   Vinicius recieves the ball from the left. He absolutely wallops one towards goal and it hits the underside of the bar. Nice shot and Vazquez with the foul as he follows that in. 
70' Yacine, who has looked dangerous, is replaced with an injury it looks like. He is replaced by Brian Martin.
67'   Reguilon into the middle as Asensio finds Lucas. Crossed and cleared for a corner. 
66'   Asensio drives into the box and almost recieves the through ball. Barrio comes out to close the angle. Vinicius fouls Chakla shortly afterwards and Melilla have a free. 
64'   Ceballos drives forward and has Reguilon in support. He gives it back to Ceballos and it makes its way across to Vinicius, who finds Llorente. Good strike and it's saved by Barrio. 
63'   Free for Melilla. 
62'   Almost 3-0. Vazquez with the ball outside and the box and somehow manages to keep it as he tees up Ceballos. He drives towards Barrio and it's saved. 
60'   Melilla on the bll now and it's sent out to Chakla. He whips it in but that's a mile off target. 
58'   Cross in from the left and Odriozola blocks the first effort, before blocking it again as it goes out for a throw.
56'   Vinicius crosses and Mahanan scrambles it away.
55'   Corner deep to the back post. Gather by Navas in the end.
55'   Really close as Martinez crosses. It takes a deflection and it is almost helped on to Yacine. he can't get anything on it though.
53'   Reguilon chases Yacine back and gets ahead of him. No free as he wins the ball back cleanly. Good, solid defending from the level back.
52'   Valverde drives forward and lays it off to Vinicius. They try to work it into a position to cross but it's cleared by Melilla.
50'   Shot from Ruano from way out. Really ambitious and never troubling Keylor. Nacho down injured after taking a shoulder to the chest, it looked like. Back to the free.. it looks like it screwed off Ruano's boot the wrong way and it wasn't actually a shot. 
48'   Ruano down the left. He gets the ball inside. Yacine hesitates, gets space and shoots. Blocked and cleared eventually by Real Madrid.
46'   We are back underway for the second half. Melilla with a tall task ahead of them.
Fede Valverde comes on, as does Nacho. They replace Benzema and Ramos.
45'+1'   HALF-TIME! Players can't wait to get back into the dressing room and out of the rain.
45'+1' Vinicius with the assist and Asensio slots it home. Nice ball into the box with the outside of his right foot and Asensio finishes with his left.
44'   Vazquez again. He tries to pass it into the net this time but Barrio again refuses to be beaten. 
43'   His shot is blocked for a corner. Headed up into the area and it falls to Ramos, who shoots and sees his effort blocked! Back to Navas it goes in the end. 
42'   Ball inside to Vazquez and he can't get the right moment to shoot. He takes it too far out to the right before sending it through to Odriozola, who has overlapped.
41'   Melilla finishing the first half strongly. ruano plays inside to Yacine but he loses out and Real Madrid break.
40'   Melilla attack. Martinez playing on the edge but linesman, this time, says he's off. He wasn't! He missed anyway but he heard the whistle.
39'   Vazquez goes so close to a second. Barrio denies him. He was one-on-one with the keeper and he fires at his feet.
37'   Asensio with a strike but that rolls to Barrio. 
37'   Ruano again involved in an attack but he can't help from running it out for a goal kick this time.
35'   Corner for Melilla. Ruano steps up to take. Bit of pushing and shoving in the box but ref puts his arms out and says he saw nothing untoward.
32'   Ceballos back up and looks to be okay. Fede Valverde is up and warming up but he might not be needed. Ceballos looks okay.
32'   Yacine drives forward and Ceballos is down in a heap. No contact made with him and he tried to turn but his knee kind of gave way. Hopefully that's not too bad for the midfielder. 
32'   Headed out to Ceballos, who runs in and picks it up. Cleared by Melilla but only for a throw. Real Madrid continue to control this one. 
31'   Chakla with another foul. This time it's on Vinicius and he needs to be careful. Free for Real Madrid out on the left. Promising position. 
30'   That goal was coming and could either make Melilla or embolden them. We're about to find out. 
28' Odriozola in the box. He has tonnes of space and squares to Benzema! GOAL! Way too easy for Real Madrid.
27'   Navas launches clear as Melilla chase him down. The boys in blue win it back but Ruano runs it out over the sideline. 
26'   Ball across the box for Vazquez. It's blocked out and Melilla survive again.
25'   Melilla win the ball back high up the field but they can't capitalise. Qasmi ran around in a circle and sent the ball out to the right but the right-back wasn't on the same page. Increasingly rare attack for Melilla and they need to hold it for longer than that.
23'   Corner Real Madrid. Close from Vazquez but it's tipped over. Comes to nothing, initially, but Real Madrid keep it. Whipped across to Asensio but way too wild of a pass.
23'   Benzema strikes with his right. Vinicius ran into the box and it bounced up to Benzema after he was tackled. Benzema's shot is blocked.
22'   Ramos with a foul on Qasmi. The two players were battling for it but Ramos was behind and seemed to pull the attacker back. 
20'   Real Madrid improving now. Still no luck though as Vinicius loses control, if he ever had it, and Melilla clear. 
19'   Vazquez caught quite late and goes down in a heap in the rain. It's really coming down now. No booking but it is a free for Real Madrid.
17'   Another ball in and it's punched away by Barrio this time.
16'   Really good ball after some nice work from Real Madrid. Arrives in from the left and it just beats everyone including Vazquez, who looked to get a hand to it. 
15'  Reguilon forced to come across and clear in the middle as Melilla continue to attack. They're really confident so far. 
15'   Lashing rain now in Melilla. Apparently it only rains there three times a year! Real Madrid bringing the weather from the capital with them.
15'   Offside for Ruano. He tried to hold the line but the ball from the middle catches him off. 
14'   Throw for Melilla. 
13' Ruano with a run down the left again and he gets held up by Odriozola before putting it out for a goal kick. 
11'   Melilla pressing high up the field now and causing problems for Real Madrid out from the back. Chakla booked now for a late one on Reguilon. 
10' Ball breaks for Melilla and Javi Sanchez absolutely cleans Qasmi out of it and gets booked.
10'   Real Madrid causing problems now. Ball into the box and it takes an awkward bounce out to another Real Madrid jersey. 
9'   What a combination. Martinez arrives down the right and the ball arrives. He was a mile offside but the linesman doesn't give it. He strikes just wide as Navas comes out to close him down.
8'   Melilla fans cheering on every pass their side make.
7'   Game is more even than many might have thought it would be. Only eight minutes in but Melilla not taking a step back.
5'   Ball in over the top to Benzema but Barrios rushes out and grabs it.
4'   Ball out to the left and Reguilon gets the ball to Vinicius. He crosses and Asensio directs it towards goal. Barrio saves.
3'   Ball back to Navas from Sanchez and they play it out and Melilla retreat a little bit. Melilla very ambitious with their press though and nearly dispossess Ceballos.
2'   Another cross that turns into a shot. Ruano curled one and it nearly snuck into the top corner. Navas watching it all the way but that ball was swerving dangerously.
2'   Vinicius is on the left, Benzema up front and Vazquez is on the right of the attack. 
2'   Really hectic start here. Navas grabs a cross and launches it up the field. 
1'   We are underway as the Santiago Solari era begins at Real Madrid! 
    Melilla in their home blue shirt.
    Real Madrid wearing their orange second kit. 
   Teams on the field at Álvarez Claro in Melilla. We are ready for action. 
    Teams in the tunnel now. So many new faces in that squad. Javi Sanchez, a no nonsense defender from Castilla takes his place beside Ramos tonight. He will add some needed steel to the position.
    UD Melilla XI: Dani Barrio, Sofian, Juanmi Carrión, Richi, Mahanan, Alfonso, Igor Martínez, Lolo Garrido, Yacine, Otegui, Ruano
    Ramos is in poor form this season and seems to be at odds with some decisions being made at the club or being considered by the club and now his teammates? He liked a post criticising some of them, which won't go down well given the malaise they find themselves in.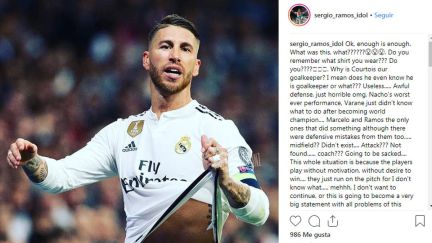 They also have injuries to Mariano and Varane along with Marcelo will also miss a couple of weeks with a hamstring injury.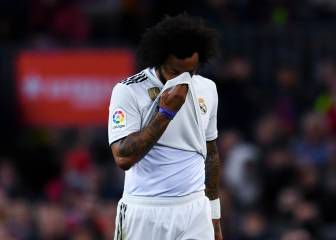 So, Ramos starts. This comes after Real Madrid met with a section of fans who were planning to whistle him for the next games.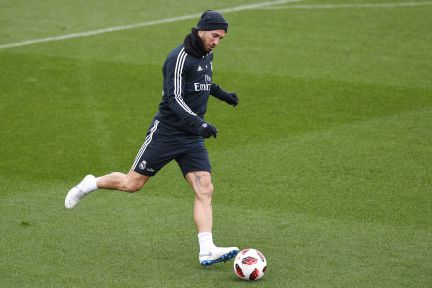 Real Madrid XI: Navas, Odriozola, J Sanchez, Ramos, Reguilon, Ceballos, Llorente, Asensio, Lucas, Benzema, Vinicius
    Hello and welcome to our live coverage of UD Melilla versus Real Madrid in the Copa del Rey. We will have build-up and team news along with live updates of the action as it happens! Kick-off is at19:30 CET.
UD Melilla - Real Madrid live online: preview
It's a new era at Real Madrid after the firing of Julen Lopetegui on Monday night. Santiago Solari enters the fray as the manager and will take the team on a provisional basis until Real Madrid can either find a full-time manager that fits their criteria or until the Argentine can convince them of his ability to do the job. His first task is a first ever trip to Africa to play the Copa del Rey against Melilla (you can read about Melilla, where it is and why they play in the Spanish Copa del Rey right here).
Real Madrid travelled to Melilla with 19 players and left behind Gareth Bale, Luka Modric and Toni Kroos but included several players from Castilla with the youngest being centre-half Adrián de la Fuente. It could be an antirely new look team as Solari tries to give minutes to players on the periphery in an effort to figure out who can offer something to the first team. Vinicius is seen as one of those players and he could start after Solari mentioned him in his first press conference on Tuesday as someone "who has a lot to learn and a lot to give."
Solari has plenty to do in the next week or two but said his main objective is to beat Melilla. He wants warriors on the field on Wednesday and says, "We have to go out to win, with a group of champions that feel hurt. We need to go out and change that."
Real Madrid squad for UD Melilla game
Goalkeepers: Navas, Casilla, Courtois.
Defenders: Ramos, Nacho, Odriozola, Reguilón, De la Fuente, Sánchez.
Midfielders: Casemiro, Valverde, Llorente, Asensio, Ceballos, Feuillassier.
Forwards: Benzema, Vázquez, Vinicius, Cristo.