Raikkonen: "I don't try to please anybody... I am the way I am"
Fresh from securing his first victory in five years, the Finnish Formula 1 driver sat down to talk to AS ahead of his final races with Ferrari.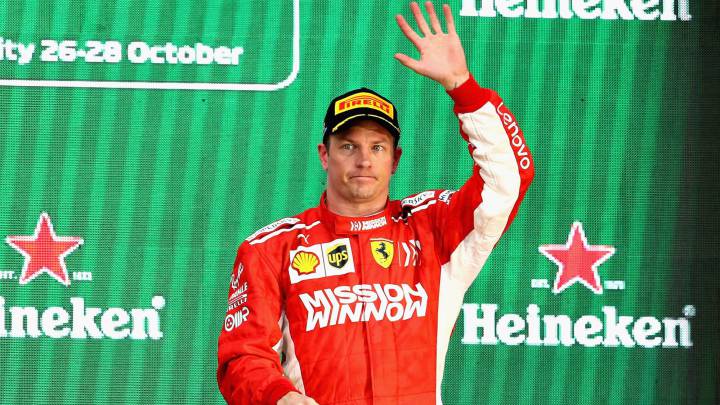 -How are you, Kimi? You look happy and relaxed...
-Yeah, I'm doing pretty good thanks.
-A lot of people were happy with your victory in Austin; what do you feel about it?
-It was great. We've been trying and we've come close many times, and now we've finally got it so it's great. So yeah, not too bad.
-Above and beyond that win, what's your analysis of this season for you and Ferrari?
-I think obviously, and it's always afterwards, but it's in your head that we should have done this and that but I think generally we've been pretty strong and we've been working as a team well. We've had some DNFs ['did not finishes'] that for sure weren't helpful, but that's part of the game unfortunately. I think we've given 100 percent all the time and we'll keep fighting.
-Has Ferrari been the best car this year?
-Sometime yes, but not always; but that's how it goes. If you ask any team, I don't think they can say that they've been the best car all the time. On some tracks this thing is best, [and is] better than [on] the next [track], and it's such a small difference and many things seem to make a difference, so certain times yes and other times no.
-People say that Fernando Alonso would be champion with this car; what's your opinion?

-You never know. People say a lot of things and, you know, we only know what we can see. I don't get involved in those questions.
-You've been a team-mate of Alonso's; what are your thoughts on his retirement?
-We've had some good battles over the years and, though it's sad to see him retire, the fact is that we'll all have to stop at some time or another. There's new blood coming through and us veterans will be the ones to make way. I'm sure he'll find races that will bring him plenty of excitement.
-You've competed in rallies and Nascar; what's your best moment outside of Formula 1?

-I really enjoy rallies...
-They say rally driving is the hardest discipline in motor sport...
-It's the most difficult, for sure. You need experience there 100 percent, because in racing you do certain laps and you know the track, and in rallies you go towards new things every time. You have to have good pacenotes and experience counts a lot more, and you need to know how to make good pacenotes. The key to going fast is having good notes and an understanding of them, and listening and driving at the same time. But I also enjoy Nascar; it was a great experience and, who knows, maybe one day I'll do both of them more.
-Would you like to take part in the Dakar Rally at some point?
-I don't know... I've seen it on TV and obviously it's completely different to [other] rallies, but I'm interested to try things in the future.
-You're leaving Ferrari this year. How has your time at the team been? Both first and second time round...

-Obviously there have been some changes among the people but it's generally the same. Of course the second time I knew how it was going to be in the team, and in many ways it's easier. As for the first time, we won the championship. But, you know, it's been very similar in many ways for me.

-And now, at the age of 38, you're embarking on a new chapter in your career at Sauber - your first team in Formula 1.

-Yeah, obviously I've been there but that was quite a long a time ago. It's close to my home, I'm excited to go there and they have everything that you need to build a good car, a fast car, and they've been improving a lot. I'm excited to go there. It's something different and I think we can do a very good job.
-You're one of the most-loved drivers among the fans. What's the secret?
-There's no secret... I do my own stuff and as long as I'm happy with the way I do it then that's fine. Some people like it and some don't, but I think it's right; I don't try to please anybody. I don't think it's the right way of living your life to try and please certain people. I don't think there's any secret. I'm the way I am and that's it.
-You've come across as a happier person in recent years; has family changed your life?
-Oh, for sure... I think family changes everybody's lives, for good; otherwise we obviously wouldn't have a family if you weren't going to be happy.
-I'm guessing it's hard for you to leave your wife, son and daughter behind when you go to races...
-It's not easy, for sure. I travel a lot and my wife, who is incredible, looks after the family when they're not travelling with me. Now it's harder than when we didn't have children; they're the most important thing there is.
-Thank you Kimi, and good luck.
-Thank you.