Salah gives Egypt last-gasp win over Tunisia in CAN qualifying
A late dribble and neat finish from the Liverpool star gave Egypt a narrow win over their rivals at the Borg El Arab Stadium.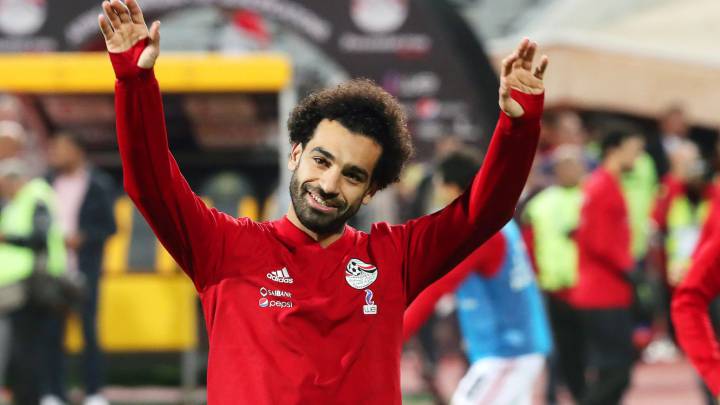 Egypt 3-2 Tunisia: match report
With both sides qualified for the African Cup of Nations already, Egypt welcomed Tunisia to Alexandria after suffering a 1-0 loss to their Friday opponents earlier in the competition. Despite not being the star man for long spells of the game, Mohamed Salah stepped up when needed to win it for his country in injury time with a splendid goal.
It was Tunisia who started better despite Egypt enjoying home advantage and hoping to overtake the visitors at the top of Group J with a win.
Wahbi Khazri won a free from tip and rattled the crossbar after just a minute. It got better for Tunisia shortly after when Sliti slotted home after a slick move on 14 minutes. The game was underway byt Egypt hadn't been informed of the start.
They eventually did find their feet and Trezegeut levelled after 32 minutes which came after substantial pressure on Farouk Ben Mustapha's goal. Tunisia looked dangerous on the break but it was Egypt's ball now and they were asserting themselves like a home side is expected to.
They took the lead after 60 minutes when a free was whipped in from the left and El Mohamady lost Bronn to head home from close range. What had from from a poor start turned into what looked like it could be a procession for Egypt.
But Tunisia turned their attack back on and Sliti levelled things again on 72 minutes when he continued a run from deep only to poke home a failed clearance at the back by Egypt.
The game looked like it was heading for a stalemate but Mohamed Salah, who showed flashes of his ability at times without ever wowing, had time for one act of brilliance.
In the 90th minute, he exchanged a one-two with Mohamed Mahmoud before controlling it, beating a defender and slicing over the keeper to win it for the home side.
He smiled as the referee blew full time before fans mobbed him on the field as their saviour once again. Egypt were already through to the African Cup of Nations and Salah, after some controversy involving their Salah and the Egyptian football federation, was back to being their swashbuckling star in a 3-2 win over Tunisia.
Egypt 3-2 Tunisia: match report
90'+4' GAME OVER! 
90'+3'   Egypt happy enough to cool things down now. They're taking their time over this throw. 
90'+2'   Into the second minute of extra-time. 
90'   Salah with his shirt off and he's booked for that. Egyptian fans don't care as they're off their seats! 
90' SALAH! He clips it over the keeper after a lovely one-two. That is a beautiful finish and a lovely goal. 
89'   Lovely ball into the box now with a backheel from Salah. Egypt have a chance now. They have to be patient but not too patient. Ball crossed and cleared and Egypt keep it. The second cross not as good though. Cleared and Egypt win it back again. 
88'   Ball cleared by Tunisia and Egypt will go in search of a goal now. 
87'   It's Srarfi in fact. He hits it straight at the wall. Tunisia recover. 
87'   Khazri with one more chance now? This is in his wheelhouse.
86'  Free kick for Tunisia. A mix-up at the back and Elneny is booked for that cynical foul. It's Sassi with the run down the middle and he's hauled back by the Arsenal midfielder.
86' Another change for Egypt. Mohamed replaces Warda. 
84'   Strike by Ben Youssef but his shot is well wide. 
84'   Tunisia improving now and laying siege to Egypt's goal. 
83'   Tunisia have the chance to win it. Terrible decision. Srarfi with a beautiful through ball and Bedoui gets it with a man to his left. He shoots on goal though and El Shenawy saves it. golden chance! 
81' Ashraf is booked now. Free for Tunisia as they send it into the box. 
79'   Salah whips in a free. Caught by Mustapha. 
78'   Ashraf with a ball in over the top to Warda. Tunisia clear but Warda wins it back and he crosses. Tunisia scramble it away again.
77'   Elneny gets the ball outside the box but that pass is really poor with nobody running in behind. 
76' Ahmed comes on in place for Hamed for Egypt. 
75'   Ball down the Trezegeut as Tunisia recover and clear. 
73'   Ball out to Salah and his teammate overestimates his speed. He nearly makes it too but can't stop the ball from going out over the sideline. 
72' Tunisia with the leveller. Sliti gets a little bit lucky as the ball across the box is stopped by Hegazy and Sliti arrives to drive it home. 2-2. 
71'   Salah breaks in off the right. He absolutely drives the ball towards goal but it's just slightly over. Showed off lovely speed and nifty footwork too.
70' Change for Tunisia now. Srarfi is replacing Haddadi. The Egyptian fans giving him loads as he walks off the field. He had an ongoing battle with Warda and the Egyptian fans showing where their loyalties lie. 
68' Change for Egypt. Mohsen is taken off and on comes Salah Mohsen. 
66'   Break now for Tunisia but he's offside. 
65'   Londy effort from Hamed. 
64'   Salah with a lovely through ball to Elneny and he races onto it. Mustapha rushes off his goalline and saves it before sending Elneny toppling over him. Very close to a third.
62'   Lovely moved by Egtpy and the pass to Salah, who is tearing into the box, is behind him. 
59' Egypt take the lead. Warda with the delivery and Bronn loses El Mohamady and he heads home. 2-1 to Egypt.
57'   He calls over the two players involed and gives them a talking to. Nothing more. Handshake and that's that.
55'   There's a fight on the sideline. Ashraf battled with Ben Amor and Ben Amor pushes the Egyptian. It all spills over the line and the linesman has a chat to the referee after it calms down. There will be consequences here. 
53'   Ball in but it's cleared by Tunisia. Salah gets it after some passing outside the box and he blazes it over.
52'   Khazri with a pass out wide after a lovely move. Keeper closes the angle and Tunisia win a corner. Lovely move by Tunisia but the corner is defended and Egypt are back on the ball.
50'   Ball into the back post and Elmohamady fouls the Tunisian defender. Free out.
49'   Mustapha rushes off his line to prevent a corner but the keeper's speed lets him down and he can't. Corner for Egypt.
48'   Some lovely skill from Salah but Tunisia recover.
47'   Khaoui with the free with his left. That's really poor. Salah breaks. 
46'   Foul by Trezegeut on Khaoui. Tunisia starting this second half the way they started the first.
46'   We are back underway in Alexandria, Egypt. 
45'+3'   HALF-TIME!
45'+3'   Khazri with a nice cross into the box and it's headed back out to him. He scuffs the shot. Long ball and Salah has it. He is tripped in the penalty area and wants a penalty. Referee says no and he smiles as he jumps up. Maybe he knew it wasn't a foul.
45'+2'   Another free-kick. Warda and Haddadi get into it now as the referee tells them to calm down.
45'+1'   We will have three minutes of added time here in the first half. 
45'   Warda with another one of those stepovers. He might want to have a word with a teammate to make sure they are behind him next time that happens. 
43'   Or maybe not. They move it into the box with intent but Khazri has it nicked off his toe. 
42'   Some delay before this free is taken. Tunisia might be happy to kill the clock now before the break. 
42' Khaaoui pulled down by Hamed. He's booked for stopping the counter. 
42'   Elneny on the line and he misses. Salah's corner looked like it was going in. 
41'   Corner in and it's a lethal cross. Mustapha caught out and it's back out for another corner. Not sure who that hit. 
40'   Salah plays Elmohamady down the right. Cross comes in and it's out for a corner.
37'   Egypt happy enough now to boss possession. Tunisia haven't had much to write home about since their opener but had looked dangerous. All Egypt now.
34'   Trezegeut again. He blazes over from outside the box.
33'   Salah tries a curler now but, again, not enough on it and Mustapha grabs that one easily. 
33'   That was coming. Wonder if Egypt can keep this up because they've been the better side without Tunisia ever fading out of the game too much. They are always a threat.
32' Ball lands to Salah and he waits to shoot but Trezegeut picks it up and strikes. It's deflected and a goal. 1-1. 
32'   Elneny moves forward now and he plays it to Trezegeut. 
31'   Salah breaks free now but Haddadi is between him and the ball. Cleared by Tunisia. 
30'   Egypt's attack just blunted in the last few minutes. Tunisia have tamed them for now. Skhiri fouled by Mohsen.
27'   Race on and Tunisia win it and have a chance to break clear. Egypt win it back and they attack now. Warda on the left-hand side and they overplay it before losing it. Tunisia counter on here.
27'   Tunisia respond and the ball in from the right is over Khazri's head and behind him too. Cleared but Tunisia win it back. 
26'  Salah with a lovely move and his cross is headed out again by Tunisia. They're fighting fires here mostly down the right but all over that Egypt attack. 
26'   Salah with a deep, deep cross. Headed out by Tunisia and they clear. Egypt straight back up the field. They lose out with a little too much speed that time coming down the right.
25'   Salah to take. 
24'   Meriah again. This time it's a corner.
24'   Yes definitely. Elmohamady with the cross and it's headed away by Meriah. Throw for Egypt. 
22'   Cross comes in but a little bit too much mustard on that one. Keeper grabs it again. Egypt have definitely improved here after a poor start.
22'   Back on the attack and Elneny pops it out wide. They remain in possession as they assess the terrain ahead of them.
21'   Egypt improving now. Salah on the ball and a shot comes in from the left. Curled and punched clear before Salah strikes with his left and Mustapha saves that one from going into the top corner.
20'   They keep the ball though and attack down the same left hand side. Elneny out to the left-back and he crosses. Warda steps over it and that's flicked into the arms of the keeper.
20'   Dangerous from Egypt as they move into the penalty area but lose out. 
18'   Another free for Tunisia with Khazri stepping up. Similar position here but further to the left. He decides not to take it. Khaoui strikes the rebounded header. Miles wide.
17'   Ball sent in by Warda and that's grabbed quite easily by Mustapha in Tunisia's goal.
15'   Mohsen with a foul now as Egypt look frustrated after this start. 
13' Sliti slots it home! The Dijon midfielder with a lovely poised finish. Some sharp passing by Tunisia too in the build-up. Home side struggling so far. 0-1 to Tunisia.
12'   Egypt are straight up the other end and Warde is offside.
11'   Elneny collides with Sliti and the Arsenal midfielder does well to win it back and break up the attack.
9'   Egypt enjoying more of the ball now despite Tunisia still having the best chance of the game. 
7'   We have a bit of controversy now as Trezegeur ends up on the ground as Khaoui puts a hand across the face. He hits the ground and rolls around. He looks okay as the referee played on before play is pulled back. 
6'   Offside from Tunisia as Khaoui strays into outlaw territory. 
4'   Tunisia play the ball out from the back and Egypt nearly nick it off them. 
3'   Warda is injured. He kicked the ground and took a divot out of the turf. Sore ankle for him. He jogs it off.
3'   Elmohamady drives forward and Tunisia turn him around as the home side keep it.
3'   Nice start! 
2'   Khazri hits the crossbar! What an effort. 
2'   Looks a little bit too far out to trouble the keeper but too close to send it into the box. Khazri will shoot, it looks like. 
1'   Game is underway and immediately Khazri is fouled. Tunisia have a free in a dangerous position.
    Teams lined up and we are almost ready for action. 
    Meanwhile, Tunisia appointed Faouzi Benzarti and he has won all three of his three games in charge against Niger twice and Swaiziland. He was then sacked and replaced by Mourad El-Akabi.
    Aguirre took over after the World Cup having made a shortlist to take the job. He has previously worked at Atlético Madrid, Valencia and Watford among others.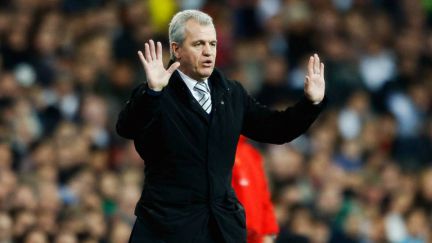 "The Tunisia match is very important at this stage, we want the three points to hold the group's leadership which is our desire," says Egyptian coach Aguirre before the game. It's a friendly but he wants a performance and a win.
    Egypt XI: El-Shennawi, Elmohamady, Hegazy, Elmohamady, Ashraf, Hamed, Elneny, Warda, Trezeguet, Salah, Mohsen
    Tunisia XI: Ben Mustapha, Meriah, Bronn, Bedoui, Haddadi, Skhiri, Sassi, Ben Mohamed, Sliti, Khaoui, Khazri.
    According to Egypt Today: "Today's game is the 40th game in the history between the two teams, including 6 matches in the Olympics qualifiers, which are not approved in the international list, each team won two, and two games ended in a draw. They also met in 15 friendly international matches; Egypt won 5 times while Tunisia decided 6 games and 4 friendly matches ended in a draw."
    Egypt have lost just once in qualifying and that was to Tunisia, 1-0 in the first game. That game was in Tunisia and while both sides have qualified, they will be looing for revenge today.
    Borg el-Arab stadium is the venue today in Alexandria, Egypt. 
    Hello and welcome to our live online coverage of the African Cup of Nations Group J qualifying game between Egypt and Tunisia. Kick-off is at 17:00 CET! Stay tuned as we will bring you team news and coverage of the build-up along with live update of the game.
Egypt vs Tunisia: match preview
Two countries who have already booked their place at the finals face off at the Borg El Arab Stadium today (17:00 CET) as Egypt host Tunisia in Africa Cup of Nations qualifying.
Javier Aguirre's Egyptians sealed their spot at Cameroon 2019 in mid-October after their 2-0 victory over eSwatini (formerly Swaziland) - a win that was their third in three games under the Mexican - was followed by a 2-1 Tunisia triumph over Niger later that day.
The Tunisians' result in Niamey not only confirmed the Pharaohs' qualification for the Cup of Nations, but also ensured their own berth at the tournament.
However, despite Tunisia sitting top of qualification Group J with a 100% record - three points ahead of their hosts this evening - their coach, Faouzi Benzarti, was surprisingly sacked after steering the Carthage Eagles to the finals.
Fired just three games into his reign, Benzarti had - like Aguirre - also led his side to a clean sweep of victories.
---