This Madrid team cannot stage comebacks
Real Madrid have not won a game in which they started from behind since August 26 against Girona (4-1), failing to turn the final scoreboard around on nine occasions since that game.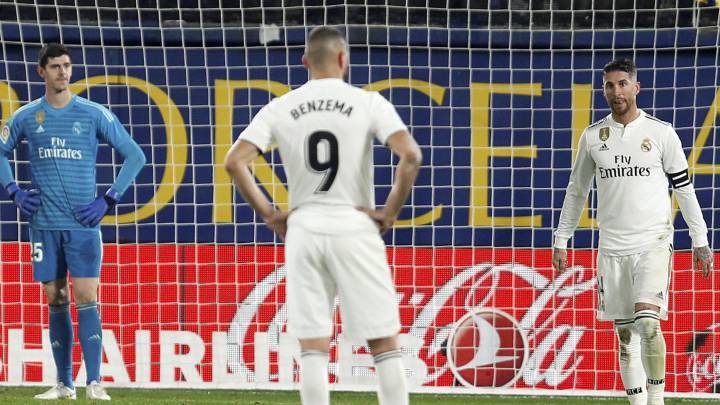 This season Real Madrid have lost a quality that has been one of the club's trademarks: the dogged ability to win a game after going behind, a true sign of their capacity for resilience in the face of adversity.
With the score at 1-2 at Villarreal on Wednesday night, Los Blancos were ten minutes away from achieving a victory after going 1-0 down early on; that was until Cazorla headed the ball home through the legs of Courtois in the 82nd minute that ended the game at 2-2.
Another opportunity lost for Madrid, who have not won a game in which they started from behind since August 26, when they beat Girona 4-1 after going 1-0 down to a Borja Garcia goal.
Since Girona, there have been nine games in which Madrid have conceded the first goal but were unable to turn the final scoreboard around: against Athletic Bilbao (1-1), Sevilla (3-0), CSKA (1-0, 0-3), Alavés (1-0), Levante (1-2), Barcelona (5-1), Eibar (3-0) and Villarreal (2-2).
That's seven defeats and two draws, which shows that Madrid have major difficulty drawing the final scoreboard level – never mind turning it around. Since Girona, in 78 percent of the games since in which Madrid have gone behind first, they have lost, despite in many cases playing against opposition who, on paper, were much weaker.
A recent history forged by comebacks
The club's recent history has been forged by a number of vital comebacks in important games and against strong opposition. In the Champions League final against Atlético in 2014, Sergio Ramos' late headed strike cancelled out Diego Godín's earlier goal, before Madrid went on to win the game 4-1 in extra time. They have also managed to do it twice against Barcelona in recent seasons, in 2014-15 (3-1) and 2015-16 (1-2).
There were also several important scoreboard turnarounds in the 2016-17 title-winning season, including one at the scene of Thursday night's game. After having gone 2-0 down at the Estadio de la Céramica against Villarreal in February 2017, Los Blancos went on to win the game 2-3 – a clear sign of the resilience and doggedness that is clearly missing from this current Madrid outfit.