Dembélé does the damage for Barcelona
Barcelona turned the Copa del Rey tie around thanks to a Dembélé double in two minutes in the first half, followed by a neat Messi finish at the start of the second.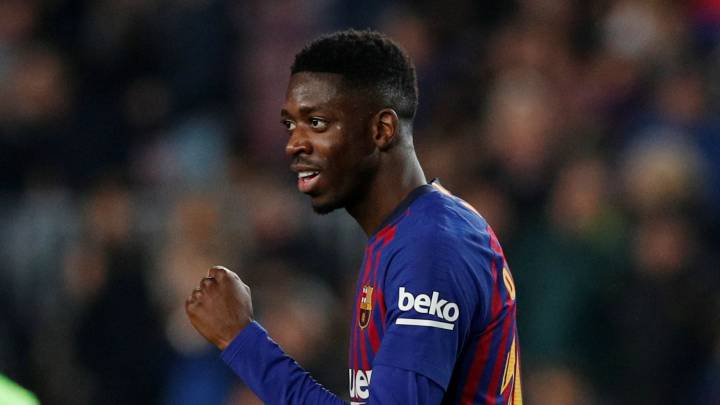 Barcelona 3-0 Leganés match report
Ernesto Valverde did not call in all of his heavyweights for a second leg that they had to win after losing the first leg 2-1 to a hungry and spirited Levante side. He did recall Ivan Rakitic, Jordi Alba and Lionel Messi, however, while leaving Gerard Piqué and Luis Suárez on the bench from that game last week.
The Argentine played in between Philippe Coutinho and Ousmané Dembélé and knit the whole thing together in a far more profitable game for Barcelona in attack after a stuttering display last week.
Dembélé scored two goals in about 90 seconds to turn the tie in Barça's favour after 30 minutes and they never looked back. Levante never looked like getting back into it either as they tried to prevent Barcelona from scoring, failed to do that, and didn't seem to have a Plan B after Dembélé's brace.
His two goals were sloppy but the moves building up to them and the general play involving Messi, Coutinho and the French attacker was excellent. The first came as Cabaco kicked the ball against him only to see it loop over Aitor.
The second was a nicer move but which saw Aitor kick it over his own line as he scrambled back having already been beaten by Dembélé's speed and touch.
Messi got the third on 54 minutes and Levante were left relying on their legal team to get a result from the tie with news that Chumi may or may not have been played last week despite being suspended previously with Barcelona B. They will present their case to the Spanish federation on Friday after the reports emerged on Thursday ahead of the game.
They made very little of a case for themselves on the field at the Camp Nou on Thursday night though as Barcelona, for now, are into the quarter-finals of the Copa del Rey.
Barcelona vs Leganés live online: match updates and commentary
90'+3'   GAME OVER! Routine for Barcelona in the end.
90'+3'   Messi fouled by Rober as he grabs him around the waste. That should do it now as Levante run out of chances here. 
90'+1'   We could have just had a really interesting last few minutes. Levante on the attack and the hit the post. Boateng off the post. Barcelona attack and Suarez drives over by about a mile, roughly.
90'   Luis Suarez heads on to Denis and he is offside. 
89'   Lovely ball clipped inside to Denis Suarez. 
88'   Denis Suarez with a shot now that is blocked quite tamely in the end.
86'   Suarez with a shot not that is blocked by Coke. That looked like it was going in. Lovely move from Denis Suarez. 
85'   Messi and Suarez with a lovely move and Suarez tries to kind of deliver a pass back to Messi that is out of his reach. Dribbles to Aitor.
82'   Bardhi takes the free and it hits the wall. It hits Lenglet on the hands as he is protecting his face. Follow-up driven wide.
81'   A goal here and the last 10 minutes is very exciting. 
80'   Levante free just outside the penalty area. Looked like it might have been a penalty but foul did happen outside. Dwamena was the man felled. Bardhi to take.
79'   Messi tries to flick one towards Suarez but it's cut out. 
78'   He does but it's headed up into Cillessen's hands.
78'   They haven't had too many corners. Let's see if Bardhi can deliver. 
78'   Boateng wins a corner for Levante as he kicks it off Lenglet. 
76'   Massive round of applause for Dembele and his two-goal night.
76' Denis Suárez replaces Ousmane Dembele.
76'   Messi with the free and Vidal tries to direct it towards goal. He can't and Suarez gets a shot away. More like a chip but Aitor tips it over the bar.
74' Dembele takes off down the left and Cabaco is in chase. The Levante defender slides in and takes Demebele out of it. Yellow card. 
74' Sergio Roberto replaces Alba on the left.
73'   Messi sends Dembele down the left. He drives a shot just wide with his left foot. Lovely touch with his right and the strike was clean with his left. Just wide.
70'   Lenglet with good defending as he uses his body to prevent Boateng from getting a shot away. Cillessen out to gather.
70' Levante will have to bring off another player here as Postigo goes down with a muscle injury. Jason comes on.
70'   Boateng attacks and strikes one at the side netting. 
69'   Messi with a run down through the middle with movement either side of him. Dembele into an offside position but Messi tries to pass it to him anyway. Blocked and cleared.
68' Campaña is replaced by Doukoure.
67'   Suarez almost gets the ball from Messi but he was offside and just stands waiting for Messi to run past him. Instead, Messi stops, and the ball runs out over the engline. 
66'   Game has hit a lull not as Levante have no idea how to get back into this. Barcelona completely dominant all night.
66'   Dembele throws Cabaco out of the way as he tries to get to the ball. A little unneccessary. 
65'   Ball down looking for Prcic but Cillessen has some work to do.
63' Luis Suarez coming on for Barcelona. Coutinho is the man replaced.
62'   Messi to Coutinho and he has another crack. Not shy of shooting chances tonight. Saved by Aitor this time.
60' Change for Levante as Borja Mayoral is replaced by Raphael.
56'   Coutinho and Messi link up before Arthur gets involved and plays to Messi. Ball inside and Vidal fouls Moses Simon in the penalty area.
54' Arthur flicks one into the box and it's headed away by Levante.
54'   Corner for Barcelona as they look for a fourth. They might get it too. 
51'   Barcelona lead 3-0 and 4-2 on aggregate. 
51' Messi!  GOAL! That should certainly do it for Barcelona now. Dembele with a lovely pass to Semedo and Messi controls it perfectly before clipping it past Aitor. 
51'   Jordi Alva kicks one into the middle and Dembele hits the ground as he slips. No penalty says the referee as he clearly slipped.
50'   Coutinho fouls by Cabaco and Barcelona have a free in the middle. Sent to Messi and he's looking for a way though. One-two with Vidal works out eventually and the pass to Coutinho is finished by the Brazilian. He was offside though.
48'   Murillo and Boateng clash on the ball and it's out for a throw.
47'   Levante get numbers back and prevent Barcelona from getting a shot away.
47'   Vidal races clear through the middle and feeds the ball to Dembele. 
46'   Can Levante get their goal and force this one to extra-time.
46'   We are back underway for the second half. 
45'+1'   HALF-TIME! Barcelona lead 2-0 and 3-2 on aggregate.
45'+1'   So close as a game of ping pong in the box nearly leads to a Levante goal. Free is sent in and a backheel is blocked and Barcelona clear it away! 
45'+1' Boateng is clipped by Murillo. The Barcelona defender is booked.
45'   The third was on. Coutinho with the first effort as he skips by a challenge. Messi misses the second as he is denied before Vidal screws one into the ground and Aitor saves again.
43' Rakitic booked now as Mayoral races clear and the Croatian catches him in the middle of the field. He had a man over there and that could have been dangerous for Barcelona.
41'   Dembele on a hat-trick as he recieves a pass from Coutinho. Slightly awkward finish from the attacker but he's getting into nice positions with Messi feeding him every time.
39'   Messi through on goal but space is limited. Dembele with the pass and Aitor saves. He blocks it out to Vidal, who absolutely rifles one low and back at Aitor. Saved by the keeper.
37'   Dangerous move from Levante in the penalty area. Coke with the cross after bringing it to the end line.
35'   Campaña with a nice effort as he spins around a Barcelona defender and strikes. Cillessen dives for it but can't get there as it drifts wide. 
33'   It's cut out by Levante and they have improved slightly here since the two goals. They know they have to score.
33'   Long cross into the middle but Cillessen grabs that one and starts an attack. Alba down the left and he sends it inside. 
31'   Dembele again! He does it the hard way this time as he rounds Aitor and then kicks it off him. Really unlucky for the scrambling goalkeeper as he tried his very best to get back and stop it but was going so fast that he kicked it into his own net. 2-0 and 3-2 on aggregate. Levante still need a goal so not much changes here.
29'   GOAL! Dembele with the goal. Might go down as a deflection but Messi played it into his path and Cabaco kicks it off the French attacker. 1-0 and Barcelona are ahead on goal difference.
28'   Borja Mayoral with a cross looking for Coke but it's over his head. He gives his teammate the thumbs up as it was a nice effort but no use.
26'   Lovely move as Messi sets up Coutinho. He plays it back to him and Messi crosses. Vidal heads down into the ground and it bounces over the crossbar. So, so close.
24'   Corner comes in and Murillo heads onto the roof of the net. 
24'   Oh! What a strike and save by Aitor. He breaks down the left and drives a shot at the keeper and he saves it with his feet. Best chance so far for Barcelona.
22'  Vidal with a shot. It looked like he couldn't continue after that clash earlier but he got that shot away and told the bench he was okay but he really doesn't look okay. He collided with Bardhi.
22'   Vidal gets up after a challenge and limps away. Throw for Levante. 
20'   Looked quite harsh on Boateng as he goes around Murillo and gets whistled for a foul.
17'   The chances have been from far out though with a couple of Coutinho efforts off target.
17'   Levante will have to show some attacking intent if they want to escape this one. Just one goal and Barcelona go ahead. Maybe they're just trying to see off Barcelona's initial onslaught, which they are doing but Barcelona looking far more likely here.
16'   There's a foul by Bardhi on Arthur and he gets straight back up to take. Shot comes in from Coutinho but he blazes that well over the bar.
13'   What a chance! Aitor scrambles across and saves. That's a corner. Lovely free kick from the maestro.
13'   Messi fouled as he gets spun around by Cabaco. Messi just way to quick for him and that looked like a sore one. Free from fairly far out but you never know with Messi.
13'   Messi gets this one right. He sends Alba free down the left and his cross is blocked. Barcelona with all the ball now though.
12'   A token shout by the Camp Nou but even they hardly protested for that. Levante with a rare counter as it's send down to Mayoral but he loses out.
11'   Coutinho turned upside down in the penalty area but never a penalty. 
11'   Messi with a really poor pass into the path of Alba. He loses the ball again and hasn't gotten up to speed to this game at all yet. 
10'   Messi loses the ball twice in 30 seconds. And then loses it again. Levante squeezing the Argentine every time he gets the ball.
9'   Boateng with the ball now and runs through the middle before being stopped. Moses passes the ball back into him and he can't keep it from going out for a goal kick.
8'   Dembele with a tough pass into the path of Alba. He would have had to control that from over his shoulder. No chance really as the ball dropped too suddenly.
7'   Foul on Dembélé. Barcelona growing again. Another foul on Coutinho, this time by Coke. Levante are fairly no holds barred in their intensity.
6'   Alba tries to link up with Coutinho and he can't. Levante recover but Barcelona win it straight back. All Barça here to start but Levante playing a high line and it's been mostly possession contained in the middle of the field.
5'   Corner taken that Alba gets at the back post but there was a foul by Murillo in the middle.
3'   Dembélé out to Messi and he plays in Coutinho. He cuts in on his right for a trademark effort from the Brazilian. Blocked out by the defender for a corner.
3'   Long ball by Cillessen down to Dembélé but Levante cut it out. Dangerous pass by the keeper.
3'   No attacks yet though.
2'   Bardhi with a spin and he's caught as the ball is put out for a throw. Barcelona with a good start here.
1'  Levante on the ball early on.
1'   And if Levante win, they won't need their case to be heard.
1'   We are underway at the Camp Nou. Strange to say but this game might not matter if Levante's case regarding an illegal player playing the first leg is successful. But Barcelona will be trying to win anyway! 
    Levante in their illuminous yellow jersey and Barcelona wearing their normal home shirts. No clash of jerseys there.
    Teams in the tunnel now and ready to take to the field.
    Plenty of Argentina jerseys in the crowd tonight. They're here to see their hero.
    Barcelona were growing increasinglu worried about Coutinho but Valverde has given him a few starts in recent weeks alongside Dembélé despite many thinking they couldn't start together.
Here is the latest on Suárez as
for a loan deal and an obligation to buy him after that in the summer.
    Denis Suárez keeps being put into the squad by Valverde as Arsenal close in on his signing but Unai Emery wasn't giving anything away recently saying "they're private conversations between clubs".
    Here is Barcelona's bench tonight too: Ter Stegen, Piqué, Sergio, Denis Suárez, Suárez, S.Roberto, Aleñá.
    Barcelona have scored 19 goals in their last 6 games against Levante. They have won one and lost two of their last games against them with the 5-0 win over them in the league after the 5-4 loss last season that ruined their hopes of an unbeaten season.
    Valverde has an issue with his striking options. Apparently they will turn to Carlos Vela, although the brakes have been put on speculation there, or else Stuani from Girona in this transfer market.
    Messi returns for Barcelona and Valverde has given starts to Coutinho and Dembélé with Suárez left on the bench. 
    Here is the latest on the Chumi issue for Barcelona.
    Barcelona XI: Cillessen, Semedo, Murillo, Lenglet, Alba, Arthur, Vidal, Rakitic, Coutinho, Messi, Dembélé.
    Levante XI: Aitor, Coke, Simon, Prcic, Pier, Cabaco, Bardhi, Campaña, Postigo, Boateng, Mayoral.
    Latest reports were that Barcelona would escape punishment for fielding Chumi, who was suspended for Barcelona B, but Levante's president says they will present their case to the Spanish football federation.

    Hello and welcome to our live online coverage of Barcelona vs Levante in the Copa del Rey second leg. Barcelona are trying to turn around a 2-1 loss in the first leg. Kick-off from Camp Nou comes at 21:30 CET.
Barcelona vs Leganés live online: preview
There is a chance that this second leg Copa del Rey clash at the Camp Nou could be a pointless exercise given news on Thursday that Barcelona played a suspended player in the first leg last week. Chumi was suspended for Barça's B side but the rules that that a light suspension of less than two games does not prevent a reserve team player from playing with the first team in a different competition. Reports said Barcelona were "very calm" and said they did not do anything wrong but Levante will now report them to RFEF but the 24 hour window to do so has already well and truly past. Regardless of that speculation, we will be (hopefully) bringing you live coverage from Barcelona with kick-off at 21:30.
Barcelona beat Eibar at a canter at the weekend. Having left Messi, Suarez, Rakitic, Alba and Piqué at home for the first leg against Levante, and losing 2-1, they will surely play a much better and more experiences side in the return leg. This is the third time the teams have met in less than a month and they have both won one of those games. Levante fell to Barça in the league, 5-0, with Levante overturning that result last week in the Copa. Rafinha, Samuel Umtiti and Thomas Vermaelen remain out injured and Marc-Andre Ter Stegen returns to the squad but Jasper Cillessen will likely remain in goals as the "Copa keeper".
Levante thoroughly deserved their victory last week but the Chumi situation has thrown the tie up in the air. Their president says it's not an easy situation and they will fight to win the game and qualify on the field although they will present their case to the Spanish federation anyway. He says there is "precedence for us to defend our position." Paco Lopez' side battled hard at the Wanda Metropolitano on Sunday but lost to a harsh penalty decision. They are without Chema, who is out for a month but aside from that, Lopez has a full compliment of players to call upon for what would be a historic result if they can knock Barcelona out of the Copa.