REAL MADRID
Real Madrid should be backing Isco over Solari for a brighter future
We take a look at what is going on between Santiago Solari and Isco and whether Florentino Pérez would be better off backing his attacking star.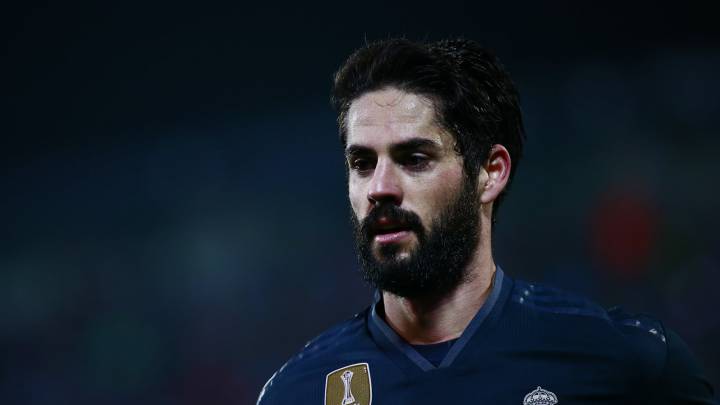 One of the main issues Florentino Pérez had with Julen Lopetegui during his brief and doomed spell as the manager of Real Madrid was that he wasn't strict enough. For example, he wanted them to spend the night in a hotel before home games but Lopetegui didn't think it was necessary. Lopetegui is long gone but the Real Madrid president still thinks his squad need whipping into shape. And that's why Jose Mourinho (a man who loves hotels) continues to crop up when potential Santiago Solari replacements are discussed.
What's more, Pérez has backed himself into a corner regarding the Santiago Solari versus Isco debate. Reports emerged over the weekend that Real Madrid will back the manager on the issue but Solari likely won't be staying on beyond the summer and the decisions the club makes now could go a long way to determine how their long term future pans out. Their unwillingness to trade blows in an increasingly frenzied marketplace has seen them turn to buying young, exciting talent (Rodrygo, Vinicius…), harnessing the players they have in the hope that they turn good and draining every last drop out of their ageing stars. As they get down to the pulp with the old stock, there will be an increasing reliance on those young stars very soon.
---
Follow Real Madrid vs Girona in the Copa del Rey live
---
Santiago Solari was always going to struggle at Real Madrid. The circumstances alone were enough to see him fail in his attempt to lead the team into a new generation but if he was the right candidate six weeks into the campaign, why wasn't he the right candidate when Florentino Pérez was knocking on doors (up to eight if reports are true) looking for Zinedine Zidane's replacement during the summer. In some ways, the Argentinean's struggles have vindicated the president's decision to lure Julen Lopetegui from Spain in what was a messy affair. If Solari turns out to be successful, it will make everything that preceded it unnecessary. But Pérez knew back in the summer he wasn't the right man for the job and events in recent weeks surely rubber-stamp that belief now.
And so, with just three starts in three meaningless games for Isco, their one-time gem has turned into little more than a bench warmer. With as many as seven players out injured and Real Madrid struggling for form, the Malagueño still can't get a start or any meaningful minutes for that matter. And it won't get any better once Marco Asensio, Gareth Bale, Toni Kroos and Marcos Llorente return and the games increase in importance.
---
Read also: Isco to ask for move if Solari stays on as coach
---
Don't forget how good Isco was and can be
Is he expendable? Maybe. But recency bias can be a terrible thing.
It's easy to forget how devastatingly brilliant Isco was during Lopetegui's Spain spell. After the Italy game in the World Cup qualifiers, a fake quote by Marco Veratti did the rounds. "Not even Messi has come close to that level," he had reportedly said. The secret to a lie is that it is has to be believable and Isco really was that good, scoring twice in a 3-0 win as he broke through Italy's defense like it was a piece of soggy focaccia bread.
We tend to only reach as far back as the very, very recent past in our assessment of players. Think of Marcus Rashford and Paul Pogba under Jose Mourinho. Both look ready now to contend for the Ballon d'Or when just a couple of weeks ago, Pogba couldn't pass the ball five yards and Rashford's second touch was a tackle.
Real Madrid's number one priority at the moment is the need to improve their attack, mostly in light of Ronaldo leaving and the realisation that he was, in fact, really good at scoring goals. And Isco is one of the players Real Madrid should likely be including in the construction of that new look offensive line. If he's not backed now though, how loyal will he be when the summer comes and the agitating heat in Madrid has him itching for a move somewhere he feels loved. Juventus are already making overtures in his direction.
What kind of manager do Real Madrid need?
This argument over whether an authoritarian coach is what's needed has been dragging on at Real Madrid since Zinedine Zidane left. With the Frenchman at the helm, it didn't matter, as he seemed capable of blending two schools of thinking: one, the hands-off, more friendly approach that gave players confidence and the space to breathe with the other, a cold, cool manner that commanded respect. Both were helped by his credentials as a player and a club legend.
When Antonio Conte, a known drill sergeant, was touted as a potential replacement for Julen Lopetegui, Sergio Ramos said "respect is earned, not enforced," after one particularly Ramos-esque interview. The comment gave a good idea as to which way the wind was blowing in the dressing room regarding what the players wanted.
The very language surrounding Isco at the moment suggest he needs to be more of a leader. "Isco is lacking a bit of rebelliousness," said Jorge Valdano. Ramos is that maverick and charismatic leader that they want Isco to be for the betterment of the team. But he's not that kind of leader and Pérez might think he's suppressing a future insurrection by backing Solari now.
Pérez is fed up of mavericks in the dressing room – the reality is that the very nature of a maverick is they can't be tamed. And by sticking with Solari on this issue, he is paving a path for a more authoritarian coach in the near future.
But he's backing the wrong horse in this race between a manager with no long-term future and a footballer who can define a new generation and conquer new frontiers at the club if he's given the chance.