Real Madrid ride their luck to claim first-leg win over Ajax
Goals by Karim Benzema and Marco Asensio earned Madrid a narrow last-16 victory over Ajax, who gave the holders a tough night in Amsterdam.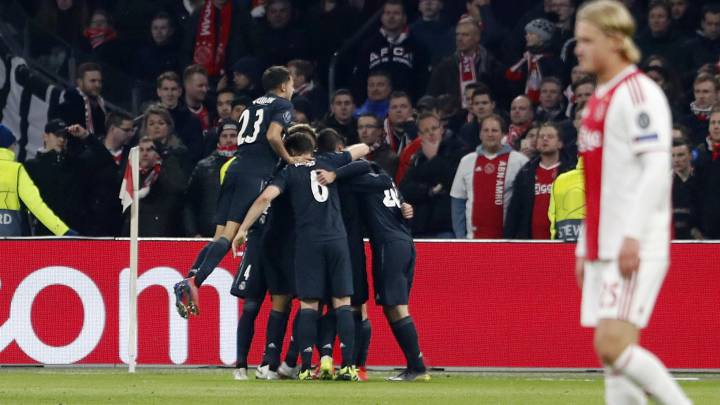 Ajax 1-2 Real Madrid: match report
Real Madrid have one foot in the Champions League quarter-final after a couple of second half goals by Karim Benzema and Marco Asensio with a Hakim Ziyech goal sandwiched in between on a night of flair in Amsterdam.
At times, it was a blur of red and white in the opening half as the side, who many suggested were in crisis, came out swinging against a side who many suspected were finally hitting their stride. Real Madrid regressed to the side they were for large spell in the first half of the season and Ajax were playing a brand of football that resembled something from a Johan Cruyff-designed utopia.
Real Madrid were never allowed to settle with Ajax's young guns buzzing around the field and with the fans bouncing in the stands. They whistled when the visitors had it for longer than a couple of second and roared their side on when they won it back and drove forward, which they were doing at will.
Ziyech had an effort early before Casemiro was forced to slide in and save what would have been a clear shot at goal after seven minutes. The ball made it's way to Bale up the other end within moments, such was the speed of the game, and he fired into Onana's hands.
Vinicius drove in from the left-hand side in what was the first sighting of the Brazilian. It wouldn't be the last of him though as he drove a shot at goal stinging the palms of the Ajax shot-stopper.
The dynamic of the game seemed to shift at that point as Vinicius' warning shot woke the home side up to the fact that they might actually concede. Prior to that, they were just thinking of attacking. But it wouldn't be long before their young brains discarded the memory of Vinicius' threat and went on the front foot again.
Tadic hit the post with a strike from just inside the penalty area as Sergio Ramos applied pressure. He was falling as he hit it but he had Courtois beaten. He couldn't steer it inside the post though.
There was more direct link up play when Tadic nearly put one on Van der Beek's foot from point blank range. Thibaut Courtois was forced in to a good save by Ziyech with his feet on 36 minutes. The assault was in full flow.
Shortly after that, we saw the first goal ruled out in the VAR era of the Champions League. A corner came in and De Ligt rose highest to head down into Courtois' hands but he fumbled it. Tagliafico was on hand to head home but after a consult with the lads in the VOR (video operation room), VAR said Tadic was offside as he impeded Courtois. The scoreboard was re-adjusted and Ajax started again to batter down the reigning champions' defence.
Real Madrid were slightly more assured in the second half with some gentle adjustments to their system. They had more relief when playing out from the back and didn't look as suspect as they had. But it wasn't plain sailing either.
Ziyech was booked for upturning Bale and he was soon replaced for Lucas Vazquez in what was not a convincing performance from the Welsh man. But not before Vinicius was sent down the left and he created the opener. He scurried forward and cut inside only to meet Benzema in the box before laying it off to the striker. Benzema's 19th of the season was a corker as he drove it into the top corner and beyond a stretching Onana.
Ajax were running out of steam at an alarming rate and while Real Madrid were too, they hadn't set the pace for most of the game and still had a gear or two to move into. But the home side stuck to their plan and had the equaliser after 75 minutes when Neres crossed low as Ziyech met it to stroke home.
Real Madrid had their away goal and might have settled for it but Marco Asensio was back after a lengthy lay-off. A player who was tipped to explode onto the scene for Real Madrid this season but has slowly been overtaken by Vinicius Lucas Vazquez. He had a point to prove and that was obvious given his five shots during his short cameo. Just one of them counted though and it was the last.
A cross to the back post was met by the young attacker and he gave Real Madrid the victory on a night when they, perhaps, didn't deserve it. But that is a tale often told about this Real Madrid side in Europe's elite competition. And they keep winning almost despite these baffling performances.
Sergio Ramos was booked late on for a challenge on Jasper Dolberg and he will miss the return leg and Benzema went off injured. But they have come through a tricky period of their fixture list without a loss and still very much in three competitions.
After the game, Ramos said the asmosphere was incredible and the club has "great fans, a great young team who play very good football" and they do. But Real Madrid will carry those two away goal back to the Bernabéu as a shield against this explosive and perfectly balanced Ajax side.
Ajax vs Real Madrid live online: match updates
90'+3' GAME OVER!
90'+3'   Dolberg through on goal. He completely mishits it. Ridiculous effort as Courtois saves. Could have just sentenced Ajax with that effort.
90'+1'   Three minutes of added time.
90'+1'   Ziyech with a shot that drifts well wide.
90' Ramos booked for a really late challenge on Dolberg. 
87' GOAL! Asensio with the finish. Lovely cross in from Carvajal. Asensio with the finish. 2-1. 
85'   Reguilon with an effort but that's well wide.
84'   Both teams exhausted here. Ajax still pushing through.
83' Vazquez booked for taking down Neres.
81'   This game is wide open now as that Real Madrid attack ends and another Ajax one starts.
80'   Modric with a cross. Falls to Asensio and he shoots. It's blocked but falls to him again and Onana saves this one.
78'   Onana tries to clear but it hits a Heineken cup and out for a corner.
77'   Asensio gets the ball from Reguilon and he curls it just wide. Came out of almost nothing! What a chance that was. He rubs his head and knows that was close. Hits the side netting. 
77'   Vinicius surely fouled and the referee waves it on. Offside in the end by Neres.
77'   Vazquez on the ball and he has so much space that he has to go alone. He shoots with his left and drives over. 
75'   1-1. 
75'   GOAL! Ajax score. That was coming. Ziyech with the finish as Real Madrid are opened up. 
74'   What a chance. Dolberg is just on the field and he blazes over. Just about kept on by Ramos.
73' Asensio replaces Benzema.
73' Dolberg on for Schone. 
72'   Vazquez looks for Carvajal with a through ball but that's really not great. Straight to the feet of the Ajax defender.
71'   Ziyech shoots but it's saved by Courtois.
70' Reguilon with a foul on Mazraoui. He gets a yellow and this is a chance for a shot for Ajax. 
69'   Ramos forced to slide in and prevent a chance as Ajax play it right up the middle. 
68'   Benzema with a clearance from the free and Ziyech is caught offside. 
67'   Ziyech with a run down the line and Vinicius slides in to take him out. Free for Ajax.
65'   Ajax looking a little less sprightly now. 
64'   Vinicius has his arm pulled back by Mazraoui and he wins a free. 
60'   Kroos with a foul as the ref tries to plat advantage but there is none. Ajax on the move forward again.
58' Bale replaced by Vazquez.
58' WHAT A GOAL! Vinicius runs down the left and inside. He plays it to Benzema and that is an incredibly composed finish from Benzema.
58'   Foul by Vinicius on Mazraoui.
58'   Real Madrid passing the ball around not and Modric eventually plays to Benzema and his pass is off. 
54'   More high pressure from Ajax yields a turnover as Vinicius is robbed. 
53' Yellow card for Ziyech as he takes Bale down. He absolutely clatter into him and that's a deserved yellow.
51'   Another breaks free and he brings it slightly too far out to the right. He shoots and Courtois saves but knocks it out for a corner.
51'   Kroos sends one out to Carvajal. Lovely, lovely move as Carvajal cuts it back to Benzema. What a save by Onana. 
50'   Bale races onto a nice ball from Carvajal and he crosses. Cleared by Ajax. 
49'   Tadic catches Ramos and it's a free to Real Madrid.
48'   Chance for Ajax as the clearance is blocked and hits off Neres. Wide.
46'   We are back underway! No changes for either side at the break.
Lucas Vazquez is out warming up at the break. Looks like he will come on to help out Carvajal with Bale taken off.
Plenty of debate surrounding that ruled out goal. He was impeding from an offside position, it looked like. 
Over at Wembley, it's also goalless between Tottenham and Borussia Dortmund in tonight's other last-16 clash. 
45'+2'   HALF-TIME!
45'+2'   Free for Ajax just outside the box. Tagliafico tripped up by Carvajal just outside the box. The push starting a yard outside the box though.
45'   Two minutes of added time.
43'   They're chanting 'UEFA Mafia'. 
43'   Ajax fans really not happy with that one. 
43'   Neres pushes Nacho in the back and the free is given way back in defence. Real Madrid are rattled.
41'   A lovely run into the box by Tadic. He beats two players and then pokes one towards goal but in reality, it's well wide.
41'   Ajax back on the attack. Shot from Schone. Miles over. 
40'   It's ruled out! Referee has given offside. Really, really harsh but Tadic did look offside from the header.
39'   Wait. It's gone to VAR. Courtois looked like he was impeded but it would be really, really harsh.
37' GOAL! GOAL! GOAL! Tagliafico with the header after Courtois fumbles De Ligt's header.
37'   Shot again and it's blocked for a corner to Ajax. The fans are loving this. 
35'   Courtois with the save! Ajax play it across the box and it makes its way to Ziyech. He strikes low but Courtois saves. 
34'   Another scare. Real Madrid survive. Casemiro brings it out from the penalty area after Tadic takes it down at the back post and chips it back inside.
33'   Foul on Vinicius by Mazraoui. Out on the sideline and the ball flicked on by Vinicius before he's clipped from behind.
32'   Another chance as Tadic plays the ball inside to van der Beek. Cut out by Real Madrid and cleared.
29'   The technique on display here is incredible. Ball into Tadic catches him offside. He wasn't though.
28'   Vinicius takes it up the field and cuts inside. Instead of a shot, he clips it into the box. Cleared by Ajax. 
27'   Carvajal looks like he puches Neres over. No free. 
25'   POST! Tadic gets goalside of Ramos and he nearly pulls him down. He gets a shot away and it strikes the post. Lovely strike.
24'   Real Madrid possession comes to an end as the ball to Vinicius sees him slip. Mazraoui picks it up. 
24'   Ramos and Nacho combine and the ball is sent out to Carvajal. 
23'   One-two with Neres is off. The pass back to Neres is too strong and he sees it out for a goal-kick.
23'   Ball into Neres in the penalty area and Ramos cuts it out. Just about! 
23'   Schone just leaves Bale on his backside. He turned him way too easy there and the ball forward is to nobody. Mix up in communication.
22'   Reguilon races forward through the middle and his pass out wide to the left is way off target.
20'   Ball whipped out to Tagliafico. Ajax on the attack now but Bale kicks it off an Ajax player for a throw. Carvajal takes.
19'   Nacho caught around the neck by Tadic as the ball is sent into the air. Free for Real Madrid.
18'   Real Madrid are starting to get a stranglehold here. Ajax's good start dissipating. 
17'   Bale on the left and he plays to Modric. Out again to Carvajal and in to Modric. They're playing the patient game and Ajax fans are whistling and booing and hissing like crazy. They want their side to have the ball!
16'   Real Madrid finally get a chance to play it in the middle but they lose it again as Modric plays to Nacho.
14'   Vinicius with his first chance now to run at Ajax's defence. He cuts inside and fires a shot at goal. Saved by Onana and tipped over the bar.
13'   Ball launched down the field by Ramos and that's out for a goal kick. At this stage, he is just delighted to clear and relieve the pressure.
11'   Ziyech is fouled by Reguilon as Ajax continue their assault. Free hits the wall.
10'   This is very, very intense. 
9'   What a chance. Ramos very lucky not to be blown for a foul on Neres but it's Mazraoui with the shot and he is almost tripped too. He blazes the shot wide. 
8'   Courtois launches a ball out the field and, you guessed it, Ajax recover. They're everywhere! 
7'   Bale with the shot. Safely into Onana's gloves.
6'   Back to De ligt and then Onana. He plays it down the field and Ajax open them up. Ball across from the left and Casemiro saves the day.
6'   They won't let Real Madrid out. Ajax win it back against and Bale fouls De Jong.
6'   He's essentially told to shut up and that the referee will look after the refereeing. 
5'   Ziyech fires one over from miles out. Always going over. Carvajal has a word with the referee about a tackle earlier which he thought was a foul.
3'   Modric with the ball in the middle and he is forced backwards. He gets it to Casemiro, who loses it. Bright, bright start from Ajax. Ball clipped inside but Courtois grabs it.
2'   Tadic up against Nacho on the left and he loses out before fouling the defender. Real Madrid with the free and a chance to slow things down. They have it for about two seconds before losing it.
1'   Lively start for Ajax. It's really loud in the ground and Ajax are buzzzing off the energy from the crowds. 
1'   We are underway.
    A minute's silence now for Emiliano Sala. 
    Team photos and handshakes done and now De Ligt greets Ramos in the middle of the field.
    The Champions League blares around the Johan Cruyff ArenA.
    UEFA say the key battle tonight is De Jong versus Casemiro: "Barcelona-bound Ajax midfielder Frenkie de Jong has been grabbing the headlines recently, but how will he fare against a wily, experienced opponent like the Brazilian international? The Ajax No21 is often the metronome that makes his team tick, yet he is likely to find space an extremely limited commodity on Wednesday. His ability to escape the clutches of his Madrid counterpart and initiate attacks will be crucial to Ajax's chances of success."
    An excellent article on Ajax and their development of players for a pre-game read.
    Real Madrid and Ajax feel like two teams trending in different direction. There is talk of some unrest in the dressing toom, not helped by captain De Ligt's comments about changing things but it having no effect. De Jong's move to Barcelona has also reportedly caused some jealously within the squad too. They'll have to pull together over the 180 minutes against Real Madrid if they have even the faintest of hopes of turning them over.

    De Jong ready for action.
    Ajax haven't strung two wins together in some time. But they also haven't strung two losses together either. LWLWDWDWDW (most recent game is first).
    After joining Real Madrid in 2005 for a fee of €27 million, a small fortune back then, Sergio Ramos makes his 600th appearance in white tonight.
    Solari's comments before the game: "They're having a good season. They link up well and are very dynamic, with good players. You have to respect every opponent. I hope we produce a performance as serious as we did three days ago [Saturday's 3-1 win at Atlético]. We have great memories of this stadium, let's hope that continues tomorrow. We're approaching it with maximum respect."
    Altube, Varane (flu), Brahim, Odriozola and Fede Valverde are the players who have dropped out of the squad. 
    De Jong starts. 
    Ajax XI: Onana; Mazraoui, De Ligt, Blind, Tagliafico, Schöne, De Jong, Ziyech, Van de Beek, David Neres, Tadic.
    Varane will not play due to the flu having not trained last night. A chance for the Mr. Reliable, Nacho, in his place.

    So Varane doesn't overcome his flu and Nacho starts in his place. Bale is preferred to Vazquez and that means Ajax will have their work cut our for them tonight. 
    Real Madrid XI: Courtois, Carvajal, Nacho, Ramos, Reguilón, Casemiro, Kroos, Modric, Bale, Benzema, Vinicius.
    Early team news leaks suggest Bale will start alongside Vinicius and Benzema in an attacking trident. 
These were the scenes outside Real Madrid's hotel last night in Amsterdam. Four fans were arrested during the disturbance. Quite the performance! 
Real Madrid fans singing in Amsterdam! They're ready for the game and it should be a fairly memorable one if both teams do come out to attack. Given Ajax's history as a progressive side and Real Madrid's quality, there could be plenty of goals tonight. 
    Ten Hag says the way forward against Real Madrid is to adopt the Pep Guardiola style of play. It sounds like he is sending his team out to attack, attack and attack some more against the reigning champions of the competition.
    Hello and welcome to our live coverage of Ajax versus Real Madrid in the last 16 of the Champions League. Kick-off coming your way at 21:00 CET but not before team news, build-up and more...
Ajax vs Real Madrid live online: preview
It's the reigning Champions League winners versus an upstart Ajax on Wednesday night at the Johan Cruyff ArenA in Amsterdam. The Dutch side started their season with a bang but have fallen fast since the winter break. Real Madrid are on a similar journey but in the other direction as they have turned things around since returning from the Club World Cup in December.
Ajax
Ajax manager, Erik Ten Hag, says his plan to beat Madrid is to copy Pep Guardiola's philosophy. They are coming off a defeat to Herceles in the league and currently sit six points behind PSV Eindhoven in the league but Frenkie de Jong is back and played 70 minutes in that game at the weekend but his place in the team is still questionable. The manager says, "This opponent is a challenge. We're looking forward to it, we're confident we can take them on. We're physically fit and with the right team spirit we can go a long way. [Frenkie de Jong] is fit – he will be even more motivated as a future Barcelona player to play against Real Madrid." They will most certainly need him if they are to compete with the reigning winners of the competition. They are without Hassan Bandé and Nicólas Tagliafico along with Lisandro Magallán.
Real Madrid
Real Madrid are missing Isco, who suffered a back injury recently, and Marcos Llorente, who re-injured his abductor and still has another couple of weeks on the sideline before he can be considered again. Jesus Vallejo is also a doubt and Raphael Varane is suffering from the flu. He has recovered significantly overnight but is still a doubt. The big questions for Santiago Solari is whether he starts Vinicius or not. Gareth Bale is coming back into contention and the Brazilian has played a lot in recent weeks. The club are keen to protect him and they might see this as a chance to rest him. BRazil manager Tite is sending scouts to the Bernabéu on Sunday against Girona but if the teenager plays in Amsterdam, it's unlikely he plays again on Sunday given his recent workload. Four Ajax fans were arrested outside Real Madrid's hotel on Tuesday night as they set off fireworks in an effort to disturb the players' sleeping pattern. Let's see if it worked or if it just made them more eager to win.