LALIGA
Messi penalty enough to see off stubborn Valladolid
A first half Lionel Messi was enough to see Barcelona extend their lead at the top of LaLiga ahead of key clash in Champions League on Tuesday.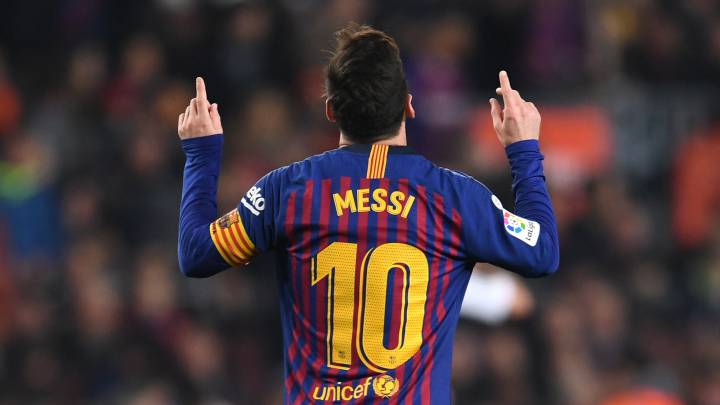 Barcelona 1-0 Rea Valladolid: match report
Ernesto Valverde opted for several rotations on Saturday night against Valladolid and the players he did pick made it hard work for themselves as they prepare for the Champions League last 16 against Lyon on Tuesday.
Messi started but Luis Suarez, Ivan Rakitic and Philippe Coutinho were rested along with Clement Lenglet at the back and with Arthur out, there were chances for Thomas Vermaelen, Carles Aleña, Kevin Prince Boateng and a returning Ousmane Dembele.
Barcelona started in second gear and never really strayed too far from that pace even though they completely dominated the second half.
Piqué was the difference in the first half when he found himself in Valladolid's penalty area before being pulled down by Herrero. Messi stepped up and slotted home the penalty to score his 22nd goal in 22 games in the league this season.
He had a chance to make it 2-0 late on when Philippe Coutinho was taken down in the area by Kiko Olivas. Messi stepped up and went the same side only to see his former teammate Joel Masip guess the right way (again) and save.
Luis Suarez had a number of chances to put the game to bed after coming on for Prince Boateng but couldn't convert and Messi was frustrated time and time again by Masip too.
But this game was more about the energy Barcelona conserved rather than what they did do. They were knocked out of the Champions League in the last 16 last season and are trying to avoid the same fate this season.
They will go to sleep on Saturday night seven points clear of Atlético Madrid in second and nine ahead of Real Madrid in third, who play Girona on Sunday afternoon.
And possibly more importantly, they have a clean bill of health heading into the showdown on Tuesday night.
Barcelona vs Real Valladolid live online: match updates
90'+4' It ends 1-0 at the Camp Nou. 
90'+4'   Coutinho up the other end and he strikes but that is embarrasingly wide.
90'+4'   Another attack for Valladolid but they have absolutely no presence up front. Another waste.
90'+3'   Messi puts it on a plate for Suarez. Another terrible miss. What was he doing waiting so long! Masip with another save by Suarez made it easy for him.
90'+1'   Four minutes added on.
90'+1'   Through ball to Messi as he nearly reaches it before Masip swallows it up.
90'   Another chance goes to waste. Masip gathers it again as Suarez can't find Messi. 
86'   Messi with a left-footed curler just wide. So close to making it 2-0. Masip at full stretch. 
83' SAVED! Masip with another rejection. He guesses the right way from Messi's penalty kick and he saves it. 
83'   Penalty. Coutinho with a little flick to Suarez and receives the ball back. He is taken down by Kiko Olivas and not much doubt about that one.
81'   Masip denies Messi this time. He comes off his line to save. Messi through that time again but Barcelona still playing it tight. 
81'   Slide comes in from Calero on Suarez. Way late and he's lucky not to be booked.
80'   Shot by Calero is a mile over the bar. 
79' Final change for Valladolid as Keko replaces Unal.
78'   Roberto with an effort after linking with Messi. He pulls it just wide. Another nice chance. 
76' Rakitic is on for Aleña. Messi will finish the game. 
74'   Rakitic incoming for Barcelona. 
74'   Antonito with the foul on Vidal. The Chilean still going. He was limping earlier but is still throwing himself around. 
73'   How did Suarez miss that? Ball sent in to him and he tried to kind of punch it home with his left. It just hits his ankle and lands beside him. Poor effort.
72'   Corner for Barcelona. Valladolid had a three on three just before that on the break but a pass across the field was misplayed and Barcelona recovered. Still just 1-0 and Barcelona remain suspect at the back.
70' Coutinho on for Dembele. Barcelona have one more sub to make.
70' Aleña counters and that's a yellow for Herrero as he pulls him back. 
68' Toni Villa on for Verde. 
68'   Rakitic warming up for Barcelona.
68'   Corner for Valladolid. Barcelona not out of the woods yet. 
67' Messi booked for protesting. He was taken down outside the area and is not happy. He was fouled.
65'   Masip with the save from Suárez. That should have been a goal as the Uruguayuan had a one-on-one. Ball rebounds to Dembele and he plays to Messi and his shot is saved by Masip.
64'   Suárez tries his own chilena now and Calero cuts it out. 
63'   Chance for Valladolid. Chilena tried by Verde but he misses and it falls to Antonito. He strikes with an awkward looking effort and it's blocked.
61'   Suarez involved early as it's played down the channel to him. He battles hard and wins a throw with a hint of a free thrown in but not blown. 
59' Suárez coming on for Prince Boateng. Applause from the Camp Nou too as he tried but didn't really do much other than give Suárez a rest.
58'   Valladolid with another counter as Nacho crosses to Verde. Miles over his head and out of play. Valladolid with no presence in attack. They might be thinking of a change. 
55'   Messi with a lovely pass to Roberto. He comes back and plays to Aleña. Barcelona looking better since the break. Valladolid under increasing pressure.
55'   Boateng played through by Roberto. Masip does well to meet him and deny the chance to shoot. Prince waits, and waits and waits but it's out of play. 
52'   Boateng with the through ball to Dembele. He squares to Messi and he misses with his left.
50'   Well over.
50'   Galloping run from Pique ends and Messi wins it back. Prince Boateng shoots but that's over.
50'   Verde with the corner. He plays it short and recieves it again. Strikes at Ter Stegen which was disguised as a cross. Saves and Ter Stegen throws it out to Pique. He races up the field! 
50'   Corner for Valladolid. 
50'   Verde strikes and it catches Piqué in the chest. 
48'   What a save by Masip. Messi volleys from close range but Masip, the former Barca B keepers keeps it at 1-0. Ball in from Alba was perfect too.
46'   Valladolid with another counter. He plays it to Nacho and then gets it back. Strike with his left drags wide. Barcelona have been very suspect at the back on the counter at times today.
46'   We are back underway at the Camp Nou. No changes for either side.
    Messi has also scored 30 goals or more in his last 11 seasons. 
45'   HALF-TIME!
45'   Piqué on his 300th appearance in the league. 
43' GOAL! Messi strikes it home. 1-0. 
41'   PENALTY! Piqué was challenged by Herrero and the ref points to the spot. It could have been a dive. 
41'   Corner and it's cleared by Valladolid. They counter and Nacho makes a complete mess of the cross. 
41'   Messi with a shot on his left. It's blocked after a nice lay-off by Prince. He goes with his right from the rebound. Wide but it took a deflection. 
40'   Another counter as Prince plays the ball to Messi but it's out of his reach. A real disconnect between Barcelona's attacker.
39'   Dembele probably should have gone himself.
39'   Dembele to Messi and he loses it. That's really poor from Barcelona as they just can't get anything going in attack. 
37'   Messi takes a quick free and then clips it forward. Nobody there waiting for it. Valladolid counter. Really nice ball over the top looking for Verde by it's headed out. Barcelona break. 
35'   Nacho breaks down the left. He has an option on the other side but he goes low and it's cut out by Barcelona. They break now and Valladolid win it back. Game has opened up now in the last couple of minutes. 
34'   Too far out to shoot? It is as he clips it forward. Headed out by Valladolid.
32'   Anuar with the second card of the game. He takes out Busquets late and Barcelona have a free from out on the right. Messi stands over it.
32'   Valladolid growing in confidence in this one but still no breakthrough. Guardiola is caught offside this time as Barcelona's high line catches them out again.
28'   Verde toppled over by Vidal. Free for Valladolid as we reach the half an hour mark.
27'   Guardiola gets a cross headed down into his path. He tries to loop one over Ter Stegen but it is well over.
25'   Throw for Valladolid. Just one shot on target for Barcelona so far and zero for Valladolid. 
23'   This is very subdued from Barcelona so far. 
22'   Lovely move too as Guardiola plays a one-two inside the box with Verde. Too many blaugrana jerseys around him though and he is squeezed out. Ter Stegen gathers.
21'   Prince with a dive in the penalty area. Ball passed to his feet and he felt contact before falling in a heap. Ref doesn't even bother ackowledging it. Valladolid counter. 
20'   Sergi Guardiola with a cross on the left and he had the right idea. Unal was inside with his hand up but it's too close to Ter Stegen. Saved! 
18'   Messi finds Dembele out on the left and his right-footed effort is blocked. Best chance of the game as Valladolid were opened up. Tame effort in the end.
17'   Another break comes to an end as Verde ruled offside. Very smart by Vermaelen to step out just in time. Verde was through on goal if he didn't get that right. 
15'   A counter attack comes to an end thanks to a poor Verde touch.
14'   Dembele chased it down and won the free in the end as Hererro slid in on him. Ball whipped in from that free and it's over everyone's head.
13'   Great tackle by Caldero as Dembélé drives into the box. Perfectly timed to deny the French attacker who put on the burners to break free.
11' Unal with a booking.  He catches Busquets with an elbow to the jaw as they jump for the ball. 
10'   Messi with a lovely pass through to Kevin Prince Boateng and he strikes. Saves by Masip, the former Barcelona B keeper.
9'   Verde clips it forward but that's straight to Ter Stegen. 
8'   Foul by Piqué on Enes Unal as he goes through the back of him. 
7'   Valladolid look dangerous on the break but the ball into Verde is way behind him. 
6'   Dembélé drives forward and it arrives to Messi as the attack stays alive. Messi crowded out of it.
5'   Now Barcelona take control and Valladolid site back in their five man defense. 
4'   Vidal to Messi as get make their first venture forward. 
3'   Ball bobbles around in the middle before Verde takes it down on the left again. He wins a corner although Busquets doesn't think it hit him last. Verde to take again.
2'   Valladolid on the attack as a shot comes in before they win a corner through Sergi Guardiola.
1'   We are underway at the Camp Nou! 
    Teams emerge onto the field to the Barcelona hymn.
    Piqué to celebrate 300 games in LaLiga tonight for Barcelona. Just two have played more (Carles Puyol and Migueli).
    Reports today from Paris that Rabiot will join Barcelona in June and Rakitic might leave. The Croatian does not start today as he is one of the players rested for Tuesday.
    A good run out for Dembélé tonight could be just what Barcelona need ahead of Lyon to inject come pace into their stuttering attack.

    The new contract handed to Valverde until 2021 has ignited debate. Why now? Why until 2021? And many people are simply asking 'Why?' Here are some reasons to chew on ahead of kick-off.

    Thomas Vermaelen also gets a start tonight as Clement Lenglet starts. It's unclear as to when Samuel Umtiti returns. He is a certified starter alongside Piqué but it doesn't look like he will make the Lyon game midweek. 

    Two draws in their last two for Barcelona. They have allowed Real Madrid make up ground on them and they need a win tonight to stave of talk of a 'title race'. Valladolid, in theory, are easy fodder. They have won one in their last eight games. 
    Valladolid's XI. 

    Hello and welcome to our live online coverage of Barcelona vs Real Valladolid. Kick-off from the Camp Nou at 20:45.
Barcelona vs Real Valladolid live online: preview
Barcelona are back in LaLiga action against Real Valladolid on Saturday with one eye on the Champions League alst 16 on Wednesday against Lyon. Valladolid are coming off a decent 0-0 with Villarreal in which they were delighted to have denied a fellow relegation-battler a win while Barcelona are coming off their own fristrating 0-0 draw with Athletic Bilbao last Sunday night. Kick-off from the Camp Nou is at 20:45 CET.
Ernesto Valverde just signed a new deal, which extends his current contract until 2021 and he will be hoping to celebrate that with a win on Saturday afternoon. Samuel Umtiti is nearing a return but the game came too quickly for him and it seems Lenglet and Piqué will start at the back again while Arthur remains out. Ousmané Dembélé is back and should start and Coutinho's place should be safe given the absence of Arthur in the middle. Lionel Messi and Luis Suárez could remain the heartbeat of their attack despite playing mutliple games in recent weeks but Valverde might rotate in effort to keep some legs fresh for Tuesday. Real Madrid sit just six points behind Barça at the top of the table and have Girona at home on Sunday. Barcelona don't want that gap to get any smaller even if it means playing their best 11 just days before the Champions League last 16 tie against a lively Lyon. They'll be looking to end this one and end it early so they can be rested and ready for Tuesday but if Valladolid can keep close, it could be another Bilbao-like situation for Ernesto Valverde's side.
Ronaldo Nazarío returns to Barcelona but this time he is the owner of Valladolid. And they had a good run of it for a spell under the Brazilian before regressing to the mean. Even in their loftiests dreams, they knew they wouldn't be fighting for Europe but maybe hope they could remain in mid-table. They currently sit 15th and just three point off the relegation places. They are missing Oscar Plano to suspension along with Ruben Alcaraz and Lusimi.