CHAMPIONS LEAGUE
Lyon hold off toothless Barcelona
Barcelona struggled to break down Lyon in the Champions League after an even first half and then dominating completely in the second.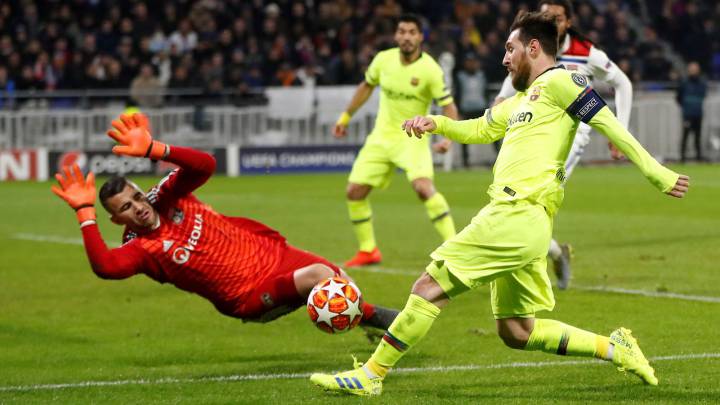 Lyon 0-0 Barcelona: match report
On Tuesday in Lyon, Barcelona drew a blank in their quest to go one better than last season by qualifying for the quarter-final of the Champions League. They prevented Lyon from scoring too and will be confident of a win in the Camp Nou in three weeks time but their form in front of goal is starting to draw concern.
It was always going to be a tricky tie for Barcelona but they didn't make life easy for themselves with a congested and confused attack and despite Lyon showing their qualities in the first half, they faded badly in the second with Barcelona camping out in their half for long spells.
Valverde opted for Dembele in attack with Sergi Roberto replacing Arthur in midfield to start. While Lyon were without Nabil Fekir, they could count on Ferland Mendy despite an injury scare in the warm-up as he took a heavy knock to his ankle from a teammate.
The two sides traded blows in the first half with Messi being hauled down outside the area inside the first five minutes. He sent the free over and that was the story of the first half or Barcelona; off target and off their usual game. They had chances but they were rushed and missed along with passes that went astray. They looked a frustrated group with Lyon looking dangerous in possession too.
Dembele in attack for Lyon was doing a good job of holding the ball up and waiting for support with Depay getting Mendy and Traore involved with his passing from the number 10 role.
The second half saw Barcelona dominate but they failed to ever truly test Anthony Lopes. Coutinho had an effort that he fisted away and Suarez drove one wide from a cross from the left. Messi had a free within his range too but it struck the wall.
In the second half, as Barcelona pushed for that away goal, their frustration only grew. Suarez looked a yard off the pace and Messi was faced with two and three defenders every time he got the ball. The only reprieve Barça had in that second was Lyon's attack ceased to function and their counter attacks were ending before they even got going.
Barcelona will feel like they let this one slip and with Nabil Fekir returning to the side as their main goalscorer and creative outlet, they might have concerns about their ability to contain a lively Lyon with the pressure of last year's upset against Roma replaying in the back of their minds.
Lyon vs Barcelona live online: match updates
90'+3'   GAME OVER!
90'+1'   Suarez loses the ball in the penalty area. 
90'   Messi hits the wall and then rebounds it by hitting the wall again. 
89'   Free for Messi right outside the box. Mendy the man who fouled him as he bore down on goal.
88' Semedo throws Aouar to the ground. Booking for the defender.
87'   Messi takes down the cross from Suarez. He shoots with his left and it's going wide. Suarez throws his head at it but it's well wide.
85'   Busquets with an effort that Lopes turns over the bar. Messi saved it from going out for a goalkick and clipped it back to the midfielder. Nice effort and save.
83' Last change for Lyon. Ndombele off for Pape Cheikh.
81' That's Roberto's last input. Vidal on.
81' Sergi Roberto with a foul and then he drives the ball into the stands. Booking for him.
80'   Barcelona are all over Lyon now. No goal though. Lyon relying on a counter and even their ability on that front is waning. 
78'   Messi takes down a long, lovely pass and he clips it to Suarez. He plays it off to Alba and his shot is just wide. He caught it lovely but it's off target.
77'   Suarez fouled and Messi sends in the free. Makes its way out to the other side and into Lopes' hands from the cross.
76'   Coutinho with an effort. Saved by Lopes. It was an acrobatic effort from the keeper but not entirely sure he needed to make it look that elaborate. Saved it easily. 
75'   Suarez twists and turns and gets a yard to cross. Denayer heads away.
72'   Terrier down with cramp. Cornet is getting ready. And Ernesto Valverde ready to make a move too as he warms up Arturo Vidal.
70'   Ball inside from Alba and Suarez drives it as he slipped. What a chance and he misses.
69'   Long ball looking for Depay but he can't reach it. He's playing on the left now, it seems. 
67' Traore coming off for Tousart.
66' Dembele replaced by Coutinho. 
66'   Barcelona looking a little congested in attack. Dembele cross is to nobody and it's cleared for a throw.
65'   Shot from Messi is saved. 
63' Coutinho coming on for Barcelona. Sergi Roberto takes a blow to the mouth and he is pumping blood. Sore one.
63'   Suarez with the shot and it's out for a corner. He has Messi inside him but can't work his feet out to get it to him. Pokes it towards goal but it's deflected.
62'   Dembele takes off for Lyon. He wins it ahead of Lenglet and takes it around him but loses the ball to Ter Stegen.
61'   Barcelona sweep it up for him.
60'   Lyon work it out from the back and Depay runs ar Pique. He gets to the end line and sends it across goal. Ter Stegen grabs and then fumbles. 
58'   Mendy's ankle caught. Sore one for the left-back who got a knock on that same ankle during the warm-up. Free for Lyon that Depay takes.
56'   Suarez tries to go around Denayer. That was a really poor attempt. 
55'   Dubois gives it away. Dembele takes off and he's caught. Traore showed off some serious speed there.
54'  Lenglet goes through the back of Depay and that's a foul. No yellow though and the home fans want one. 
54' Lyon have fought back and holding the ball well after a bright Barcelona start.
52'   Depay with a shot. Traore tries to go around Alba and Alba gets a foot on it. It breaks to Depay and he strikes. Just wide! Genesio on the sideline applauds the effort.
52'   Dembele down the left and he sends in a cross. Blocked and Lyon break with Depay as the most forward player. He goes all the way back and Lyon keep the ball. 
51'   Traore tried to be smart with a flick out to his right. He knew he left his teammate short and fouled Semedo. 
50'  Ball inside and Messi miscontrols it. Falls to Rakitic and his shot is blocked out to Mendy. Sergi Roberto battles him for it but ends up fouling him in the end.
49'   Barcelona doing a good job of keeping Lyon away from it so far. 
48'   Alba plays inside to Messi but Lyon get it away only as far as Rakitic.
47'   Pique put under pressure but Depay and he wins a throw. Semedo to take. 
46'   No changes! We are back underway.
Teams back on the field and no changes for either sides, it seems. 
45'+1'   Busquets shoots. It takes a deflection of Denayer. Corner but we don't have time for it. Half-time! 
45'   Dubois thought he had the ball back but the ball out from Ter Stegen didn't leave the penalty area and they have to take it again. 
45'   Ndombele with another errant pass. They win it back and that is really majestic stuff. So many one-twos. Terrier the shooter in the end. he drives it over.
44'   Demebele blazes one low and wide. Lopes says he couldn't see it properly. That was really close. 
43'   Sergi Roberto with a cross out to the left where Dembele is waiting for it. Chested down to Lopes. 
42'   Dubois cross is blocked. 
41'   Nice counter comes to an end as Ndombele passes straight to a Barcelona player. He was trying to first-time it across the left but the pass was all wrong. 
40'   Depay whistled as Lyon break. He caught Lenglet, the replay shows, but it looked harsh first time round. Referee has no doubt.
39'   Ball crossed in and Dembele sends it towards goal with a first time touch. Suarez jumps in the air with Lopes and catches him. Free for Lyon. 
38'   Messi out to Semedo. Lyon fans whistling the visitors having the ball for so long. 
36'   Barcelona with 52% possession so far. The battle for the ball rages on....
36'   Suarez with a cute chip from outside the box. Lopes not caught out but it was on target.
36'   Semedo thrown on the ground and Barcelona win a free. 
35'   Free sent in and Lenglet heads over.
34' Dubois goes in on Suarez and gets booked.
33'   Messi looks for Dembele in the middle and Denayer with a hint of a handball but it looked to have caught his chest. Barcelona pressing forward now. 
32'   Messi with the ball out to Alba. Sent back inside and Alba put it out for a throw.
31'   Corner sent to the back post and then crossed in again. Barcelona clear. 
30'   Depay through to Dembele and he wins a corner. Pique a little slow to get up but does after his saving tackle.
29'   Corner from Dembele and that's a lovely delivery. Lyon struggling to cope and they win it back before starting a counter. Out to Mendy and he comes back inside. 
28'   Depay with a through ball looking for Traore but it's too heavy for him.
27'   Depay out to Mendy. He's starting to get into now as he wins a throw.
27'   Ball down to Suarez but he looks really exhausted. 
26'   Free for Lyon as Roberto fouls Mendy.
25'   Lyon have gotten to grips with Barcelona. They attack down the left and the cross is cleared. 
24'   Messi sends it in to the front post and that's cleared easily.
23'   Roberto sends one out wide to Semedo. His cross is blocked by Mendy. Corner for Barcelona.
21'   Suarez tries to beat three Lyon defenders. He throws Denayer to the ground and gives away the free. 
21'   Not sure what that was. Jordi Alba found himself in the middle and he played it out wide to Dembele. He tries to cross it in but he overhit it by a mile and it nearly went out for a throw. Even his Barca teammates were scratching their heads over that one.
19'   Depay plays it through to Ferland Mendy but he has no chance of catching that one before it goes out for a throw.
18'   Dembele weaves his way into a shooting position. Lopes saves. 
17'   Alba pulls it back to Messi. Dembele was thinking about touching it but he obviously gets a shout from Messi, who fires over. Plenty of chances early on here.
15'   Rakitic with a strike. His first effort is blocked but he gets another swing at it and it's just wide. 
14'   Depay picked off by Messi. Really amateur from the Dutch winger. Messi drives forward and shoots but Denayer blocks it.
13'   Lyon win it back and that's why Barcelona are trying to keep the ball. The fans roar their side forward and they're very good on the ball too. 
12'   Another free for Barcelona in a similar position. Messi whips this one in and it's headed out to Dembele. He takes a touch on his right and onto his left. Miles over the bar.
11'   Dembele thrown to the grounf by Dubois. Free for Barcelona but they go backwards with it. They want to protect possession in this one.
10'   Lyon not afraid of shooting, of that much we are sure! Barcelona trying to slow things down now for the time being. 
9'   Terrier with a strike now with his right. He forces an incredible save from Ter Stegen. He touches it onto the crossbar. 
9'   Semedo concedes a throw. Barcelona not comfortable at all here but doing well. Lyon haven't settled yet either. Atmosphere is electric.
7'   Goal kick for Lyon. 
4'   Crner for Lyon. It nearly bounces to a Lyon player in the box but Barcelona clear. Lively start to this one.
4'  Chance by Aouar now. He strikes with his right from an unorthodox position and Ter Stegen wasn't expecting it. 
4'   Perfect position for Messi. He clips it over. That's not great by his standards.
3' Messi wins the ball back and he's fouled outside the box. What a mess Lyon find themselves in. Sergi Roberto the man who got a foot on it to win it back and the Argentine drove towards foal. Aouar booked for the tackle. 
2'   Foul by Busquets in the middle as he catches Aouar.
1'   Barcelona drive forward down the left early and Dembele drives a shot across goa. Wide. 
1'   We are underway! Barcelona kick us off.
    It looks like Ferland Mendy will start. 
    The teams emerge onto the field! 
    Being reported that he won't be able to start but nothing confirmed just yet. Marçal is the name being mentioned as a possible replacement.
    All eyes on Mendy during the warm-up. He is heading back into the dressing room. A knock to the ankle, it looks like. That would be a massive blow for them.
    Uh-oh, Ferland Mendy is limping after taking a knock in the warm-up. Physios looking at his ankle now.
    Their top scorer is out though with Nabil Fekir suspended. Traoré, Depay, Dembélé are all next in line though and they have scored 19 goals amongst them this season. 
    Lyon have lost one in nine games in Ligue 1. They also went unbeaten in the Champions League with one win, against Manchester City BTW, and they drew the rest.
    Ferland Mendy is seen as one of the most dangerous players in Lyon's team. He will likely be pinned back time and time again by Dembélé on the right tonight.
    Some stats on both knock-out ties tonight as Liverpool play Bayern and Barcelona, of course, travel to Lyon.

    Arthur is replaced by Sergi Roberto in midfield. Many thought it might be Aleña or Vidal but Roberto gets the nod. He is possible more versatile than the other options but it not a straight swap for Arthur. 
    Lyon XI: Lopes; Dubois, Marcelo, Denayer, Mendy; Ndombele, Aouar; Traoré, Depay, Terrier; Dembélé
    Bruno Genesio says it is pointless trying to stop Lionel Messi. He might be right.
    Barcelona XI: Ter Stegen; Semedo, Piqué, Lenglet, Jordi Alba; Busquets, Sergi Roberto, Rakitic; Messi, Suárez, Dembélé
    Suárez has not scored in almost two and a half years away from home in Europe. That's 1,252 days. He was rested for an hour at the weekend and they will need him at his very best tonight.

    Hello and welcome to our online coverage of Lyon vs Barcelona from France in the Champions League last 16! Kick-off is at 21:00 CET. 
Lyon vs Barcelona live online: preview
Barcelona captain, Lionel Messi, said his side have 'unfinished business' at the start of the year despite winning the Copa del Rey and LaLiga titles last year. He means the Champions League and after their defeat at the hands of AS Roma at the same stage last season, they are laser-focused on Lyon as they look to end Real Madrid's monopoly of the competition. Lyon, who handed PSG their first league defeat of the season recently, are one of the worst teams Barcelona could face. They are attacking, fearless and they have nothing to lose as the underdogs. Kick-off from Lyon is at 21:00 CET.
Lyon are without Nabil Fekir, who is suspended for the game, and the onus will fall on Memphis Depay to do most of the creating in his absence. The Dutchman could play in the number 10 role and recently said he is eyeing a move to one of the bigger clubs in Europe and this is the perfect audition for the winger. Ferland Mendy, who Barcelona are reportedly interested in to back up Jordi Alba will have to be contained on Tuesday night as one of their main attacking threats down the left. "I think that Ferland Mendy is ready to face Messi," said Lyon manager, Bruno Genesio before the game in hope rather than expectation. "We are confident in the qualities of our squad."
If they were looking at Barcelona's display against Real Valladolid on Sunday night, their confidence might have been boosted. Barça dominated but they were poor and Gerard Piqué, who drove forward to win the penalty that would win the game, admitted "if we play like that on Tuesday, it won't go well." The reason, perhaps, for their poor performance was because of the focus on the Lyon game but Sergio Busquets says they are not obsessed with revenge for the Roma game last season. It was certainly a shock though and Ernesto Valverde, who recently signed a new deal that extends his current deal for another year, shouldered most of the blame but he says his side are hungry and ready for the test. In an erratic Champions League this season with no clear favourite, Barcelona will fancy their chances against anyone. They are without Arthur, however, who leaves a hole in midfield. Jasper Cillessen is also out along with Rafinha and Thomas Vermaelen. Samuel Umtiti is back in the squad but it looks like he will be left on the bench to start as he returns from a long-term injury.