Fed up of Bale
The Bernabéu crowd are fed up with Bale and made their feelings loud and clear during Saturday's Clásico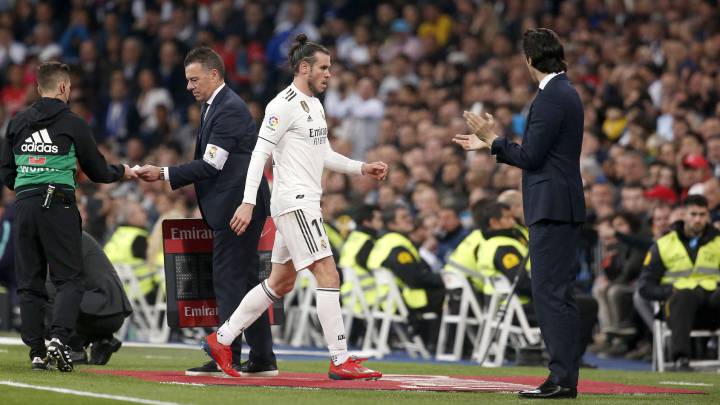 If Gareth Bale's start in Saturday's Clásico was his chance to redeem himself in the eyes of the fans and recover his starting place in Santiago Solari's side, he certainly blew it. After a passive performance, Bale came off for Marco Asensio in the 61st minute to some of loudest whistles ever received by a Madrid player at the Santiago Bernabéu.
In the first half, during which Vinicius was the only one who really threatened Barca, Bale was wrapped up in his usual apathy. He only touched the ball 11 times in those first 45 minutes and one of those touches was a free-kick he launched five meters over Ter Stegen's crossbar early on. Even Ter Stegen's opposite number between the Madrid posts, Thibaut Courtois came into contact with the ball six times more than the Welshman.
Bale exempts himself from defensive duties. And without Vazquez, who Solari has favoured over the Bale in recent weeks, Modric was overworked in protecting the area that the Welshman did not cover.
"I can't believe that Solari tells Bale not to defend and that he decided to weaken his midfield against Barcelona," stated Spanish TV football pundit Michael Robinson on Movistar + El Partidazo, commenting on the Argentine coach's decision to start Bale ahead of Vazquez on this occasion.
Bale also did very little in attack and failed to trouble Ter Stegen. Aside from the aforementioned free kick, the winger didn't have a single shot. And with just 11 passes, he had just one more than Asensio, who played just 32 minutes after he came on for the Welshman.
Solari and squad continue to back Bale
Despite his lacklustre recent form, his apparent distance from the rest of the dressing room and the fall out with the fans, the squad continue to publically support their British team mate.
The latest to do so was Dani Carvajal, who after the game said: "If we want to aspire to win the Champions League and the league, we need Gaz (Bale's nickname in the dressing room), he is key."
Solari also backed him after the game when asked if Bale's return to the starting line-up had been a failure.
"Bale tried, just like all the team. We do not talk about individuals, it is a team sport," said the Argentine coach. Bale has done a lot of things for this club, he deserves respect, but the crowd are tremendous."
But the crowd are also fed up with Bale and made their feelings loud and clear. Accompanying the whistles when he came off round the hour mark were some isolated chants of "Bale go now!".
"I want to ask a question, can anyone explain to me what position is ideal for Bale after five years?" pondered club legend Predrag Mijatović said on Spanish radio after the Saturday's. Whatever Bale's ideal position is, it seems that the majority of the Berbabéu crowd do not want it to be at Real Madrid.