Cristiano Ronaldo hat-trick sees Juventus progress over Atlético
Two headers and a penalty from the Atlético Madrid terroriser were enough to overcome a first-leg deficit and The Old Lady strolls on in the Champions League.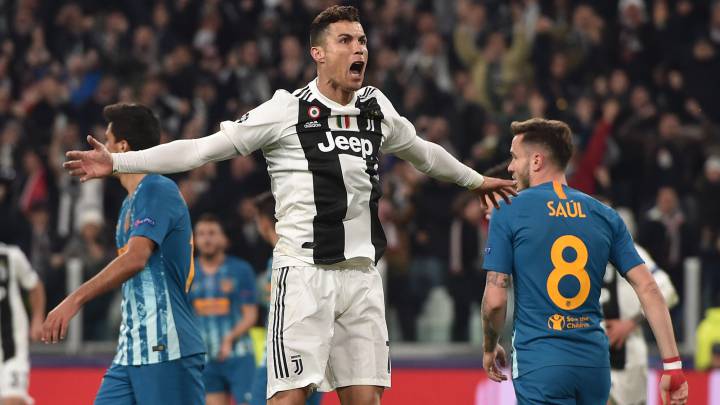 Juventus 3-0 Atlético Madrid: match report
Juventus beat Atlético Madrid 3-0 on Tuesday night to overturn a 2-0 defeat at the Wanda Metropolitano with thanks to a hat-trick from Cristiano Ronaldo.
The summer signing predicted he'd score three before the game and he did not disappoint with a pair of headers and a penalty to seal the deal against a woeful Atlético Madrid side at the Allianz stadium.
Juventus threatened early and Chiellini had a goal ruled out after Ronaldo was ruled to have kicked the ball from Jan Oblak's hands as he went down to the collect from one of Juve's early crosses. It was a sign of things to come.
They whipped the ball in time and time again with Atlético growing increasingly nervous under the deliveries. They eventually cracked when Ronaldo got a run on Juanfran at the back post and headed home after 27 minutes.
He headed home a second after 48 minutes to level matters on aggregate but it only seemed a matter of time before they took the lead outright given Atlético's lack of attacking intent. They had zero shots on target during the 90 minutes and had no answer to Juventus' intensity.
After that second goal, Atlético did improve but it felt more like game management from the home side than Atlético taking the game to their opponents.
Angel Correa chased Federico Bernardeschi into the box and tripped him before Ronaldo slammed the penalty home after 86 minutes leaving Atlético Madrid little time to wake themselves out of their slumber.
Juventus, early season favourites to win the competition, went through a dip in form recently but they were back to their best and are in the draw for the quarter-final on Friday with Atlético left nursing their wounds.
Juventus vs Atlético Madrid: live updates
90'+5' It's over. GAME OVER! Juventus go through.
90'+3'   Atletico look exhausted and can't even get anything going here even though they're losing.
90'+3'   Juanfran puts the ball out for a throw with a really poor touch.
90'+1'   Saul with a pass to nobodt and Ronaldo is fouled by Koke.
88'   Incredible scenes. Ronaldo with another hat-trick.
86' RONALDO ABSOLUTELY BURIES IT! 
84' Gimenez booked.
84'   Correa trips up Bernardeschi. PENALTY! PENALTY Juventus. 
84'   This game is suddenly really open. 
83'   Correa picked off and Juventus break. Kean with the golden chance. He absolutely drills it wide.
82'   Another cross comes in and it's headed out. Bernardeschi kicks it out for a throw.
81' Moise Kean on for Mandzukic.
80'   Free by Griezmann as Szczesny gathers.
79'   Crossed in by Atletico and it's blocked. Atlético have definitely improved here.
78'   Change of system for Simeone? 
77' Vitolo on for Arias.
76'   Dybala cross and it's blocked but he wins a corner.
74'   Morata caught by Pjanic. Free for Atlético.
74'   Ball clipped into the back post. Mandzukic lurking and he puts it wide with a combo of his head and his knee.
73' Juanfran cleans Ronaldo out of it late. Booked for the challenge.
72'   Ball launched over the top to Mandzukic and it's into Oblak's hands. 
71'   Referee wins the ball back for Juve as Griezmann kicks it off him. Ronaldo drives forward and Oblak grabs the ball after it takes a bounce of a defender.
71'   Morata lucky there not to get booked. He put a hand up to Chiellini.
70'   Chiellini and Morata getting into it now.
69'   Now Atletico are moving forward and forcing Juventus backwards. 
68' Dybala coming on for Spnazzola.
67'   Cancelo with a run down the right and it's headed out. 
66'   Emre Can down holding his knee after a challenge on Koke. He's back up again though. Play back on as Juventus look for a third.
65' Bernardeschi raises a hand to hold off Arias and there's a yellow for the Juve player.
64'   Morata battles with Chiellini and he fouls him. 
62'   Correa gets the ball down and runs at Juve's defence. He strikes and it's over the bar. 
59'   Juventus' assault has eased off now for the minute.
58'   Ronaldo does indeed shoot but it's blocked. Atletico break away and there was a handball during that counter. Correa taken down by Cancelo anyway.
57'   Gimenez catches Ronaldo and that's a free for Juventus. Free from a dangerous position but not really a shooting chance...maybe. Ronaldo is eyeing it up.
57' Simeone making a change. Lemar for Correa.
56'   Ronaldo catches Lemar and it's a free to Atletico. He caught him with an elbow but he didn't know much about it as the ball came over his head. 
55'   Another cross and it's out to the other side. Crossed in again and Atletico beat it away. This is just relentless. But Atletico not helping themselves not being able to hold onto the ball in attack.
54'   Juve on the attack again. Another couple of crosses causing problems.
53'   Cross from Spinazzola and that's out for a goal kick.
51'   Griezmann with the run down the right and he cuts it back but that's out of Koke's reach. Atletico can't do anything right in attack tonight. Juventus in control of this tie now completely.
50'   Another cross comes in. Atletico clear.
48' GOAL! GOAL! GOAL! Ronaldo header. Looked like Oblak saved it but it goes over the line. 2-2.
48'   Lemar gets it and sends it across the field. Picked up by Juve and they attack now.
48'   Griezmann wins it back but he's all on his own.
48'   Chance now for Juventus.Bernardeschi slips and can't recover in time. Atletico clear. 
46'   Ronaldo gets a yard in the box and drives a cross in. Mandzukic nearly gets a head to it. Ball out to the left and it comes in but Oblak grabs it.
46'   No changes for the second half.
46'   We are back underway. Can Atlético hold on? Or will Juventus prove too powerful.
Juve back in the dressing room. Atlético on the field and waiting.
Atlético are going to need to score, it feels like. How? Their bench is quite thin but they need to have a go here or they're going home.
45'+2'   Mandzukic down injured. Not sure what's wrong with him but looks like a cut on his thigh.
45'+2'   HALF-TIME!
45'+2'   Koke with the cross. Morata peels off the marker and heads over. That was close.
45'+1'   Gimenez with a long clearance. He was looking for Morata but no chance as Juventus sweep it up.
45'+1'   Two minutes of added time.
45'+1'   Juve push forward once again. 
45'   Corner comes in and it's cleared by Atletico.
45'   Pjanic with the corner and Chiellini heads onto Oblak's glove. Tapped over the bar. 
44'   Bernardeschi with a left-footed strike. Lemar gets a nick on it and it's over for a corner.
43'   Juventus win it back after a clearance from Atletico. Cross from the left and Ronaldo rises highest. He heads wide.
42'   Atletico hold the ball for a long time and then lose it. Unwilling to cross it in and they lose out. Juventus break but Arias does well against Ronaldo. 
39'   Cancelo comes across and Lemar's cross is out for a throw. Better from Atletico but Juventus have this one under control.
38'   Rodri chips it towards Griezmann. Headed down but Koke recovers.
38'   That cross was going wide and Atletico head it out with Ronaldo winning it. Atletico look rattled here. Juventus know it too. Just a matter of keeping this at 1-0 until half-time for them now.
37'   Morata with a foul on Pjanic from the Atletico throw. He catches him on the back of the head. Sore one for Pjanic. Chance for Juventus to whip yet another one in.
36'   Saul really forceful there to try and win it back but he fouls Cancelo. he really wanted to win that ball back.
35'   Godin pushed over by Mandzukic. He wins a free. Atletico's every attack is breaking down and they need to fix that.
34'   Bernardeschi with the chilena. Lovely technique. He catches it just lovely but it's over.
32'   Obla takes his time here.
32'   Bernardeschi swings it towards goal. Over the bar with his left foot.
31'   Chance for Ronaldo now to drill this one towards goal.
31'   Rodri fouls Bernardeschi. He clipped him as he took the ball by him.
31'   Ronaldo has the ball stolen off him and Atletico look to have it but they lost it again. They have zero control on this one.
30'   Ball launched in by Griezmann and Szczesny grabs it.
29'   Bernardeschi fouls Lemar and Atletico have the chance to calm things down.
28'   Another cross. To the back post looking for Mandzukic. Too far out of his reach.
27' GOAL! Ronaldo gets his head on the ball. Whipped in by Bernardeschi and he beats Juanfran in the air.
26'   Atletico almost break. Griezmann launches up the field with some quick thinking but too short for Lemar.
26'   Rodri steps across to cover well after Spinazzola nutmegs Arias. Corner for Juventus.
25'   Griezmann with a shot with his left. Lovely effort. Szczesny wasn't expecting that. He saved and there was an offside as Morata jumped and tried to get a nod on it.
25'   Atlético look to have weathered the storm.
24'   Juanfran wins a throw and he is ready to take. 
23'   Ronaldo with the cross now and Oblak grabs that one.
22'   He drives over the ball. No chance of worrying Szczesny from there.
22'   Good spell now for Atletico Madrid. Koke tries his luck after getting the ball from Griezmann.
21'   Arias gets the ball with a nice run and he plays to Griezmann. Atletico hold onto the ball. 
19'   Saul picks off Bernardeschi and he breaks. He tries to play to Griezmann, who splits out to the left.
19'   He was miles out and maybe not the best option. 
19'   Bernardeschi with the shot with his left. Blocked. 
19'   Lemar looked like he was caught as he tried to break free. No free and no foul either but Morata fouls Can.
18'   Ronaldo with another run down the left and cross. Blocked this time for a throw.
17'   Griezmann fails with a clearance. Bernardeschi picks it up and sends it into the box. Chested down by Oblak.
16'   Another cross and headed out yet again.
15'   Another cross. Headed out again. 
14'   Another cross. Headed out and kicked clear by Lemar.
13'   Nice move from Morata to keep possession and Atletico attacking. Lemar with some nice moves now too before he loses it. 
13'   Another ball whipped out to Cancelo and he sends a cross in. But he mishits it completelyt and it's out for a goalkick.
12'   Juventus with 82% possession so far. 
12'   Pjanic with a ball out to Cancelo and he miscontrols it. Out for a throw to Juanfran.
11'   Atlético Madrid might have seen off that initial burst by Juve. Let's see! 
10'   Rodri caught out there. Koke beaten down the left and pass inside. Rodri lost Matuidi in the middle and Juve unlucky not to create a really good chance. Another cross comes in, this time from the right, and Oblak gathers.
9'   Lemar clips Spinazzola and that's a free to Juventus.
8'   Very slopp, this one. 
8'   Emre Can barges into the back of Morata and Atlético win a free. 
8'   Another long ball by Bonucci and it's a goalkick. 
7'   Kicked out to Morata and he fouls the defender. 
7'   Ronaldo crosses one in from the left. He sends it miles up into the air. Out for a goalkick and another chance for Atletico to get their second wind. 
6'   Juventus' tails are up. They're back on the ball. 
6'   That delay will help Atlético get themselves together. They really haven't started well. 
5'   Ball crossed in and Ronaldo kicks the ball out of Oblak's hands. Free for Atlético, it looks like. Juventus fans aren't happy.
4'   GOAL! Offside. Or handball though. Not sure really what is happening here.
3'   Matuidi gets the ball cut back to him. He strikes with his left and it's blocked. Ball sent back in and Arias chests it out for a corner.
2'   Atletico picked off and Juve attack again. 
2'   Ronaldo down the left. He crosses and it's cleared. 
2'   Sloppy start here. 
2'   Atlético on the ball and Juventus fans not happy. They want it back! And they want it back now.
1'   First chance as the ball is sent out to the left and crossed in low. Atlético get the ball away. 
1'   We are underway! 
    A proper cauldron at the Allianz Stadium tonight.
    Gimenez and Griezmann on yellows and would miss any potential quarter-final.
    Matuidi on a yellow and will miss a potential quarter-final first leg if he's booked tonight.
    Teams in the tunnel and ready for action. Godin and Chiellini, two warriors, ready to lead their sides out onto the field.
    Here's a good read on Ronaldo, his waning powers and Juventus' obsession with the Champions League.
    Just 10 minutes to kick-off. 
    Some Rage against the machine on stadium PA getting the fans all riled up.
    Dybala is learning a lot this season at Juventus but I'm sure he won't like being left out of their biggest game of the year.
    De Sciglio, Sandro, Bentacur and Dybala all left out from the first leg. 
    Szczesny, Spinazzola, Can, Matuidi, Bernardeschi are the players who remain in the starting team.
    Juve had a fairly handy 4-1 win over Udinese on Friday night. Cancelo, Bonucci, Chiellini, Pjanic, Mandzukic and Ronaldo were all out of the team for that but they all return. 
    Juventus XI: Szczesny, Cancelo, Bonucci, Chiellini, Spinazzola, Emre Can, Pjanic, Matuidi, Bernardeschi, Mandzukic, Ronaldo. 
    Atlético Madrid XI: Oblak, Arias, Giménez, Godín, Juanfran, Saúl, Rodrigo, Koke, Lemar, Griezmann, Morata. 
    The pitch in Turin looking spectacular.

    Half and half city! 

    Diego Simeone says he is happy with Atlético Madrid despite Barcelona's lead in LaLiga.

    If you dabble in Instagram stories, Atlético Madrid are posting videos of their trip to Juventus Stadium. This is getting very real.
    Ronaldo has scored 8 times on Jan Oblak. Problem is, six of those goals came in 2 games when he scored two hat-tricks.
    Allegri says Juve's obsession with the Champions League is too much. He says they have done really well and that regardless of the result, they are heading for their 8th Serie A title and they've won the Italian Cup too.

    Atlético are without Thomas Partey and Diego Costa, who are suspended, and both Filipe Luis and Lucas Hernández, who are injured. He called 20 players up and travelled to Turin with them though.
    Morata given a hero's welcome upon returning to Turin.

    A look at nine player who donned the Juve and Atlético strips during the career.

    Hello and welcome to our live online coverage of Juventus vs Atlético Madrid! Kick-off from Turin at 21:00.
Hello and welcome
Juventus vs Atlético Madrid: preview
Atlético Madrid lead Juventus 2-0 after the first leg where they pretty much dominated Juventus with Diego Godín and Jose Gimenez bagging the goals in the second half. In that game, Ronaldo poked fun at Atlético Madrid fans by holding up five fingers for all the Champions League titles he has won and the visitors will be keen to ensure he doesn't have a chance to make it six tonight.
They are without Diego Costa, Thomas Partey, Filipe Luis and Lucas Hernández while Juve can not count on Alex Sandro, who is suspended, while Mattia De Sciglio, Juan Cuadrado, Sami Khedira and Douglas Costa are all out injured.