Barcelona rampage their way into the quarter-final
Lionel Messi and Barcelona made light work of Lyon when it mattered most as they beat the visitors 5-1 on their way to a Champions League quarter-final.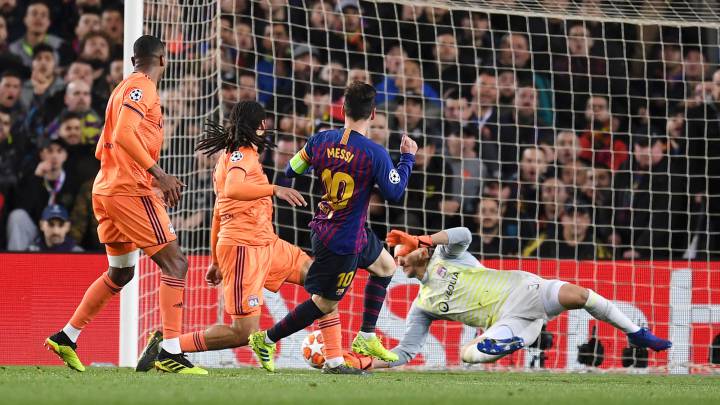 Barcelona 5-1 Lyon: match report
Barcelona qualified for the quarter-final of the Champions League for the 12th year in a row with an impressive, at times explosive, display against a Lyon side who knew they had their work cut out for them. Lionel Messi scored two with Philippe Coutinho, Gerard Piqué and Ousmane Dembele got on the scoresheet too.
Lyon captain, Nabil Fekir, said his side were going to the Camp Nou to perform a miracle and while they managed to pull a goal back in the second half after the home side had scored two, Barcelona always had them at arm's length.
After a scoreless first leg, Barcelona returned home with the possibility of an early away goal complicating things for them. Lionel Messi was in no mood to entertain such thoughts.
The Barca captain tested Anthony Lopes with a strike early on. The keeper turned it around the post but Messi was moving fluidly and with menace around Lyon's penalty area. With Coutinho and Suárez playing their part as decoy, at times, and providing their own danger, Barcelona dominated.
Suarez was tripped after a perfectly weighted pass into his path from Messi. Going nowhere, Denayer slid early and caught the striker with the referee pointing to the spot.
Messi calmly sliced a panenka down the middle as Lopes jumped to his left. With 18 minutes on the clock, Lyon were going to have to score.
After 31 minutes, they'd have to double that if they wanted to continue in the competition.
Coutinho, who looked like the most relieved man in Barcelona after he struck home, was played through after good work by Suarez for the second.
Lyon didn't have a shot on target in that opening 45 and while they looked to play expansive football on the rare occasions they did get the ball at their feet, Barcelona were combining their lethal attack with resolute and convincing defending.
The visiting side, with nothing to lose, did have a go for a 20 minute spell and their pressure yielded a goal. Lucas Tousart chested down to himself and slammed home to make it 2-1 despite a lengthy intervention from VAR to ensure there was no offside or foul in the build-up as Denayer and Lenglet clashed at the back post.
With the Camp Nou on edge, Messi slid into the driving seat and assuaged fears.
He got the ball in the Messi zone just inside the penalty area and on his favoured left-foot. With two defenders in his face, he faked them both back to France and turned onto his right before sliding home. The keeper got a hand to it but it was weak and the ball rolled over the line.
The third showed Messi at his individual best but the fourth was a display of smooth counter-attacking football and a telepathy beyond the norm.
From a Lyon corner, Barcelona broke with Alba finding Messi in the middle of the field. After a probing run into the box, he laid off to Pique, who was on hand to turn it home at the back post.
The fifth had notes of all of the above with a sense of unstoppable rampage. Messi led the troops again into enemy territory with Suarez peeled out to the right and Dembele out to the left. Vidal, with his legs churning like pistons, drove forward to keep Lyon occupied and Rakitic lay in wait, gasping to get involved.
Messi laid it off to Dembele and he slotted home to make it five and put a stamp on an overall authoratitive performance from Valverde's men.
Reports suggest Barcelona are putting all their eggs into the European basket having watched their rivals lift the trophy for the last three years in a row. Real Madrid are out and so too are PSG with Atlético and Bayern waving goodbye to their hopes of glory too. Barcelona are still in with a shout and the closer they get to the finish line, the more focused their approach will be.
Barcelona vs Lyon live online: match updates
90'+2' GAME OVER! Into the last eight, Barcelona go.
90'+1'   Two minutes of added time here. Lyon begging for mercy.
87'   What a run from Messi and they just completely overwhelm Lyon.
84' GOAL! Messi with the assist and Dembele slots home. Just like that.
83' Roberto replaces Semedo.
81' Just like that. Barcelona counter and Alba finds Messi before he dribbles into the box and plays it to Pique. He slots home.
81'   Corner for Lyon. 
77' GOAL! Messi wraps this one up. 3-1. He runs and fakes onto his left before coming back on his right and then shooting. Keeper gets a hand to it but can't keep it out. 
77' Mendy off for Cornet.
75'   Ferland Mendy is down injured after Fekir fouls Sergi Roberto. Busquets slid in on him and he's down hurt.
74' Arthur comes off for Vidal. Things getting serious not for Barcelona as they look to close this one down.
74'   Delivered it is and it's headed wide by Tousart.
73'   Free ready to be delivered.
73' Traore on for Depay.
72'   Pique fouls Mendy. 
72'   Very tense game now. Barcelona looking tired. Lyon seem like they know they'll carve another chance or two. 
71'   Alba picks off a pass out to the right and they break. Dembele inside to Messi and it's his turn to lose it.
71'   Fekir chases the ball down as Pique plays it back to Ter Stegen.
69' Coutinho off for Dembele. The Camp Nou applaud the Brazilian for his input tonight.
69' Sergi Roberto doesn't look comfortable here. Dembele is ready to come on but Valverde decides to wait.
68'   Lovely combo as Messi feeds Suarez and he plays it to Coutinho. He rounds the keeper and drives into the side netting. Nice move.
67'   Dembele coming on for Barcelona as he straps up his shinpads.
66'   Sergi Roberto gets an idea and moves forward but Denayer wins it back.
65'   Mendy clips back to Depay and he strikes. Hits the ground and Ter Stegen saves.
65'   Lyon throwing the ball around now trying to find an opening. Barca fans whistling their possession. 
63'  Depay wriggles free and the ball is poked to Fekir. He drives over from a tight angle.
63'   Lyon were a beaten docket but somehow, this is a game all of a sudden.
60' GOA!L! Confirmed. 
60'   It might also be a handball. We are waiting now as VAR takes a look. There was an incident at the back post that might have been offside either. 
58' GOAL! GOAL! GOAL! Depay deliver into the box and it's headed back towards the middle. It falls to Tousart and he chests it down and slams home.
57'   Or maybe it was just a bad cross.
57'   Mendy with a dangerous run down the left and he shoots. Looked like a cross but it was a shot that Ter Stegen has to palm over the bar.
55'   Fekir out to Mendy. It's sent across the field again and inside to Depay. Fekir shoots wide. 
54'   Denayer with a perfect challenge on Messi to save a shot, at the very least. Corner in the end.
53'   Here's a look at the penalty from As' resident referee. He says.... NO PENALTY!
53'   Suarez into the path of Coutinho. He's offside. That is a dangerously high line that Lyon are playing.
51'  Poor control from Mendy as the ball dribbles out for a throw.
51'   Lyon trying some different ways to break down Barca. They're driving passes out to the left and right. 
51'   Lyon have been better in this half to start but sitll nothing doing in attack.
50'   Offside. A nice ball into Fekir's path but he's off.
50'   Ball whipped in and Denayer is bundled over. Alba leaned into the back of him but no foul. 
50' That a yellow for Lenglet as he takes down Fekir. 
48'   Arthur drives forward and he's free. He plays to Messi, who chips the keeper! Cleared off the line. 
47'   Lyon pressing now with real intensity but Barcelona play it aorund them and escape.
46'   We have a couple of players warming up but nothing moving yet.
46'   No changes for either side. 
46'   We are back underway at the Camp Nou! 
Lots of Messi love for Coutinho after his goal.

    Barcelona were always likely to take care of business but Lyon have been really tame so far. They haven't even tested Ter Stegen.
Well you'd think Barcelona have probably done enough to be going through. Lyon have had a couple of threatening attacks but they really don't look like scoring two without conceding in the second half.
45'+6'   HALF-TIME! The corner comes to nothing and Dubois ends up in a heap on the ground. The ref has seen enough. It's time for a cup of tea and a biscuit at the break. 
45'+6'   Depay with a strike and it's deflected. Corner. 
45'+6'   Lyon holding the ball now for the last few second of the half but nothing to see here! They can't get the ball forward. 
45'+5'   Fekir gets stood on by Busquets and that's a free. Sore one for the Lyon captain. 
45'+4' Dembele is going to be booked here for a lunge on Jordi Alba.
45'+3'   Rakitic looks for Coutinho but it's cut out. Lyon lose it again with Messi back defending now. 
45'+2'   Six minutes of added time after the injury to Lopes that took quite a spell to resolve.
45'+1'   Barcelona continue to dominate. 
45'  Messi is tripped up. Fekir the one who leaned in and tripped him up.
44'   Mendy gets it back but his pass inside is cut out. 
43'   Depay breaks forward and Lyon have a chance to trouble Barcelona now. A poor pass inside and Barcelona win it back. 
42'   Lyon under pressure every time Barcelona attack.
42'   Coutinho and Suarez linking up. 
40'   Messi with a lovely run in behind the defence. Rakitic finds him and he's onside. One-on-one and the keeper gets a hand to it to deny him.
39'   Alba crosses and he wins the corner.
37'   Suarez is on fire. He picks the pocket of the Lyon defender and slices wide. 
35'   Dembele pulls Lenglet down as he tries to barge through to get the ball. Free for Barcelona.
33' Anthony Lopes finally comes off here. Gorgelin come on.
33'   Messi takes the free. He loops it over the bar.
32' Messi caught with an elbow to the face. Yellow for Marcal. 
31' GOAL!  Suarez plays it into the path of Coutinho and he pokes it home. No offside. Way too easy for Barcelona.
30'   Lyon have shown very little here in the opening half aside form the odd counter attack. 
28'   Georgelin remains out warming up. 
28'   Lopes with another save. Suarez tries his luck this time and Rakitic sends the rebound over the bar. 
27'   Lopes continues. He takes the free too.
26'   Lopes can't continue, it seems. He's refusing to go off though.
23'   Mathieu Gorgelin warming up in case Lopes can't continue. 
22'   Not sure there was intent there but don't think Coutinho should go for that but it was borderline. 
21'   Coutinho chases down a lost cause and challenged Lopes. He caught him in the ribs it looked like. 
21'   Barcelona in control now and can invite Lyon onto them.
20'   Depay in the box. He gets it on his right and lays it off to Dembele. He strikes and it's over but out for a corner. Corner straight into Ter Stegen's arms.
18'   Lyon try to respond but Fekir's pass into the path of two of his teammates is down the middle of both of them.
17' MESSI to take! He panenkas right down the middle..... 1-0 as Lopes dives to his left.
16'   PENALTY! Suarez gets the ball off Messi and Denayer takes him down, catching his foot. Silly challenge.
15'   Busquets clips one forward to Roberto, who makes a run off the ball down the right, but it's too far ahead of him.
14'   Messi forces Lopes off his line. He gets a touch on the ball and Suarez sweeps up and wins a throw as he sends it back to Sergi Roberto.
13'   Coutinho cuts in on his right and tries his trademark strike. Blocked.
11'   Busquets with a foul now as he turns Fekir upside down. 
9'   Sergi Roberto gets turned upside down with a late challenge. Free for Barcelona. No card but Dubois is lucky.
9'   Dembele down to Depay. Lyon attack now with purpose. Mendy crosses and it's headed out. N'Dombele shoots and it's just wide. Not sure if Ter Stegen had that covered.
9'   Arthur turns on the jets and beats a Lyon player, Fekir. He's fouled and Barcelona have a chance to whip in a free.
8'   Nice move from Alba down the left. He plays inside and it's back to Rakitic from Coutinho. Blocked. Barcelona keep moving forward and it's kicked out for a throw.
7'   Very patient from Barcelona and likewide from Lyon, who are happy to wait. 
6'   Barcelona with more of the ball now and they're patient with their build-up. Loads of spaces to play forward though and they're taking advantage.
5'  Offside. Messi strayed off and the referee spots him. 
5'   Corner is headed up to Suarez at the back post. He vollies back inside and it's over for another corner. Barcelona looking dangerous early on.
4'   Suarez into the path of Messi. Lopes with a strong hand to turn it around the post. Brilliant move and lovely strike from Messi.
4'   Lively start. Coutinho fouled as Barca try to break.
3'   Lyon straight up the other end and Dembele plays it inside but Barcelona clear. 
3'   Coutinho looks for Suarez with a first time pass. Nice idea but Lopes is out to grab it. 
2'   Barca take it down now with a Busquets pass back to Pique. The Camp Nou applauds and things are just the way they want them.
1'   Lyon kick us off and hold the ball at the back, looking for a way to bring it out. Barcelona pressing high up the field.
1'   We are underway at the Camp Nou. 
    Messi and Fekir shake hands and get a lovely photo together. Time for action now though.
    Barcelona and Lyon emerge onto the field. And the Champions League anthem rings around the Camp Nou. Kind of heard to hear though with all those whistles.
    Arthur gets a start tonight and he was missing in the first leg. His presence is so important because of a couple of things. He's a perfect complement to Rakitic and Busquets and it means Sergi Roberto can slot back in at right-back.
    5 of their fans were injured before the game in Barcelona.

    The Lyon fans flying the French flag before the game. 

    Dembele, the Lyon attacker, scored 2 goals in that game. 

    Lyon, who sit third in Ligue 1, have made five changes to the side that drew 2-2 with Strasbourg at the weekend. Dubois, Marcal, Fekir, Ndombèlé and Depay all come in. Kenny Tete, Houssem Aouar, Pape Cheikh, Maxwel Cornet and Terrier all make way. 
    Barcelona have dropped Jeison Murillo and Kevin Prince Boateng from the matchday squad.
    Lyon XI: Lopes; Dubois, Denayer, Marcelo, Marçal, Mendy; Tousart, Fekir, Ndombèlé; Depay, Dembélé.
    Coutinho starts and is given a chance to shine and prove the doubters, who are increasing in number by the game, wrong.
    The big news yesterday was that Dembele made the squad. That means Coutinho will probably miss out tonight. He continues to struggle for Barcelona as the search for the real player they bought from Liverpool continues.

    Barcelona as an institution are still scarred from the Roma defeat last season and Ernesto Valverde says they don't need any extra motivation for the Lyon clash tonight and I believe him.

    This is the round of the comeback and Valverde says "what happened to Real Madrid and PSG should serve as a warning to Barcelona."
    Luis Suárez has a point to prove in the Champions League with 20 goals this season and none in the most important competition of them all. 

    Fekir was missing from the last leg and he is back tonight! He says Lyon are coming to Barcelona to perform a miracle.

  Because you have to go all the way back to the year of the Miracle of Istanbul, the 2004/05 season, to find the last time that Spain had no club sides in the quarter-finals of Europe's club competition...

After coming away from the first leg in France with a 0-0 draw three weeks ago, Barcelona are firm favourites to finish the job this evening - and, with Real Madrid and Atlético Madrid both crashing out at the last-16 stage over the past week, the Catalans now have the responsibility of averting LaLiga's worst season in the Champions League since the mid-noughties.
  Buenas tardes! Welcome to our live coverage of all the build-up to Barcelona's Champions League last-16 second leg with Ligue 1 Lyon tonight. Kick-off at the Camp Nou is at 21:00 CET, and in advance of that we'll be keeping you abreast of all the latest news surrounding the clash.
Barcelona vs Lyon live online: preview
Barcelona welcome Lyon to the Camp Nou with their eyes on a quarter-final spot. Real Madrid and Atlético Madrid are out and Barcelona could be the last Spanish side left in the competition after tonight. The draw takes place on Friday and they're desperate to be in it after the heartbreak they suffered against Roma last season.
Ernesto Valverde says the defeats to Real Madrid and PSG should serve as a reminder for Barcelona and a warning. Atlético Madrid threw away a 2-0 lead last night against Juventus so this is the round of the upset. Messi and co. will be keen not to fall into the same category though.