Argentina - Venezuela live online: international friendly 2019
Follow all the action from the Metropolitano in Madrid as Leo Messi returns for Argentina vs Venezuela in a Copa América warm-up.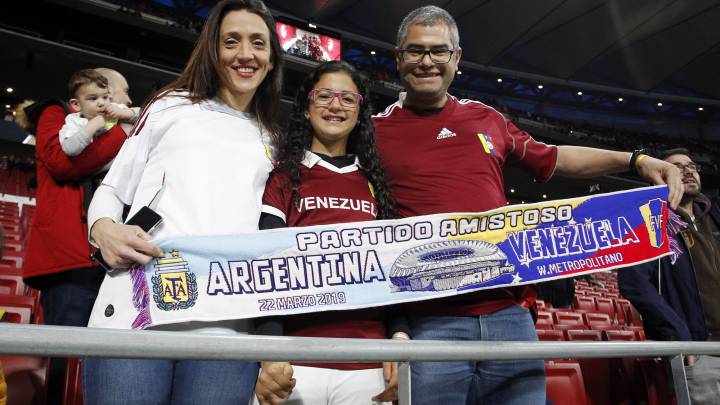 Argentina vs Venezuela live online: latest updates
90'+3' And that's it! The Venezuela fans go mad as they celebrate a rare victory over Argentina! 
90'+2'   Argentina with a final roll of the dice to embellish the score line a bit... Venezuela clear again. 
90'+1'   Martínez streaks away down the left and delivers an excellent cross into the area bewteen defenders and keeper where Rondón would have been, were he still on the pitch. 
90' Three minutes added. 
89'   Hurtado takes his chance to shine and charges down the right, a barrelling run that Kanneman eventually halts with a sliding challenge. 
89'   Free kick to Argentina out on the right. 
88' Goal scorer Jhon Murillo heads off now for Jan Carlos Hurtado, one of the brightest prospects Venezuela have at the moment at just 19 years of age. 
87'   It's another decent hit from Messi but again just a little high. The wee man's sights are a just a little out of their usual calibration this evening. 
87' Another yellow, for Juan Añor this time, for pulling Messi down and the Argentina captain will fancy this free kick... 
86'   Benedetto! What a chance! Messi finds the Boca striker and he really should hit the target there but sends his header wide. 
84'   Tagliafico whips in a cross that's just begging to be slammed into the net but a combination of Murillo and Villanueva ensures that nobody in an Argentina shirt gets the chance to oblige. 
83'   Pereyra is really in the wars here, that's three pretty tasty fouls on the Watford midfielder since he came on. 
82' Rincón finally gets the yellow he's been looking for all evening for a challenge on Pereyra. Not sure who Venezuela are playing next but he clearly doesn't fancy it and will miss the next game. 
81'   Decent effort from Messi but it's just over the bar by a whisker. Faríñez appeared to get a little touch on that but a goal kick is given. 
80'   Free kick to Argentina, in Messi range, after Villaneuva floors Pereyra. 
80'   10 minutes left for Argentina to salvage something in Madrid. Every Venezuela touch being met with Olés now. 
78' Marchís, who has been excellent this evening, heads off for Añor. 
Lo Celso heads off, Roberto Pereyra on in his place. 
76'   The Atlanta star has certainly made his mark anyway, just a couple of minutes after coming on. 
75'   We're dubbing that one "The Rabbit." The little jump before taking... you need some stones to try that. Fine if you score, but if you miss.... 
75' Martínez, with the strangest run-up seen this season so far, buries the spot kick! 3-1 to Venezuela!  
74'   Penalty to Venezuela! Martínez makes an immediate impact as he picks up the ball in the area and is taken out by Montiel! 
72'   Another loose ball from Argentina gives Murillo the chance to gallop down the left. Argentina just about mop it up but that was another lapse of concentration of the sort that will be worrying Scaloni. 
70' Another change as Rondón makes way to an ovation and Josef Martínez, who is tearing it up in MLS at Atlanta United this season, comes on. 
69' Lautaro heads off and Darío Benedetto comes on for the final 20 minutes. 
68'   Oh dear.... Messi picks out Suárez and he spots Lo Celso calling for the ball unmarked on the edge of the box. It's a perfect delivery for a leftie but the Betis man scuffs his shot horribly. 
67'   Lo Celso, who has been quietly efficient in midfield this evening, gets Argentina moving again but Venezuela break and it's up to Kanneman to leather across the pitch and intervene. 
66'   Messi drops a shoulder, Matías Suárez slips, Lautaro gets on the end of the resulting cross but is clearly offside. 
65'   Argentina come again and Venezuela hold firm again. Argentina's press is a lot more concerted in the secnod half though and the Vinotinto are finding it harder to get the ball quickly up towards Rondón and Marchís. 
64' Yeferson Soteldo, the Santos midfielder, enters the fray. 
63' Yellow for Osorio as he stops Armani from a quick throw. 
62'   Ufffff. Kanneman almost scores a beauty but at the wrong end as he cuts out a cross that whizzes past Armani's post. 
61'   Marchís dances into the area and goes down under minimal contact. He was looking for that though and the ref is canny enough to realise it. 
60'   Argentina are in again and chaos reigns in the Venezuela back line as they're still rocked from that goal. Messi again involved. 
58'   Messi releases the Inter man with a lovely ball and Lautaro buries it past Faríñez, who can't do anything about that one. 
58' Goooooooooool! Lautaro! 2-1! 
56'   Messi lifts a ball towards the area but Villanueva clears. Argentina are struggling to create anything of note and a long ball to Montiel is way, way too long. Goal kick. 
55' Another yellow, Rondón this time, for a clumsy challenge on Kanneman. 
54' Tagliafico in the book for clatterting into goalscorer Murillo. Lo Celso also found his way in just before that for tripping the same player to prevent another Venezuela break. 
52'   Rondón looks aggrieved as he's pulled up for a foul. Argentina take quickly and break but Venezuela are canny enough to see it coming and adjust their shape accordingly. 
50'   Loose control from Montiel gifts Venezuela a throw and Argentina are looking even more disjointed at the start of the second half. 
49'   Cleared again with little fuss by the Vinotinto. 
49'   And they win a corner as Lautaro and Matías Suárez combine after Messi picks out the Inter man in the area. 
48' Bit of a mix-up at the back that Villanueva mops up. Argentina going side-to-side to try and find a breach in the Venezuela wall. 
47' No changes for Venezuela as far as we can tell, and why would Dudamel shake things up after that half? 
47' And there's a yellow for Ronald Hernández as he scythes through the recently introduced Domingo. 
46'   And we're back underway! 
Lisandro Martínez appears to have gone off, along with Mercado. Domingo Blanco is on, as is Walter Kanneman. 
There have been far too many crosses from Argentina with no central striker to get no the end of them. Lautaro is nominally the man in the middle but has been drifting out to the left. He remains the only Albiceleste player to bother Faríñez though other than Messi. 
Second half coming up... bound to be a few changes from Argentina after that 45. 
Venezuela have been excellent value for their lead and Argentina have plenty to ponder at half time. Messi may well be wondering just what he's walked back into at this stage... 
45' And that's the half. Argentina 0-2 Venezuela! What a result at half time for the Vinotinto, who have only beaten Argentina once in their last 24 attempts! 
43'   Armani beaten again by an absloute belter from Murillo! Venezuela take a quick free, work it to the Tondela midfielder and he leathers an absolute beauty past the Argentina keeper. 
43' Gooooooooooooooool! Venezuela! Gooooooooooool! 
42' Bit of handbags between Foyth and Rincón and the former goes in the book. 
41'   Lautaro again! Messi again! Almost a carbon copy of the last connection between the two but this time the Inter man can't guide his header on target. 
40'   Messi and Martínez try a one-two and Venezuela are on it like a flash and break again, Marchís being halted in his gallop goalwards only by the lino's flag. Argentina on the ropes a bit here. Every time the Vinotinto break they look dangerous. 
38' So close for Venezuela! Marchís launches a break, Ronald Hernández does brilliantly to get into the area and find Rondón, who unselfishly triesd to nod it back across goal for his teammate. He should have had a go himself there really. Great move from Venezuela! 
37'   Messi! Faríñez makes another fine save from the Argentina captain, who was looking for the far corner with a curling drive. 
35'   Armani! Suits you, sir! The Argentina keeper is alert to deny Marchís, who had stolen between the central defenders due to some clever movement from Rondón. He really should have scored there, the Cádiz midfielder, but credit to the Argentina stopper for the save. 
34'   Argentina building around the area again but Venezuela are a tricky team to break down. Only that Messi delivery to Lautaro has caused any signficant problem so far. 
32' Mikel Villanueva is the first into the book for a clatter on Messi. The ´Nastic man will be able to tell his grandkids about that one. 
31'   Argentina send in another cross and again there's nobody there to meet it. Mercado and Paredes were arriving but Argentina are suffering from having no focal point at the moment, with the majority of their crosses sailing harmlessly over the area. 
29'   What a save! Faríñez does excellently to deny Lautaro! Messi worked his magic and laid on a beautiful cross for the Inter striker but the Millonarios keeper, still only 21, makes a world-class stop there. 
28'   Uffffff. Rondón gets a sniff after nice build-up play from Rincón and Murillo but blasts just over. Venezuela playing a much more direct game than Argentina, and so far a more effective one as well. 
26'   Martínez wins a throw out on the left after a lung-bursting run. It finds its way out to Montiel who sends a cross in. Faríñez gets a hand to it to send it out for a corner. Mercado gets a head to it but sends it wide under pressure. 
25'   Mercado takes out Rondón as the Newcastle man looks to break and again the ref says "last one, son." 
24'   The captain does pick up a  loose ball after Lisandro looks to switch play but his dink  over the top goes to nobody. No Luis Suárez there, Leo. The Barça star hasn't really clicked with his young apprentices yet. 
23'   Messi, incidentally, has barely had a kick yet. 
23'   Lautaro is given a ball to chase and Faríñez is required to come racing out to beat the Inter striker to it. 
22'   Hmmmm, Lautaro battles his way into the area and is prevented from pulling the trigger by a couple of obstructions. Could have been a penalty in there easily enough. 
21'   Messi looks to pick Tagliafico on the right but the Venezuela defence read it well. They are very well organized at the back, the Vinotinto. 
20'   Rincón gets a little revenge on his teammate's behalf and takes out Paredes. The ref has a word. One more of those and his pen will be wielded. 
18' Murillo goes down in a heap as Paredes chucks in a late challenge. In the spirit of it being a freindly, the ref keeps his card in his pocket but that was a yellow offence there, the PSG man arriving with all the punctuality of Brexit. 
18'   Corner for Argentina, it's a decent delivery but Venezuela are pretty solid under high balls and clear easily. 
17'   Venezuela hoof a ball up towards Rondón but he had little chance of getting to that. 
15'   Argentina work the ball out to Martínez and he whips in a cross but again it's over the entire back four and any blue and white shirts in the vicinity, drawing a few jeers from the Argentinean support in the stadium. 
14'   Tame shouts for a penalty as Martínez goes down in the area but there wasn't much in that. 
13'   Argentina stroking it about in their own half, Venezuela pressing well. No way out for the Albiceleste at the moment, Messi drops back to look for the ball and eventually Lautaro decides to whip in a cross but there's nobody there to meet it. 
12'   Messi trying to gee up his teammates and looking for all the world at the moment as though he may be regretting this... 
11'   Venezuela settling on the ball now, looking far more assured than in the opening 5 minutes. Marchís almost gets on the end of a long ball but it rolls out for a goal kick. 
10'   Decent enough delivery but Rondón is under it to clear. Venezuela break all the way up the Argentina area but then trip over each other rather and the attack breaks down. 
9' Messi whumps it into the wall and Argentina have a corner.... 
7'   Paredes pulling the strigs in midfield and Gonzalo Martínez wins a free on the edge of the area, very much in Messi range.... 
6'   How will Scaloni react to that? There's been some talk of how he'll fit Messi back into his tactical plans having never had the opportunity before and the Barcelona star has looked a little isolated so far. 
5' My word! What a crack from the Newcastle striker, who made a mockery of Armani with that hit. Mercado failed to deal with the striker's muscle and he hammered a left-footer after a great piece of control. What a start for Venezuela! 
5'   Gooooooooooooooool! Venezuela! Goooooooooool! 
3'   The Vinotinto win a throw as they finally get into Argentina's half, a cross is lobbed in but Darwin Marchís fluffs a decent chance on the far side and he was completely unmarked. 
3'   A poor ball from Lautaro denies Messi a clear run through. Sloppy from the Inter man there. 
2'   Argentina with all the ball at the moment, Venezuela finally break up the concerted Argentinean build but lose possession immediately. 
1' Here we go! Argentina get the ball rolling! 
  Rincón and Messi swap, what are they called, banners? in the middle and shake hands and we're about to get underway! 
The Venezuelan anthem pumping out and there's a decent following in the stands. Bit of a belter! 
Teams are out and warming up now, Messi has his Messi pre-game face on. 
As ever, we've thrown together a handy guide as to how and where you can watch this one, or you can stay right there and follow it with us of course. 
  Hello and welcome to AS English's live coverage of Argentina vs Venezuela from the Wanda Metropolitano in Madrid. KIck-off is at 21:00 CET. 
Argentina vs Venezuela live online: match preview
The major news surrounding the friendly between Argentina and Venezuela at Atlético Madrid's Metropolitano stadium is the return to international action of Leo Messi after a nine-month absence but there are plenty of side-narratives to the game as well, not least the fact that the Albiceleste have been held by the Vinotinto in both of their most recent encounters.
Argentina
Messi's return coincides with all South American sides' limbering-up proper for the 2019 Copa América and the choice of opponent on Friday evening is no accident despite being played on European soil. Messi's lack of a major international triumph is the only stick left with which to beat his claim to be the greatest player of all-time, and the tournament in Brazil provides the perfect stage for the Barcelona star to tick that particular box.
Due to the decision to move the Copa América to coincide with the Euros, Argentina will have another crack in 2020 but there is a sense that a "golden generation" is coming to an end and Lionel Scaloni, who replaced Jorge Sampaoli after Argentina's disappointing World Cup campaign, will seek to deliver glory at the first time of asking, not least because his contract runs until the end of the 2019 edition.
It is notable that Scaloni omitted the likes of Sergio Agüero, Gonzalo Higuaín, Ángel di María (through injury), Nicolás Otamendi and Éver Banega from his current squad, but it is likely that is merely to have a look at some up-and-comers before Brazil rather than a Joachim Löw-style cull of the old guard.
Among the uncapped call-ups in the Argentina squad are Lisandro Martínez, Gonzalo Montiel, Federico Zaracho, Iván Marcone and Domingo Blanco, while Darío Benedetto will get his chance to shine up front, as best he can under the considerable shadow of Messi.
Venezuela
Rafael Dudamel's side have been drawn against the host nation at the 2019 Copa América and will relish the opportunity to test themselves against a nation of Argentina's resources. The presence of Bolivia and Peru in Group A will give the Vinotinto confidence they can progress to the latter stages again, having reached the quarter-finals twice and the semis once over the course of the last decade.
There will be a few familiar faces on display in the Metropolitano for Spanish observers, with Espanyol, Elche, Peralada, Gimnástic, Cádiz and Huesca all represented – and therein lies the enormity of the task Dudamel faces. Draws against Japan and Iran in Venezuela's last two games are a fair indication of where they lie on the global scale but Dudamel does have game changers in the form of Salomón Rondón, who has been in fine form for Newcastle of late, while 19-year-old Jan Carlos Hurtado and Atlanta United's Josef Martínez are ones to watch.
Old heads Tomás Rincón, Roberto Rosales and Luis Manuel Seijas will provide a solid, experienced shield in front of the sticks, where either Wuilker Faríñez or Rafael Romo will be tasked with halting Messi and co as Venezuela seeks just a second win in their last 25 games against Argentina.