Historic result for Panama as they hold Brazil
Brazil's opener from Paqueta was cancelled out by a superb Machado header. Coutinho struggled throughout, Richarlison shone.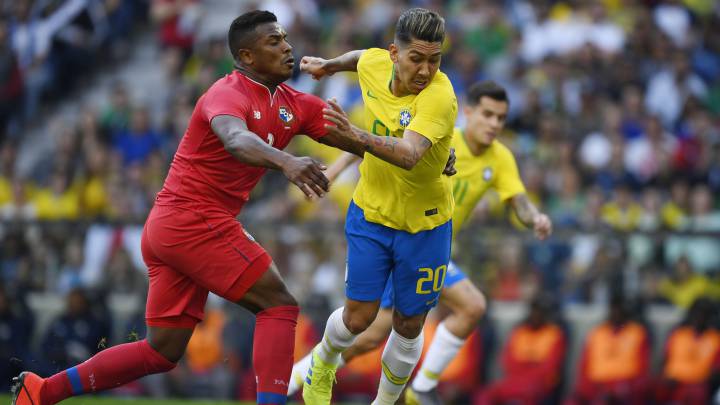 Brazil vs Panama live online: match updates and commentary
90'+5' GAME OVER! Panama with the draw. Great result for them.
90'+4'   Lovely move from Panama and they almost have their winner. Fajardo hits the side netting with the effort. 
90'+3'   Another corner. Militao gets a shoulder to the cross and it's over the head. 
90'+2' Godoy off now for Vargas.
90'+1'   Goal just isn't happening, is it? Five minutes added on.
90'   Militao jumps for a header and it's out for another corner. 
89'   Jesus muscled out of it as Brazil break. They win a free though. 
89' Rodriguez comes off for Arroyo.
87'   Mejia a mile off his line as the ball is whipped in. He kicks out for a throw. Brazil pushing for that winner but not coming. 
85' More changes now as Quintero goes off for Browne. 
81'   Cooper being taken off and the referee tells him to speed up as Walker comes on.
78'   Brazil, through Fagner, looking for a way forward. Panama sitting and defending quite well. Everton wins a corner.
76'   Another really dangerous cross and Richarlison again lurking. Keeper gets a hand to it and it's put out for a corner from Anderson's shot.
75'   15 left. Can Brazil find a winner? 
73'   Fagner follows that up with a shot that goes well over the bar. 
73'   Really nice effort from miles out and Mejia saves for a corner. 
71' Felipe Anderson comes on for Arthur.
71'   From the corner and Casemiro hits the crossbar with a header. Richarlison messes up the rebound. Miles over the bar.
71'   Richarlison with another run and he wins a corner. 
69'   Richarlison runs through a bundle of Panama players. He drives a shot low and towards goal but it's stopped and put out for a corner.
68'   Ball delivered deep from Militao with Everton as the target. Headed out for a corner. 
66'   Ball into Richarlison by Coutinho. Mejia off his line and clears as the Everton player batters into him. Free for the keeper.
65'   Richarlison takes the ball down and runs it over the line. Davis watches him every step of the way and Richarlison wants a penalty, maybe, with a little dive. No chance.
64'   Coutinho delivery and it's cleared by Panama.
62'   Cummings thumps the crossbar with a header. He was offside anyway but Brazil looking quite wobbly.
61'   Arthur catches Godoy with an elbow. 
59' Paqueta off for Everton. Firmino off for Jesus.
59'   Lovely ball into Firmino and he touches down to Paqueta. The shot is straight to Mejia and the attacker wants a penalty but no chance.
59'   Coutinho with the free. Straight into Mejia's hands. 
58'   Richarlison fouled by Cooper now as he makes a move into the middle. 
56'   Fagner does well to see the cross out from Rodriguez but there was an offside in the build up.
55'   Free for Panama and Davis whips it in. Ederson sees it off at the back post but looked like it might loop beyond him. He knew best though.
53'   Shot from Paqueta. His confidence is up but even still, that's wide. Tough one to connect with from the distance he was out.
52'  Casemiro tries a one-two near the box but Panama win it back and break. Firmino gets back and wins it but he's fouled and he hits the ground fairly hard too. Free for Brazil.
49'   What an effort. Patience almost pays off for Brazil. Fagner to Militao and back to Casmeiro. It eventually makes its way back to Fagner and he crosses. Richarlison with the shot and he rattls the crossbar. Lovely effort from the Everton man.
48'   Really good effort from Rodriguez and he forces a save from Ederson. He pushes away and Panama force the corner. Really, really good effort.
48'   Goal kick for Panama. 
47'   Lovely cross in from Telles and it drops in the danger zone. Cleared by Panama though.
46'   We are back underway. Praying for a better 45 than the first. It was a very scrappy affair. 
Teams back on the field. Will inform of changes when we get them but it looks like the two teams remains the same.
    Will we get to see Neres tonight? Here are a few players to look out for making debuts, possibly, during the international break.
Really hasn't been great from Brazil. Coutinho, who could be up for sale by Barcelona, isn't really covering himself in glory either.
45'   HALF-TIME! 
45'   Ball over the top and Richarlison is offside. Mejia rushes off his line but he's not needed. Flag up and he's off.
44'   Panama have improved in this half but haven't troubled Ederson. Not playing as deep and a cross from Rodriguez lands on the roof of the net. He wants a corner but it's not coming. 
42'   Much better as Firmino plays it into Paqueta. He takes a touch too many and slides in after losing it. 
41'   Telles crosses and Firmino heads down to a Panama jersey. No real fluidity from Brazil's front three.
40'   This is better from Brazil but as soon as they start to play a bit, Casemiro is fouled. Long ball whipped in towards Richarlison and Mejia gathers. 
39'   Paqueta with another foul. Loads of fouls in this one. Hasn't been free-flowing football by any stretch of the imagination.
38'   Delivery from the left and Richarlison heads just wide. Another hint of a push. He's very aggressive in the air. 
36'   Looked like he might be offside but no VAR and he could have been in line with Richarlison. That's what the referee is saying anyway. We're level in Porto! 
36' GOAL! GOAL! GOAL! GOAL! Panama draw level as Machado heads home from the free. Not sure what Ederson is doing there as it's looped over him. 1-1.
34' Yellow for Richarlison. Referee fed up with all the late tackles and he deserved that. He went over the top of Cooper's boot and then threw him to the side. Not really needed and he gets booked for his effort.
32'   Oh, a lovely pass from Firmino and Arthur slips as he controls.
31' THERE IS IT! Paqueta arrives at the back post. Lovely cross in by Casemiro and Paqueta turns it home. Keeper got a hand to it and can't stop it. 1-0 to Brazil.
30'   Mix-up at the back for Brazil and Rodriguez drills it over the bar. 
29'   Chatter of a hand ball there. Quintero strikes and Militao blocks it. He had his hands in and that is never a penalty. Referee agrees. It is a corner though.
27'   Coutinho to take. He blazes over. 
27' Firmino hauled down. Yellow for Cummings. Some really nice pressure from Brazil to win it back in a dangerous spot.
26'   Militao forced to cover across and cut out a long ball. He plays it back to Ederson, who gives it back to the new Real Madrid signing and he plays out calmly.
25'   Brazil could really do with a Vinicius or a Neymar here to break lines and add that little bit of unpredictability. 
23'   Arthur gets it again just outside the box. He whizzes one by the post. Good effort. That goal for Brazil feels like it's close.
21'   Firmino out to Richarlison, he tries to skip by the challenge and it falls to Fagner. Cross in, headed away and Arthur piledrives it wide. Much better from Brazil. They moved the ball forward at speed and caught Panama in transition. 
20'   Richarlison fouled again as Davis goes for the ball and the Everton attacker gets there first. Another free, another stoppage. Scrappy stuff.
20'   The free is sent in and Richarlison gives away a free. He didn't connect well anyway after he had pushed Escobar in the back. Frustrating start for the Brazilians continues.
20'   Firmino taken out of it again. This time it's Cooper and he avoids a yellow but that was late and could have hurt the attacker. 
19'   Brazil have had 82% of the ball so far. No real chances yet though.
18'   Cross into the back post. Firmino heads just wide with a looping effort. 
18'   They win a corner and Coutinho jogs over to take.
17'   Paqueta, who has been lively, wins a throw after an attempted cross. Brazil improving now.
15'   Long throw makes its way down to Ederson and then a long ball to Richarlison is into Mejía's hands. Again...not great.
15'   Fans getting a little antsy now. It's been a poor start by both sides. 
14'   Really well read by Telles but his touch after intercepting the pass is out for a throw. Scrappy start to this one. Brazil been the better side but they haven't been great in attack either. 
13'   Long throw is headed out and shot comes in from deep. It takes a deflection but Torres was offside. 
13'   Paqueta concedes a throw now as he gets back to defend.
12'   Panama improving into this one. Foul now as they break and they have a chance to catch a breather.
11'   As good as Brazil have been on the ball, they haven't created anything.
11'   Richarlison launches into a tackle on Cooper and it's out for a throw. Some fairly meaty challenge so far. It's only a friendly, lads.
10'   Miranda back to Ederson and he plays it out to Militao, who has looked assured so far. He hasn't had much to do but he looks comfortable on the ball.
9'   Casemiro with a late one on Quintero now. He catches him down the sideline. Lucky to get away without a yellow there but after the fouls earlier by Panama, the ref gives Brazil a freebie.
9'   Coutinho delivers into the penalty area.
8'   Now it's the captain, Machafo's turn as he catches Firmino. He has a proper row with the referee and says nothing happened. Ref tells him to calm down.
7'   Quintero with the oul on Coutinho as he arrives late and into the Barcelona player's shin. He tells the referee that there was nothing in it.
7'   Brazil back on the ball and there's a handball from Paqueta. 
6'   Long ball down to Richarlison but he pushes Davis in the back. 
5'   Telles with a cross and it's out by Murillo. He puts it out for a corner. Coutinho takes it short. All very patient from Brazil so far.
3'   Panama have not actually touched the ball. The goalkeeper has taken a kickout but the outfield players have been chasing the ball.
2'   Militao with a lovely pass into Firmino. He takes it down but loses it. Then Arthur is cleaned out by Rodriguez. Barcelona fans close their eyes.
1'   Richarlison with the pass into Fagner's path but his touch, an early one, goes out for a goal kick. 
1'   We are underway in Porto. Brazil get us started.
    Big game for Paqueta tonight. Nine games in Serie A this season with AC Milan and one goal and an assist too.
    Panama with a population of just north of 4 million while Brazil have 209 million.
    And now Brazil's. 
    The Panama national anthem rings around the stadium in Porto.
    The subs are on the bench as we wait for the teams to emerge from the tunnel.
    Tite might have liked to try Vinicius and Neymar beside each other tonight but with both out injured, Coutinho and Richarlison have a chance to shine with Firmino up top. All of the attacking three have links to Merseyside.
    Militao gets a start today. He is Zidane's first signing and according to general concensus, he's the 'complete package'.

    Brazil XI: Ederson, Fagner, Militao, Miranda, Telles, Arthur, Casemiro, Paqueta, Coutinho, Firmino, Richarlison.
    Panama XI: Mejía, Machado, Cummings, Escobar, Murillo, Davis, Cooper, Godoy, Quintero, Rodríguez, Torres.
    We go have David Neres though as one of the top youngsters to watch over the international break.

    Vinicius will miss out after his first ever call up by Tite! 

    Hello and welcome to our live online coverage of Brazil versus Panama in Porto. Kick-off is coming your way at 18:00 CET.
Brazil vs Panama live online: preview
With no Neymar or Vinicius, Brazil will experiment as they prepare for the Copa America.
Brazil will be sporting new faces when they take to the pitch this evening at the legendary Estádio do Dragão in Porto, to face a modest Panama side coached, on a temporary basis, by former Málaga and Oviedo man Dely Valdés.
With no Neymar or Vinicius, both out injured, Tite is planning to experiment with the starting line-up with one eye on the Copa America to be played this June and July. This game against Panama and the next game against the Czech Republic are Brazil's last before they host the competition this summer.
Only five starters in Porto were at the World Cup in 2018 (Ederon, Fagner, Miranda, Coutinho y Firmino) and four had never been called up before Russia (Militão, Paquetá, Arthur y Richarlison). The captain's armband will be worn by Real Madrid's Casemiro and Militão will start in the centre of defence alongside his hero Miranda, who also learnt his trade with São Paulo.
Any doubts concern the middle of the park and the attack, and in particular the positioning of Coutinho and Paquetá. With no Neymar or Vinicius the most likely situation is for Coutinho to drift forwards, to where he was normally found at the start of the Tite era and in his best moments under Klopp at Liverpool. That leaves the trequartista role for the young Milan player, who alongside Piatek and Suso is enjoying a purple patch of form since he joined from Flemengo in the winter market.