Benzema breaks Huesca's hearts at the end
A goal from Karim Benzema in the 89th minute finally broke Huesca's resistance. The visitors opened the scoring in the 2nd minute through Cucho, before Isco and Ceballos put Madrid in front. Exteita made it 2-2 before Benzema's winner.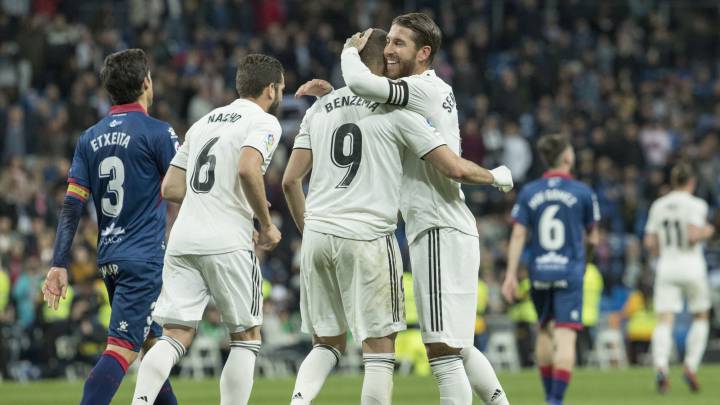 Real Madrid 3-2 Huesca: match report
Real Madrid found a way to win with a heavily-rotated side on Sunday night at the Santiago Bernabéu despite a valiant effort from LaLiga's bottom side Huesca.
The visitors, on their first every trip to the Santiago Bernabéu in their maidan LaLiga campaign, led early through Cucho Hernández as the fairtyale started early, and possibly too early.
It took the 19-year-old just two minutes to beat Luca Zidane, another surprise inclusion with Thibaut Courtois injured and Keylor Navas rested after the internationa break.
His partner in attack, Chimy Avila won a battle with Nacho on the right with Marcelo caught out of position and sent the ball into the danger zone. Hernandez slammed past Luca in goals before he even had a chance to set his feet.
Real Madrid picked it up but they didn't have it all their own way. With the dynamism of Cucho and Avila in attack, they continued to find space in and around the hosts' back line and never stopped causing problems until they were substituted in the second half with their petrol lights flashing red after a night of constant movement.
It was Isco, who returned from exile on the bench under Zidane, with the leveller. Benzema raced forward with intent and strength and saw his effort saved by Santamaria but it fell to Brahim, another player getting a rare start. He sent it across the goal for Isco to poke home. His second in two games since Zidane's return.
Dani Ceballos gave Real Madrid the lead foer the first time in the game when Bale sent a teasing cross with the outside of his left foot onto Benzema's head. He looped it to the back post and Ceballos finished the job with a brave lunge at the ball.
Etxeita levelled matters once again, however, after 74 minutes with Real Madrid proving incapable of swatting them aside for good. A corner came in and he headed a low bullet into the ground to make it 2-2. Luca Zidane was again left with no chance.
Karim Benzema, involved in the two goals earlier, finished the third and wrapped up all three points for the home side with the pick of the litter on the night. He curled it past the keeper just inside the box on 89 minutes in what was an eerily similar type of win we saw umpteen times under Zidane in his previous stint in charge.
Real Madrid sent Huesca one step closer to relegation with the win and while they might not have fully deserved it, that never bothered them before under their returning boss.
Real Madrid vs Huesca live online: match updates
90'+4' That's it! Full time at the Bernabéu.
90'+4'   Mariano with the last effort. Drives it low and Santamaria saves.
90'+3'   Ceballos very smart as he brings the ball up the line and wins a free. Push in the back. Very basic stuff. 
90'+1'   Four minutes of added time.
90'   Nacho drives forward and has men next to him. He drives the shot a mile over the bar. What a waste.
90'   He wasn't offside. Goal stands. Lovely finish.
89' GOLAZO! What a goal. Benzema curls it and that's an incredible finish. 
87'   Marcelo fouled out on the left and he takes. Sends it in but Ramos gets a knee to it and can only send it out for a goal kick.
85'   Santamaria with the save and the parry.
85'   Lucas Vazquez tries his luck from distance. 
84'   Not a bad corner at all as Mantovani heads it wide at the front post.
83'   Ramos with a foul and the free is sent into the wall. Herrera follows it up with another ambitious effort and it hits Valverde for a corner.
82' Alex Gallar coming on for Cucho Hernandez.
81'   Juanpi sends a free in after Ceballos pulled down Cucho. Headed out and Huesca attack again with Herrera shooting. Marcelo just throws himself into the ball and gets turned really easily.
78'   Fede Valverde also on for Isco.
78' Juanpi Anor on now for Rivera.
78' Mariano Diaz comes on for Llorente.
77'   Bale with an effort. Piledrives it wide. 
75'   Odrizozola with another cross. Cleared again. But the right-back was actually offside. 
75' GOAL! Etxeita with the finish. It's from the corner that was worked short and he comes out of nowhere to head home. Head down and no real chance for Luca Zidane.
74'   And they nearly do. Galan sends a cross in and it hits Vazquez back. Corner.
72'   Pulido drives forward. They are looking for that equaliser and holding the ball well. They'll need to create something though. 
69'   Bale misses. He was at full stretch to be fair to him but that was a really good chance. Odriozola with another nice ball across the box. He sends it over the bar.
68'   Bale caught offside as Benzema looks for him with the through ball.
67'   Cross whipped in and Luca Zidane grabs it.
66' Enric Gallego on for Avila.
66' Yellow for Nacho. Galan breaks through down the left and gets a touch on the ball. hauled down late by Nacho.
65'   Cucho Hernandez with a chance for Huesca as the ball falls to him. He curls it over. Probably should be hitting the target from there.
64'   Brahim comes off for Lucas Vazquez.
62' GOAL! GOAL! GOAL! Ceballos knocks home the header from Benzema. Bale with the outside of his left foot. 2-1 to Real Madrid.
60'   Avila breaks through as Real Madrid's defense breaks down. He had a man on the right and he should have passed it to him. Instead he takes a horrible touch and Luca grabs it.
58'   Odriozola with the cross and it's saved by Santamaria. 
55'   Corner whipped in and it's a good one. Headed out by Avila as he can't bend his head around it.
54'   Cross comes in from the right and Nacho forced to head out for a corner.
53'   Real Madrid dominating this one now as Huesca sit back and suss them out.
51'   Second yellow of the game. Musto with a nasty one on Isco as he catches his ankle.
50'   Llorente gives the ball away and then recovers well to see it out for a goalkick. 
49'   Bale absolutely sends it into the sky.
48'   Odriozola fouled as he races forward. His jersey grabbed and Bale grans the ball.
47'   Benzema effort. Really, really good save by Santamaria.
46'   Changes at half-time: zilch! 
46'   We are back underway for the second half! 
45'+1'   HALF-TIME!
45'+1'   Real Madrid keeping it now as times runs down...... 
45'+1'   Brahim with a stylish turn and then loses it in the penalty area. 
45'+1'   One minute added on! 
45'   Avila blazes one over the bar! That was so close to a second for Huesca. 
43'   Brahim Diaz jumps into Mantovani and the defender jumps pulls him down to the ground. Quite a heavy challenge and Huesca win the free. 
42'   Slide comes in on Llorente and Real Madrid win a free. Some nice football being played by Huesca. 
42'   Javi Galan crosses and Ramos gets a nibble on it. Llorente clears. 
40'   Brahim Diaz gives the ball away again. Ramos kicks it clear after Nacho saves the day with a clearance out to the right. 
39'   Ceballos turned upside down with a clip on the back of his heel. He writhes in pain then jumps up to take the free. That was a quick recovery.
38'   Another corner for Real Madrid. 
36'   Benzema with a lovely run into the box and he hits the ground. Then Marcos Llorente dives in with studs up on Musto. Free for Huesca. All a little sloppy there but it was Benzema's run that created the chaos.
34'   What a mistake by Brahim. Quick free from the midfielder and he gives it away. Cucho Hernandez breaks into the box and wins a corner.
32'   What a chance for Real Madrid. Came from an Avila missed volley. Luca grabbed and launched it to Brahim. Real Madrid win the corner.
31'   Corner for Huesca. Rivera tries a cross down the right and Ramos slides in to block it. 
31'   Nice spin by Brahim and he is pushed in the back and Real Madrid win a free.
29'   Isco with the cross from the free. Over everyone and out for a goal kick.
28'   Llorente to Isco and out wide again to Odriozola. Bale gets the ball and fouled. 
27'   Nacho winds up on the ground from the corner and Real Madrid win a free.
26'   Galan down the left as Huesca try to respond! His cross is blocked for a corner. 
25' GOAL! Isco finishes after a nice move that saw Benzema's effort saved. Benzema spun free, nice one-two with Brahim and Benzema shot saved. Brahim followed it up with a ball across the box with Isco there to finish.
22'   Another lovely ball chipped towards Avila and he takes it down in the box. He heels it back to nobody and Real Madrid win it back before losing it again. Marcelo the culprit.
20'   Llorente spins and twists his way out of trouble before being caught on the ankle. No free and he gets rid of the ball. Sent back across to Odriozola and it's off target. Our for a throw.
18'   Free hits the wall and then follow up is send wide.
17'   Ref blows for the second one. Dangerous position and a tough one for Real Madrid to deal with.
17'   Loads of fouls going on here! Ball clipped forward to Avila and he heads on but Ramos catches him. Then Brahim fouls Rivera just outside the box.
15'   Odriozola races forward and and wins the ball after a poor first touch. He plays to Benzema and his strike is straight at the keeper.
14'   Ramos caught by Cucho Hernandez as he races off his shoulder.
13'   Odriozola gets a stroke of luck and wins the ball back from Mantoavani. He squares to Benzema, who hits it wide.
11'   Another cross into the box and Cucho goes close. Nacho steps out and in front and clears.
10'   Ramos lets the ball fly forward to Bale but Santamaria grabs it.
8'   Ball comes back in from the left and it's Benzema with the strike. He shins it! 
8'   Odriozola down the right and he tries to go around Galan and he wins a throw. Sent in and Bale nearly gets to it.
5'   Ball headed out by Real Madrid. A really wobbly start for them.
5'   Foul and free for Huesca out on the left-hand side. 
4'   That was really, really fast.
1' GOAL! GOAL! GOAL! Cucho Hernandez scores. 
1'   We are underway! 
    Real Madrid 15 points behind Barcelona in 1st and Getafe eight behind Real Madrid in fourth. They can't trouble Barça and Getafe won't be worrying them so it really is a testing ground for Zidane in the last 10 games of the season.
    It's an historic day for Huesca as they play Real Madrid at the Bernabéu for the first ever time. 
    It's hard to make sense of that starting XI for Real Madrid but I guess Zidane has his reasons. 
    Another start, his second, for Isco under Zidane. Ceballos also given a chance with Modric, Kroos and Casemiro not in the starting XI.
    Luca's first and last start was against Villarreal when he conceded two in a 2-2 draw. Bale and Ronaldo were on the scoresheet that night.
    Sergio Reguilón eventually burst into the first team squad and his evolution been one of the positive stories for Real Madrid in this totally disappointing campaign for the Bernabéu side but he is resigned to sitting on the bench under Zidane. Marcelo starts for the second game in a row at left-back.

    After arriving at Real Madrid to considerable fanfare, Brahim has managed just 24 minutes of action but a loan deal is still not being considered. He starts tonight though in what is surely a chance to take a look at what he can offer.

    Avila and Cucho have nine between them this season for Huesca. They're quick, dynamic and can score. They should keep Ramos and Nacho on their toes tonight.
    Huesca XI: Santamarí, Herrera, Etxeita, Mantovani, Pulido, Javi Galán, Musto, Moi Goméz, Rivera, Chimy Avíla, Cucho Hernández.
    The speculation turns out to be true! Luca Zidane starts in goal.

    Real Madrid XI: Luca Zidane, Odriozola, Nacho, Ramos, Marcelo, Llorente, Ceballos, Brahim, Isco, Bale, Benzema.
    Hello and welcome to our live online coverage of Real Madrid vs Huesca at the Santiago Bernabéu on sunday March 31 with kick-off coming your way at 20:45 CET.
Real Madrid vs Huesca live online: match report
Real Madrid's season is over but there is still plenty on the line for both sides as Huesca travel to the capital on Sunday. Huesca are mired in a relegation battle and could do with points in whatever way they can get them while Real Madrid are planning a summer clear-out and there are futures on the line on Sunday. Zinedine Zidane has a massive amount of money to spend once the seasons ends and there are also several reports that a number of first team players could be on their way out so these games serve as a shop window and a chance for Zidane to see what some of the players on the fringes have left to offer.
Vinicius remains out and Thibaout Courtois is sidelines too. This might make the decision for Zinedine Zidane a little easier with Keylor Navas, the goalkeeper who won three Champions League titles for the Frenchman, staking a claim for a place in goal with a start against Celta Vigo in Zidane's return. But reports suggest it could be Luca Zidane who starts in goal for Huesca's visit. Meanwhile, Toni Kroos, Luka Modric and Dani Carvajal are also missing for los Blancos.
Huesca were sleepwalking to the second division but three wins in their last seven and a draw have helped them to a more respectable 22 points. They still have a lot of work to do in order to stay in the top flight as Villarreal sit on 29 and in 17th place. They will have to do it in their first trip to the Santiago Bernabéu to play Real Madrid without Gonzalo Melero, the former Madrid player, and Luisinho while Pablo Insua and Carlos Akapo will also miss out.