Real Madrid: De Tomás keen to return, wants Zidane talks first
Raúl de Tomás is keen to be part of Real Madrid's first-team squad next term, but is mindful of the bit-part roles endured by other strikers.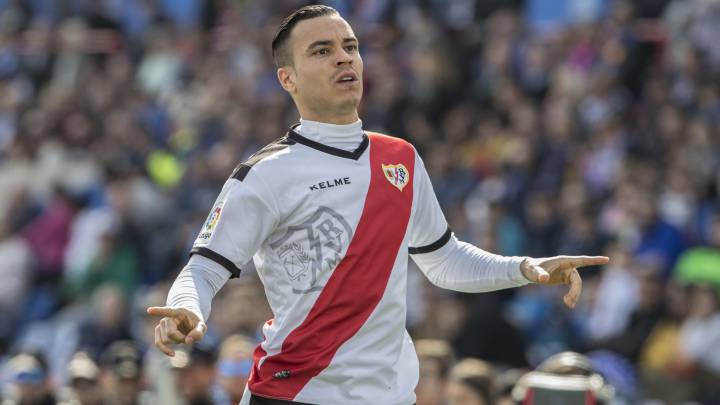 Raúl de Tomás wants to return to Real Madrid this summer... but not at all costs.
The Madrid youth product, who is currently on loan at fellow LaLiga club Rayo Vallecano, only wants to go back to the Bernabéu if he has assurances about his chances of challenging for a place in Zinedine Zidane's team. The centre-forward isn't demanding a starting spot; far from it. He's well aware he'll have to beat off top-quality competition to play. He just wants to be sure he's facing an even fight.
De Tomás wary of Morata, Mayoral, Mariano experiences
What De Tomás fears is being relegated to the same bit-part status that other strikers have endured at Madrid in recent seasons. With Karim Benzema firmly established as the first-choice number nine, Álvaro Morata, Borja Mayoral and Mariano Díaz have all had to live off scraps. Of the three, Morata had a slightly more prominent role, but was still never chosen for the biggest occasions.
De Tomás has therefore resolved not to make a decision on his future until he has spoken to Zidane and ascertained exactly what kind of role the coach has in mind for him. His first choice would be to join Madrid's first-team group; indeed, it would be a dream come true. However, given he'll be 25 this year, he knows he's no longer at an age where he can be happy just to have a place in the squad. He needs to be pushing for regular football. Having scored 14 goals in 30 games, his displays for Rayo this term have shown he's ready to make an impact at the top level.
It's a situation that is not new for De Tomás. Last summer, he had the option of staying at Madrid but opted to go out on loan to Rayo. Having scarcely had any game time for Los Blancos in pre-season, he felt that if he remained at the Bernabéu he would be no more than a fringe player. He preferred to leave, prove that he could cut it in LaLiga, and return to Madrid as a more experienced, established performer.
Winning place in Spain's Euro 2020 squad also on his mind
What's more, De Tomás also has one eye on Euro 2020. He is very much on Spain boss Luis Enrique's radar, and knows he is in a position to challenge for a place in La Roja's squad for the tournament. To manage that, though, he needs to be playing for his club. His preference would be to do so for Madrid, his boyhood team. But if that's not to be, he'll look for game time elsewhere...