Neymar's market value in free fall
According to the CIES Football Observatory, the Brazilian player's value has collapsed since PSG bought him for €222 million.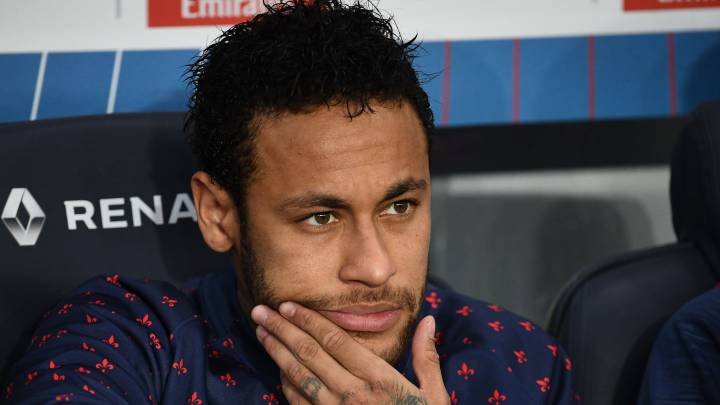 The CIES Football Observatory at the University of Neuchatel has published a new report into the value of the most highly-rated current footballers. The study reveals that Neymar's market value has fallen significantly since being top of the list back in January 2018. His value is now around the same level as players like Firmino, Sané or Coutinho, at just 120-150 million euros.
Neymar's injuries and off-field problems slash his value
Neymar's ongoing injuries and off-the.field problems have knocked a significant chunk of value off the Brazilian star for who Paris Saint Germain paid Barcelona €222M, making him the most expensive signing in the history of football. Since then, doubts over the Brazilian footballer have only grown, as reflected by CIES in their reports.
A year and a half ago, Neymar was worth €213 million, ranked ahead of Messi, Kane or Mbappé. However, six months later, the PSG star's worth had fallen to €195.7 million, surpassed by Harry Kane. In January 2019, the Football Observatory confirmed that Mbappé had now overtaken his partner up front at PSG, with the young French star now in first position on the list, valued at 218 million euros - €21M higher than Neymar.
Neymar out injured
Neymar's continuous fall down the list has only been exacerbated by the end of the 2018/19 season. The former Barcelona player suffered a serious injury to his right foot in a Cup match against Strasbourg that kept him out for the rest of the season, preventing him from helping his teammates in the Champions League tie against Manchester United, where PSG were stunned by a comeback from the English side.
Off the field, Neymar has been accused by a Brazilian model of raping her in a Paris hotel in May this year. The player, who has been questioned by Brazilian police over the allegations, has protested his innocence.
Neymar to miss Copa Ámerica
Neymar is also currently injured, having torn his ankle ligaments in Brazil's friendly against Qatar ahead of the Copa Ámerica, meaning he will miss the high-profile tournament. All this has led to Neymar's value slumping to between 120 and 150 million euros, alongside supposedly lower-level players such as Rashford, Alexander Arnold, Dybala and Gabriel Jesus.
Since leaving Barcelona for PSG, Neymar's injuries have seen him miss the biggest moments of each season at his club. He wasn't there for the defeat to Real Madrid, nor the elimination at the hands of Manchester United. In total the Brazilian striker has only played 78 games across the two seasons. That's 12 less than Real Madrid's supposedly always-injured Gareth Bale.