3
Ighalo 18',
Ighalo 62',
Alex Iwobi 65'

2
Bahoken 40',
Clinton N'Jie 43'
Nigeria come back to beat Cameroon and head into Africa Cup of Nations quarter-finals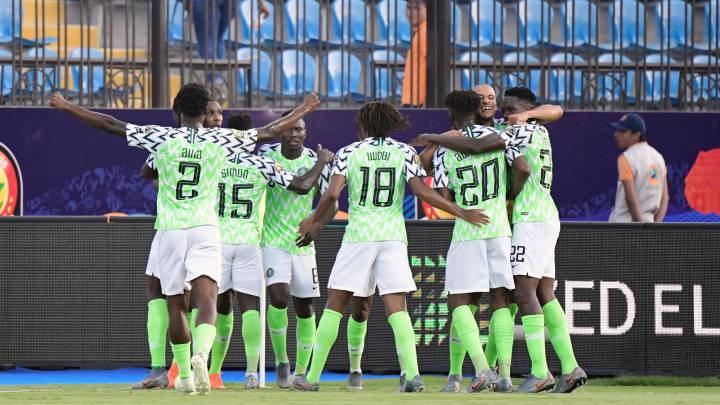 Nigeria vs Cameroon: as it happened!
Nigeria win! 3-2 after what turned into a classic.
Corner cleared and Cameroon scramble to win it back and send it back into the box. They do and Nigeria clear and start a counter. Cameroon win it back and drive forward. Last chance saloon.
Cross from the right again and Aina blocks it with his head. Corner for Cameroon.
Cross in from the right now. Nigeria get it away. Nervous moments for them.
We have three minutes of added time!
Cross from the left and Bahoken gets to it first. He has to shift his body but can't wrap his left leg around it and he sends it wide. Really nice cross.
A very worried looking Eto'o in the stands.
No, that's not going to work. Ball played down the line and it's out for a throw to Nigeria.
Just a couple of minutes now for Cameroon to make something happen.
Ighalo is replaced now by Onuachu. The striker goes off after essentially winning the game for the Nigerians. Let's see if Cameroon can change that.
Corner for Nigeria. Headed down and onto the post. They very nearly put this game to bed but it's cleared by Cameroon.
Corner for Cameroon. It's sent onto the head of Banana and he glances it wide.
Corner worked short and launched into the box. Ngadeu-Ngadjui gets to it at the front post and he sends it wide.
Can Cameroon respond. N'Jie launches a cross into the box. Too much pace on it and nobody there to meet it.
GOAL! GOAL! GOAL! Iwobi slots home. 3-2 and just like that, Nigeria lead. Incredible scenes. Ighalo plays it through to Iwobi, who is driving through the middle. He picks it up and converts.
Chukwueze concedes the free as Bahoken jumps into him and gets toppled over.
Not entirely sure they deserved that but they had been trying. 25 minutes left.
GOAL! Nigeria equalise. Ighalo scores his second of the game. Chested down to him after the cross. Musa with the assist and Ighalo slams home. 2-2.
Nigeria still pushing for the equaliser.
Strike from Aina outside the box. He sails that one over and it raging with himself. Another wasted chance for Nigeria, who have struggled to create any much since going behind.
Now Mandjeck is booked for a hack on Ighalo.
Chance for Cameroon. N'Jie sends it across goal and Akpeyi gets a hand to it. Very close to being 3-1.
Iwobi lays it off to Simon, who takes it on his right and drives the ball over the bar.
Free sent in and header well over the bar.
N'Jie caught by Musa as he flicks the ball past him. Free for Cameroon.
One minute of added time at the end of the first half.
Simon shot as it's deflected for a corner. Nigeria stunned and trying to get back into this.
N'Jie with a lovely finish to give Cameroon the lead!Long ball down headed on by Bahoken and N'Jie picks it up, fends off Aina and slots home. Nice execution.
Nigeria slacked off after they scored that opener.
N'Jie heads out for a throw. Nigeria threaten as Iwobi picks it up inside the box. Cleared.
Cameroon goal! Comes in from the left as Bahoken sidefoots it home. Bassogog with the teasing cross and Bahoken just has to knock it home. 1-1.
Nigeria nearly get themselves in trouble as the ball is crossed in and it comes off two defenders before landing in Akpeyi's hands.
Corner sent in and Awaziem sis cleaned out of it by Ngadeu-Ngadjui. the Nigerian rolls around on the ground for a second before jumping to his feet looking for a card. Obviously not too injured.
Free now for Cameroon. Kunda to take. He delivers and it's headed clear.
Free whistled against Ighalo but there was nothing in that. He held off the defedner and played it to Iwobi. He's conused as is everyone. I think the linesman is confused too.
N'Jie on the attack again. He has been their most promising attacker after just over half an hour.
Free sent in and Moses fires it across goal. Cameroon don't deal with it initially but Onana grabs it eventually.
Kunde gets himself a booking now. He chopped down Etebo after losing out in the race for the ball.
N'Jie, who has looked promising here, takes the ball into the penalty area and lays it off to Kunde. He shoots and it's a mile wide. He slices it off his right foot.
They work the corner short but lose it and it's out for a goalkick.
Cross sent in from deep and Omeruo clears. It comes off his shin and out for a corner. Not what he had planned.
Nigeria on the attack again. Moses Simon takes it down this time and hits it with his left. Saved by Onana but it was going wide anyway.
GOAL! GOAL! GOAL! Ighalo scores. It comes via a free, cross and then deflection. The free was blocked by the wall on the right hand side and crossed into the back post. Omeruo sent it back across goal and Ighalo struck. It took a fairly wicked defelction as it nestled in the bottom corner.
Cameroon better in the last couple of minutes but Nigeria have dominated the opening 20 minutes.
Crossed in and Ambroise meets it. Headed over the bar but he says a Nigerian defender got a clip on it. referee says it's a goalkick.
Cameroon putting on some pressure. Cross in and N'Jie tries to go around Omeruo but he sticks out a leg and Cameroon win a corner.
Cameroon drive forward with Mandjeck. They get stopped and hold onto possession.
Another coner for Nigeria. Slip by the defender and Moses Simon kicks it off him for the set-piece.
Worked short and Iwobi cuts inside before firing wide.
They have to suffice for a corner as Musa tries to round Fai and the defender gets a leg to the ball.
Clipped ball forward finds Bahoken and Aina gets it away for Nigeria. Nigeria on the counter now.
Long ball down the field is grabbed by Akpeyi.
N'Jie with a push in the back as Nigeria win the free. He was trying to attack down the left.
Another poor clearance from Cameroon and Musa tries to make a move down the left. Throw for Nigeria in the end is all he can muster up.
Mistake at the back from Cameroon and Nigeria can't capitalise. We have an injuruyed now as Etebo gets a talking to for catching Mandjeck late.
And now it's a corner for Cameroon. Some very colourful kits on display today with Cameroon's yellow jersey and red shorts and socks along with Nigeria's unique strip.
We are underway and Nigeria immediately win a corner.
Samuel Eto'o, who scored 56 goals for Cameroon, in attendance. He watches on as the national anthem is played. Nearly ready for action here.
Teams emerge onto the field! Very warm in Alexandria. 29 degrees at the moment.
So far, we have Senegal and Benin in the quarter-finals after they beat Uganda and Morocco in their last 16 ties. Who will join them?
Ighalo gets a start. He came on against Burundi in the first game and scored the equaliser, which was a lovely goal. He started the next two games but failed to score as Nigeria beat Guinea and fell to Madagascar.
"It's going to be a good game, sometimes I think the big teams are easier to play against than smaller countries because we might belittle smaller countries but these big teams have so many tactical game and tactical discipline so I think it will be a good one," says Ndidi ahead of the Cameroon clash.
Both starting XIs confirmed. No messing about from Seedorf, who is going with a very attacking line-up, Bassogog, Bahoken, Choupo and N'Jie all crowbarred in there.
Here's the starting line-up Gerard Rohr will go with against Cameroon. No surprises up front while Akpeyi and Omeruo come back in after sitting out the defeat to Madagascar.
There have been a few shocks along the way already in Egypt, not least Madagascar winning their group, but Benin pulled off another last night as they send Morocco packing.
It could be a tight one in Alexandria, with anyone expecting a goal-fest quiye likely to be disappointed. Unless someone opens the scoring early, in which case it could open up into a bit of a classic.
Cameroon: The Indomitable Lions also finished second in their group behind Ghana, which was not so much as a shock as Madagascar's heroics but still a blow to the champions' aspirations with Tunisia awaiting the winner of Group F.
Still, there are reasons for Clarence Seedorf to be optimistic, not least that record of not yet having conceded a single goal in Egypt. There is also pressure on the shoulders of the only man to win three Champions Leagues with three different clubs… Cameroon have won the competition five times and fans will not be happy if the quarter-finals are not reached.
Seedorf has yet to settle on a preferred formation, using 3-4-3 and 4-2-3-1 against Ghana and Benin, both of which produced goalless draws. A 4-4-2 against Guinea-Bissau resulted in a 2-0 victory and in goal-scorer on that day, Stéphane Bahoken, along with Eric Maxim Choupo-Moting, Karl Ekambi and Clinton N´Jie, Seedorf possess enough attacking intangibles to cause Nigeria a headache.
Nigeria: The Super Eagles suffered a surprise defeat to Madagascar in the final round of fixtures in Group B, condemning Gernot Rohr's side to second place and a match they would probably have preferred to avoid against reigning champions Cameroon. Worryingly for Rohr, he did not take it easy on Madagascar, who had never before even qualified for an African Cup of Nations finals, but fielded a strong side and still lost 2-0.
Nigeria have been struggling for goals in Egypt, finding the net just twice in three games, and face an Indomitable Lions side who have lived up to that billing so far by keeping three clean sheets.
Rohr will go with his attacking quartet of Ahmed Musa, Alex Iwobi, Moses Simon and Odion Ighalo, all experienced players who possess pace, trickery and an eye for the back of the net, but he must hope that they finally click today while the back line does its job against the Cameroon attack.
.