Lianne Sanderson: "World Cup Qatar is going to be incredible"
England international Lianne Sanderson has been impressed with what she has seen of the preparations for the 2022 World Cup in Qatar.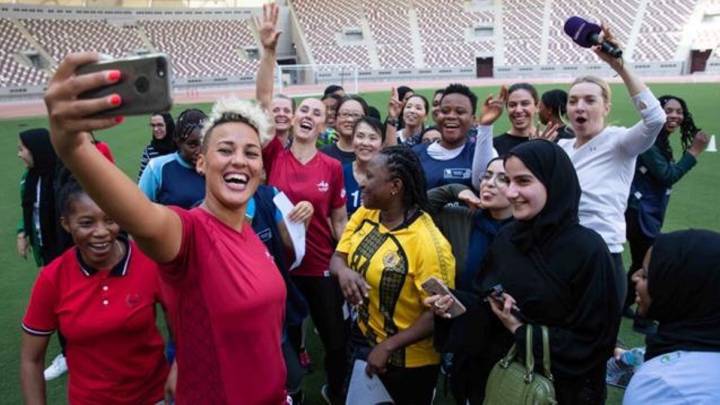 England Women's team player Lianne Sanderson says she was impressed with what she has seen of the preparations for the 2022 World Cup during her recent trip to Qatar. "I'm not in any doubt that the World Cup is going to be a spectacular event; I've seen that the organization is very professional. And on the other hand, I'm sure that the negative views of Qatar and the Middle East will disappear with the arrival of visitors from all over the world who will be going there to enjoy the World Cup. This is my first visit to Qatar and it's been a marvellous experience," Sanderson, whose extensive club career has included spells at Arsenal, Chelsea, DC United and Juventus among others, said.
The legacy of Qatar 2022

"During our tour of the Qatar 2022 Local Organising Committee headquarters in Doha, it was very interesting to see the plans in place for the community after the World Cup has taken place. Seating in the upper stands of the stadiums will be dismantled and recycled - it will be donated to update sports centre infrastructure in other countries", Sanderson commented.
"Another thing I was impressed by were the project which Qatar has been setting up to motivate the new generation to take up sports by establishing community installations in the areas close to the stadiums which will serve local people for a long time after the World Cup has finished. Personally, I'm very hopeful and excited that the next World Cup will be coming around in little under three and a half years from now".
Great advert for football
Sanderson, who has been capped 50 times at full international level by England's Women's team, is keen to encourage and inspire a new generation of girls who would like to follow in her footsteps and take up football professionally. She has taken part in a host of sporting events and activities in countries such as India and Jamaica.
"The best way to encourage young girls to embrace their passion for football is when their country hosts major football events – ones that will be watching all over the world and that's exactly what's happening in Qatar right now," she concluded.