Zack Steffen expects to keep Düssledorf atop the stands
The US goalkeeper, who is on loan with the German side from Manchester City wants to keeps his net as clear as possible to take his team atop the table.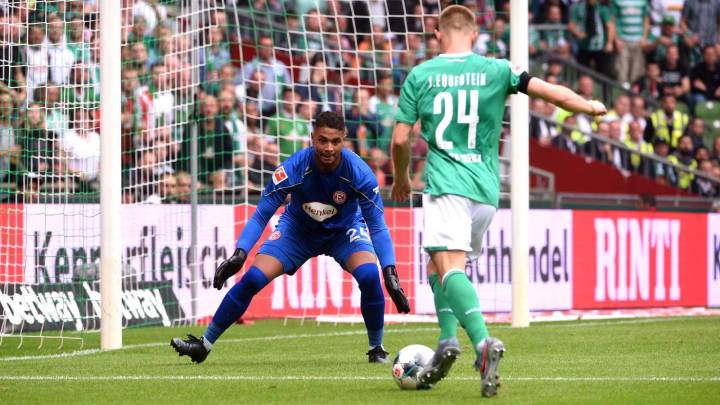 Zack Steffen, the new Manchester City American goalkeeper that is currently on loan with Fortuna Düsseldorf living what is his second time at the German League, a stage he started with the right foot.
The 24-year-old goalkeeper talked about his dream-like debut in the Bundesliga, besides mentioning his game rituals, ambitions and why he picked the number 24 in an interview with bundelsiga.com.
Steffen is proving why Manchester City signed him, despite sending him on loan to Düsseldorf, as the US international made ten saves against Werder Bremen in which was the first win the Flingeraner had at Weser-Stadion in 15 previous attempts.
The goalie was delighted with his debut, "It's amazing. It's such a good and strong league, probably one of the best in the world. I'm just trying to enjoy it." Besides adding he wants to keeps as many shots out as he can, because he expects to keep his team in the game, "to make the saves I need to make and to do my job."
Zack Steffen
The American goalkeeper is a huge fan of Tim Howard, being him the reason behind his choice of the 24 number upon arriving with Fortuna Düsseldorf.
"When they asked me what number I wanted to pick, I saw 24, and I thought of Tim Howard. He was and still is my role model. I just remember watching him as much as I could."
Steffen also mentioned he has some personal rituals on game day as he puts his left glove and cleat before the right ones every time, something that as he puts it; "lets me get tuned for the game," and by his display in Matchday 1, it certainly helped him.