Neymar: PSG turn down Barça's €170m loan offer for PSG forward
A Barcelona delegation met PSG sporting director Leonardo on Tuesday in another bid to prise their former player from the Parc des Princes.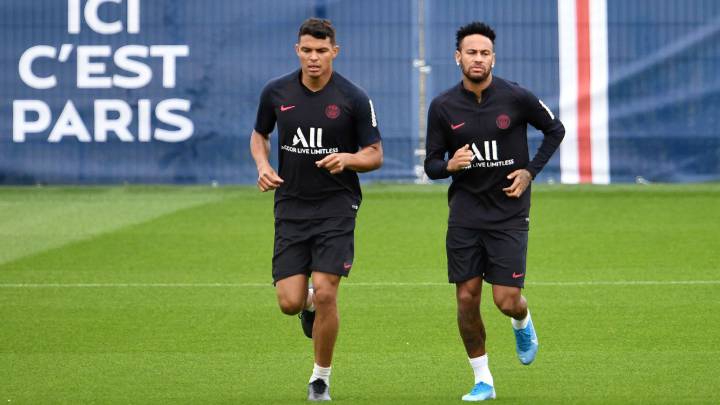 A Barcelona delegation consisting of chief executive Óscar Grau, director Javier Bordas and sporting director Eric Abidal met with PSG sporting director Leonardo on Tuesday in an attempt to hammer out a deal for Neymar.
At this stage it seems as though there is little left for Barcelona to offer PSG but the farm in its entirety and the Ligue 1 champions - despite the Brazilian's general demeanor since his return to training and the refusal of Thomas Tuchel to play him while the transfer window remains open – really have no obligation to accede to any demands that do not meet their requirements. That, at things stand, amounts to roughly 222 million euros, the world record fee paid two years ago when Neymar sensationally arrived in the French capital.
Barça to offer
€

170m loan deal and throw in Dembélé
Barça have offered any number of player plus cash deals, with only Leo Messi seemingly spared the ignominy of being offered up to PSG as a sacrificial lamb for the return of the prodigal son. Le Parisien reported on Monday that the latest package thrown together by Barça consists of €100m plus winger Ousmane Dembélé and full back Nelson Semedo. Previous names to be linked with a part-exchange deal include Ivan Rakitic, Arturo Vidal, and Philippe Coutinho – who eventually left for Bayern Munich.
However, with Barça apparently keener on the idea of doing business with Real Madrid with Vinicius and Keylor Navas on their wishlist, Barça have apparently decided to offer cold, hard cash for the Brazilian, although not immediately: the Camp Nou board are confident that a one-season loan deal involving Neymar moving to Barça and Dembélé going the other way, with the Catalans inserting an obligatory purchase option of €170m for the Brazilian and an option for PSG to make the France winger's move permanent will do the trick.
PSG say no dice to latest Barça offer
However, Le Parisien reports that PSG have turned down the offer, which included a binding purchase option on the Brazilian to be cashed in either at the end of the current season or in 2021, and were not swayed by the prospect of a year-long loan deal involving Dembélé.
It seems that Barça will have to dig deeper to secure their former charge, while Real Madrid wait and watch patiently, however genuine their interest may be.