Rodrygo cleared for Real Madrid as Valverde gains passport
The Uruguay midfielder has gained Spanish nationality, freeing up a non-EU spot in the first team squad and allowing Rodrygo to play in LaLiga.
Federico Valverde has become a nationalised Spaniard, according to a report from Spanish television station La Sexta, freeing up one of the three non-EU spots in Zinedine Zidane's squad for Rodrygo.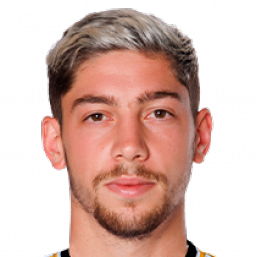 Zidane's non-EU problem solved in a flash
Valverde's Spanish citizenship has been high on Madrid's agenda since May, with Zidane starting the season with five non-EU players: Éder Militão, Valverde, Vincius Junior, Rodrygo and Take Kubo. In order to circumvent the issue, Vinicius and Rodrygo were registered with Castilla and Kubo with the under-18s. While Valverde remained a non-EU player, only one of the three youngsters could play for Zidane's side with Vinicius very much the senior player in that respect.
Now, with Kubo on loan at Mallorca and Valverde registered as an EU resident, Rodrygo can take a place in Zidane's squad for LaLiga games alongside Vinicius and Militão when the Real boss feels he is ready for first-team action.