Paul Pogba distances himself from Real Madrid... but Eriksen is still possible
The French midfielder looks set to sign a new contract with Manchester United while Tottenham's Christan Eriksen will be a free agent in July.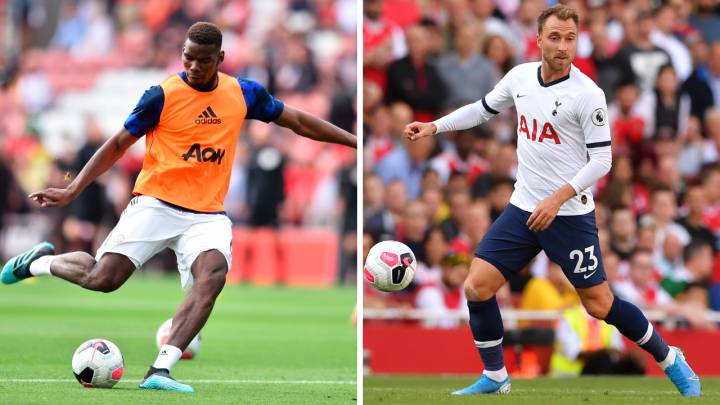 Manchester United haven't wasted any time in putting the wheels in motion to tie down their star player, Paul Pogba. This summer, United managed to stave off Real Madrid in their attempt to sign him. Madrid would have first needed to sell James Rodríguez and Gareth Bale to finance the operation. And now, United vicepresident Ed Woodward has opened talks with Pogba's agent Mino Raiola in the hope that the player will sign a new contract.
As it stands, Pogba's contract with United will expire in 2021. However, the club could hand him a one-year extension - but that's not an ideal solution. They would rather reach an agreement witg the player, increase his wages and put an end to his wishes to leave Old Trafford. If he renews, Pogba would definitively sever his chances of ever joining Real Madrid. If he decides not to renew, Madrid will launch another attempt at signing him next summer.
Difficulties at the start of the season
For Pogba, starting the new season with United has come as a disappointment. After holding conversations with Zidane at the start of the summer, he was excited by the project proposed by Madrid. But the transfer never materialised. After that, he has had to come to terms with a lacklustre start to the new campaign and even worse, being on the receiving end of racist abuse from his own fans for missing a penalty against Wolves. Then, a fan dawbed the message 'Pogba Out' outside United's Carrington training complex. The club have been trying to convince him that these were both isolated cases and that they will support him. United are willing to offer the player a substantial pay rise to persuade him to stay.
For Madrid, Christian Eriksen (who was originally the Plan B if they couldn't land Pogba) is now the most accessible option. If nothing changes, Eriksen will be able to elect the club of his choice next summer. His contract with Tottenham is due to end at the end of June. After learning of Madrid's interest over the summer, the Danish midfielder held back from accepting offers from Spurs to renew - hoping the club might bow to pressure and sell him before he is able to leave on a free. If Eriksen opts not to renew with Pochettino's side, he will be able to start negotiating with other clubs - including Real Madrid, from January.
Eriksen in numbers
Eriksen signed a five-year contract with Tottenham in 2013, and earns 40,000 euros per week - in other words, two million euros a year. In 2016, he signed a new contract, taking him to 2020 and doubling his salary. Now, according to sources close to the player, Tottenham have offered him a new, four-year deal and will be willing to up his pay packet to six million euros after tax - to put him on a similar scale to Hugo Lloris and Dele Alli. Only Harry Kane, who earns 8.8 million euros a year, earns more at Spurs. It's tempting but for the time being, Eriksen has not been convinced enough to sign...