Luka Jovic in contention for Levante clash despite concerns
The injury announced by the Serbian Football Federation had some connected to Real Madrid rather worried, but things are looking positive.
Real Madrid's new forward Luka Jovic trained with the rest of his teammates in Valdebebas on Wednesday, putting him in line for a start in Saturday against Levante.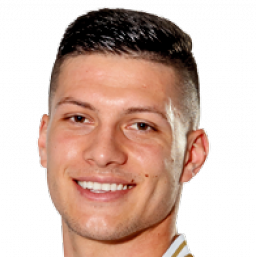 Jovic expected for Levante visit
The presence of the Serbo-Bosnian has removed the concerns of the injury that had worried Zidane, after the Serbian Federation announced last Sunday that Jovic would miss Tuesday's match against Luxembourg due to a physical problem. The injury was not specified upon.
As well as Jovic, the French coach was also able to work with some other players affected by the so-called 'FIFA Virus'. Sergio Ramos and Dani Carvajal joined the group, while Luka Modric returned but trained inside the facilities. Brahim Díaz' group work gave Zidane even more positive news as, little by little, the full extent of Los Blancos' squad should be on show shortly, including the debut of Eden Hazard.
Isco and Asensio continued their own recoveries and the former is expected to be back with the group in a couple of weeks.
New goalkeeper, expected to play second fiddle to Courtois, Alphonse Areola and Varane were not in situ due to French national team duty, but youngsters Altube, Belman, Bravo and Fidalgo completed the group.
On Thursday at 11:00 CEST, Zidane will put some further touches to the plan to welcome Levante to the Bernabéu. As the new stars return, expectations are rising...