ATLÉTICO MADRID
Morata rejects claim that Sevilla called him a "Mummy's boy"
The Atlético Madrid striker was irate after being shown the red against Mallorca as he waited for Salva Sevilla in the mixed zone after to confront him.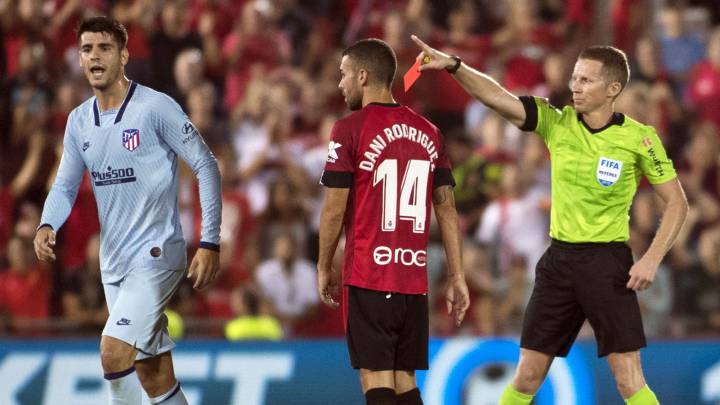 Álvaro Morata was sent off on Wednesday night during Atlético Madrid's 0-2 victory over Mallorca just minutes after coming on the field and was beyond angry even after he was shown the red card.
One of the Mallorca player's who was involved in the row that saw Morata receive two yellow cards in quick succession explained what he said during the row. "You're a Mummy's Boy," is what he told reporters was said.
The Atlético Madrid players doesn't accept this explanation, however, and took to Twitter to reject Sevilla's claims.
Morata wishes Sevilla best of luck on Twitter
"I went to you before the game to congratulate you on the path you've taken. It isn't fair that dive you did... that can be seen in the video. Only you and me know what was said... Things that happen on the field stay on the field and because of that, I won't say a word of what you said. Best of luck in the future," he Tweeted and although he didn't reference Sevilla directly, it is believed that is who he is speaking to.
Waiting in the tunnel after the game to confront Sevilla, Morata seemed irate at whatever was said. He will miss the Madrid derby on Saturday through suspension.