Valverde: "I hope Ansu Fati remains with us for as long as possible"
Barcelona's coach said it's time for his team to start winning away from home - starting with tomorrow's trip to Getafe. He also defended Luis Suárez.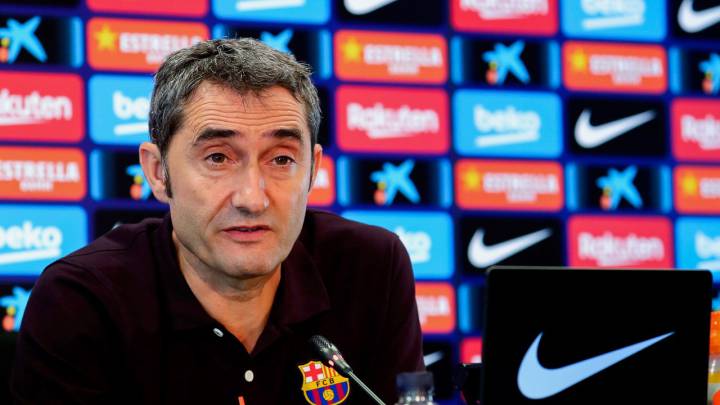 Ernesto Valverde attended reporters this afternoon to look ahead to tomorrow's meeting between Barcelona and Getafe. The blaugranas travel to the capital having yet to win away from home and will be without Leo Messi.
Getafe - a good place to record the first away win of the season?
I'm sure it will be the same as it has been in recent seasons, they are a very physical side, disciplined when they need to press and move well in attack.
How's Messi?
I don't know. I hope he's back soon. It's not a serious injury. He's pulled a muscle so we'll wait and see.
Spain keen to get Ansu Fati on board
What do you hope will happen with Ansu Fati and the national team?
All I want is for him to remain with us for as long as possible. If he goes with the Under-21s, that'll be the same time as the international break, if not he'll be away longer. We'll have to wait and see what happens. The RFEF will decide.
What did you make of the 300 euro fine Barça received for negotiating with Griezmann while he was still under contract?
I'm not very familiar with the ins and out of the matter, I believe they're going to appeal.
Tomorrow's game kicks off at 16:00 hours, is that a worry for you?
We play at all different times. No it doesn't worry me. What does worry me is that the team steps up a gear because we haven't been getting good results away from home. Getafe will test us a lot because they are a very difficult team but it's good for us to be facing a tough rival.
Neymar court case
Do you understand the Neymar court case - and the compensation they hope to get?
This never ends. I've got nothing to say, these are internal issues which don't affect me. There is never one single press conference in which I am not asked about Neymar. Let's see if we can manage it one day...
Were you concerned that Arthur was socializing with Neymar?
He learned a lot of things last season and now he's fine and I'm sure he'll continue that way. He went out for dinner with a friend; I don't see any problem in that.
What is your opinion on group dinners?
It happens a lot with teams. It's nothing special. When the team wins, it's a way of celebrating and when they lose, it's to get everyone together to discuss how things can improve.
Messi's groin injury
How do you see Luis Suárez?
He's only played a few games and he was out injured. He wasn't able to complete the pre-season like the rest of the squad. It's the same thing that happened to Dembélé and Leo. What's happening with him is what happens to most goal scorers. He has good runs and bad ones.
How do you think Messi's absence will affect the team?
The same as before. He makes us stronger, but we have resources to get by. We've done it before.