Jesús Vallejo on why Wolves, English football, Zidane's help
Wolverhampton Wanderers were an attractive proposition to Jesús Vallejo and the 22-year old sat down with AS to update us on his progress.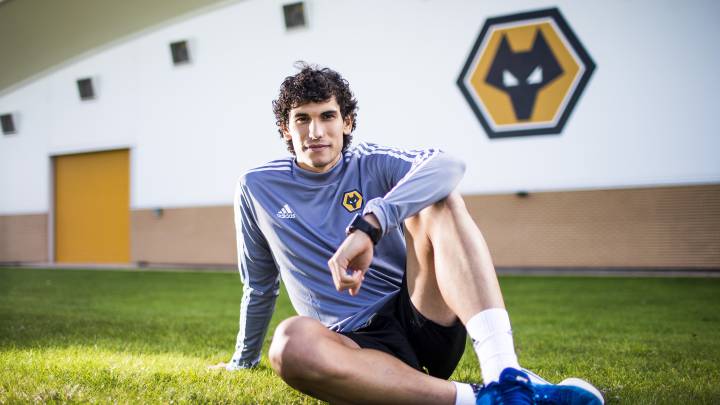 At the end of July, Jesús Vallejo signed an extension to his Real Madrid contract and then made the loan move to Premier League side Wolverhamption Wanderers. After an impressive first season back in the English top flight - finishing seventh and with some notable scalps along the way - even more was expected from the West Midlands club, and Vallejo was to be part of that.
The 22-year old sat down with AS to give us his thoughts on how he has settled in...
How is everything going in Wolverhampton?
"Very well, since the first day I have been treated phenomenally. I am very comfortable with the team, the coach and the way we play."
You had many offers on the table... Why Wolverhampton?
"It was a bit of everything... I wanted to have this experience. I talked to Jonny [Otto] and Adama [Traoré], and Real Madrid strongly recommended that I come here. They told me that they [Wolves] would further my development and I wanted to go where they felt best. And, of course, Wolves influenced me. Nuno [Espírito Santo] called me and told me about the project. It was the club that took more of a chance on me."
Are you adapting to England?
"It has been pretty fast because the club supports you a lot. I have relied heavily on Jonny, Adama, Raúl Jiménez... Here we are like a family because we spend a lot of time together in the sports centre, we eat together..."

What has shocked you the most?
"The training methodology is different. Players are much more physically prepared. And the way the English watch football... For them, they would play every day.
What are Wolves like?
"This is a club that is growing massively. A couple of years ago they had an incredible season with the arrival of the new gaffer, finishing top of the Championship. Last year they were seventh in the Premier League, which is incredible. And this year we must work to repeat that, although it will not be easy as being seventh is being the best of the rest after what they call here the "big six". We must be strong because we are in four competitions."
What's it like for a boy from Zaragoza to live here?
"I had the experience of being in Frankfurt for a year, but I have noticed a bigger difference. Frankfurt was more like Zaragoza or Madrid. This is different, but I like that they have lunch and dinner earlier. I like this kind of relaxed life."
Sometimes the Spanish centre-halves have a reputation for being soft. Has coming to England helped you get stronger?
"That depends on the striker you face, as in Spain there are also very hefty strikers. Both here and there you must be a complete player. In Madrid you have European competitions and you must be prepared to play against anyone. I want to improve across the transitions, because in Madrid, with the defensive line so high you also have to be a fast player who can run back to cover. I will improve on that because our way of playing here is similiar, with the coach wanting us to press."
How is your fitness?
"Phenomenal. I've been feeling great with Madrid since January or February. The league games I played with Zidane were key. Those minutes were essential to me arriving at the Euro U21s in good shape and I've maintained that form. If I feel well physically, everything else follows."
Did the doubts about your injuries bother you?
"I have always had a lot of confidence in myself. I have been focused and through difficult times I have continued to work hard. It was positive to win that title with the U21s after a difficult year with the club."
Which retired player would you have liked to defend against?
"Raúl He was very intelligent and it would have been nice to see how he moved and his trickery."