REAL MADRID
Jovic's father defends his son for playing with Madrid after injury
Milan Jovic spoke to 'Alo' in Serbia and defended his son who was punished for leaving the national team injured and playing with Madrid four days later.
Luka Jovic was not called up to the Serbian squad for games against Lithuania and Paraguay during the current international break. His small role at Real Madrid - he has played just 218 minutes - had nothing to do with it though. Ljubisa Tumbakovic left him out to punish the young striker.
During the last break, Serbia played Portugal and Jovic was only used for the last three minutes. After suffering a slight injury ahead of the next game against Luxembourg, Jovic was sent back to Madrid where he played just four days later (just seven minutes against Levante).
Jovic's father has stepped in to defend his son from the criticism he has recieved for playing with his club after leaving the national team just days before. "The good things are forgetten really quickly," he said in Serbian publication, Alo. "As soon as he became a Real Madrid player, he injured himself with the under 20's in the Euros. I said to him: 'Son, don't go!' and he told me: 'Dad, I would play with the national team on one leg if necessary, my friends are there and I won't disappoint them.'"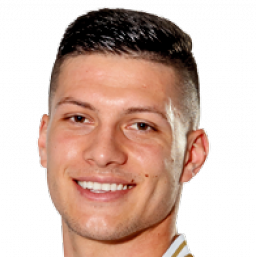 Tumbakovic told the press before the Lithuania game that Jovic left the sporting centre at Stara Pazova of his own accord due to injury problems during the last international break. The manager saw this as insubordination.
"The national team is a dream and Luka thinks that. He is a great Serbian. He likes to play with the national team and with the jersey with the sacred crest on it. It annoys me that it is in focus because it is being mentioned in a negative context and he doesn't deserve it. He is a partiot," his father continued. "The manager is always right, and he makes the final call which the player has to respect. If Luka is wrong, the two of them have to speak. I am sure that he would never abandon the national team, he is my son and I know him better than anyone. In reality, he is the 15th player to injure themselves and play the following game with the club. Luka is a Serbian and he fights for our people."
Jovic is not currently living through his best moment. Out of the Serbian team, at Madrid he is not being relied on by Zidane either after a summer switch from Eintracht Frankfurt. He has played seven games, six in LaLiga and one in the Champions League. With only two starts, he hasn't scored yet in 218 minutes of action.