REAL MADRID
Kroos is having the best season of his Real Madrid career
The German has improved his shots per game and the amount of chances he is creating as he recovers his best form under Zidane, who has always trusted him.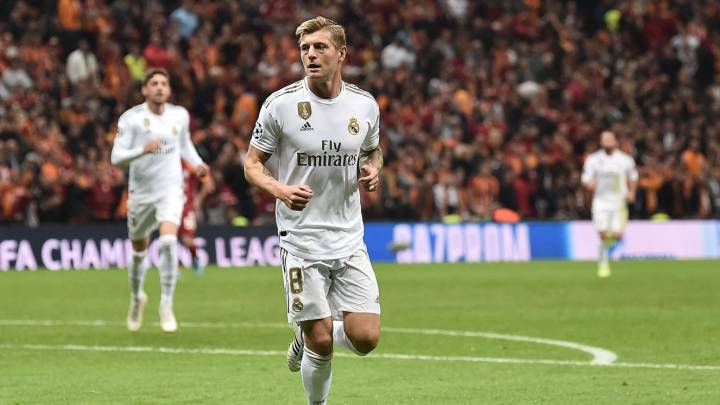 Toni Kroos is the master of rebirth. There were voices of criticism who claimed the German was short of petrol: "Right now, he is like a diesel tractor, not an audi," said Bernd Schuster last season. But the central midfielder is back on the offensive.
Kroos' averages for every 90 minutes
| | | | | |
| --- | --- | --- | --- | --- |
| Season | Shots | Goals | Chances | Games |
| 19-20 | 2,3 | 0,24 | 3,95 | 11 |
| 18-19 | 1,44 | 0,1 | 3,32 | 36 |
| 17-18 | 1,2 | 0,1 | 2,4 | 39 |
| 16-17 | 1,3 | 0,1 | 2,9 | 41 |
| 15-16 | 1 | 0,02 | 2,3 | 44 |
| 14-15 | 1,15 | 0,03 | 2,06 | 48 |
Numbers per 90 minutes.
In 13 games this season, he is averaging 2.3 shots on goal and is creating 3.95 chances every 90 minutes. Compared to his previous seasons at Real Madrid, these numbers are a massive improvement. He shot 1.44 times every game and created 3.32 chances per 90 before this season. He is scoring 0.24 goals a game, which is more than double his previous strike rate.
The German has been an undisputed starter since he arrived in the summer of 2014 and his attacking tendency has always been listed amongst his best abilities. He never had a massive input in Real Madrid's attack though. Not even during the year of the double in 2016-17 when Zizou was at the helm have we seen such an improvement in Kroos' attack.
All of the numbers show how important Kroos is to Zidane's plan. He had played 99% of Real Madrid's minute before he injured himself against Granada. He doesn't shirk defensively either with 7.13 steals per 90 minutes. When you compare that the the defensive masetro, Casemiro, who has 7.38 steals per game, it shows how effective he is.
The game against Galatasaray, his 100th in the Champions League, showed his importance again. During the game, in which Kroos scored the winner, he covered ground and proved effective arriving from late into attacking positions. The shot he scored from was proof of his excellent striking, like the one we saw against Celta Vigo in the opening game of the league.
Objective Euro 2020 for Kroos
The improved physical condition of the former Bayern Munich midfielder is evidence that Zidane has always believed in him and has given him the confidence to take that step forward this season from last. Last season he was one of the most criticised players in the team, which caused him to lose his place in the Germany team. "I think it was simply a sporting decision," he said. "I don't think it would be based on age because at 29, you can still play football very well."
It's obvious now that his poor form last season was just a speed bump and his absence from the German squad will prove to just be anecdotal. "The objective we have along with the manager is that I am in my best form in the summer of 2020," he said as he eyes a place at the Euros.