FOOTBALL
Valdano on why Raúl will make history as manager of Madrid
Jorge Valdano has seen Raúl growing up through Real Madrid and the former manager and player says his former pupil will make history at the club.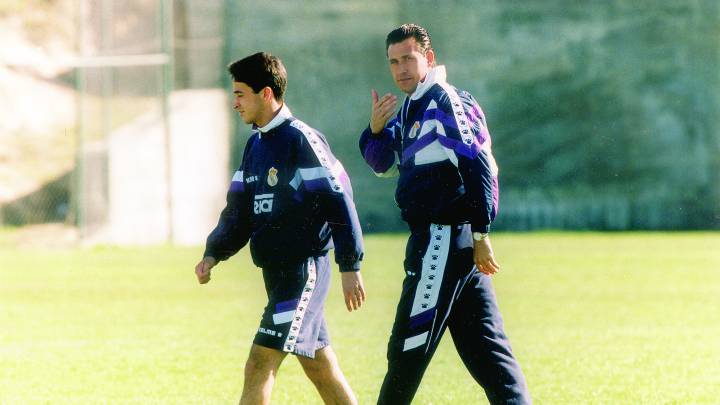 Jorge Valdano has done it all at Real Madrid. He was a player, manager, and sporting director and he backed Raúl 25 years ago when he made his debut at just 17 years of age against Real Zaragoza.
Do you remember who spoke to you first about him?
We'll say I discovered him myself. I was in Tenerife and I went to see an u-19 game. He came on for the last 15 minutes and he was a boy amongst men. I noticed that he ran every time he moved. They told me he was 16 and that was the first impact.
Was there a second meeting?
A first meeting. Ramón Martínez told me that this kid was going to Atlético, who were starting up their academy again.
When was it?
It was in a phase of preparation for the next season. On one of my trips to Madrid, Ramon Martínez told me that he had prepared a meeting with Prosinecki, another with Zamorano and another with Raúl.
How was that first meeting?
He arrived late (laughs).
Did he have any excuse?
The usual, the distance it was from his house and the trains that he had to take. We met each other in those offices in the Bernabéu, which seemed something clandestine because they were underground.
Changing the history of Real Madrid...
You never know in football if you can fulfill promises but three months after, he trained with us and in four he made his debut.
How did you see him?
I saw all of the games with the C team. I was interested in Álvaro and Guti. But Raúl had a very ambitious personality and he gave me the feeling that he wanted to make history in every training session. He trained at an unusual pace. I figure that personal situations mould personalities and Raúl was a guy who wanted to make history.
How did Raúl become a symbol of Real Madrid?
Restored the confidence, that is to push his talent to the limit of its possibilities. And worked on the aspects that he could improve. In the case of Raúl, he worked on his right foot because he was very left-footed and in his aerial play.
How was Raúl after the debut with so many misses?
We came back on the bus to Madrid and there was Fermín, his representative at the time. Fermin asked him: 'How are you, Rulo?' and he said: 'Good, I'm fine...but this chicken won't play me on Sunday!'. I was the chicken.
What don't we talk about with Raúl?
We are talking about a superior intelligence. A player who had all of the solutions to everything on the field to the point of being able to coach on the field.
And now?
He will be a great manager because the intelligence that served him well as a player will reult in him being able to coach. I have no doubt that with his character and identification with the fans, Raúl the manager will make history at the club.