Sergio Canales: "Learning from Real Madrid and Mourinho was like doing a master's degree"
Sergio Canales returns to the Bernabéu with Betis tonight. A lot has changed for the midfielder since he was on the books at Real Madrid in 2010.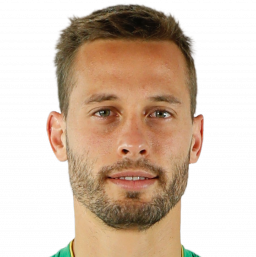 At Betis, you seem like another player...
I've spent several years working on fitness and the physical side of my game. At Real Sociedad, my game was more positional, waiting to receive the ball. At Betis, it's much looser. Now I feel much better, I still feel fresh on 90 minutes, I feel strong when I'm on the ball and I'm able to drop back and help the defence towards the end of the game. That's where I think I have made a big leap.
Have you found your preferred place on the pitch?
We've been looking to find the ideal places for all of the team, adjusting things little by little so that we all feel comfortable. I struggled to enter play when I was playing out wide on the wing but since Fekir arrived, he likes to play in specific place. Now I have freedom to roam, I feel good physically so I can start and finish moves.

Tonight, you will be back at the Santiago Bernabéu...
We've won there during the past two seasons. Besides, we've seen that any team can beat any other team in the league this season. You never know when mindset might suddenly change - let's see if our win against Celta will help us be a bit more daring at the Bernabéu, which is just the kind of stadium to do that.
Little remains of the Real Madrid team you were with in 2010-11?
Benzema, Marcelo and Sergio Ramos. I've been with Sergio with th national team too and he always treats me really well. When I was there the squad was great with me, it was a great experience.
Do you regret signing for Madrid so young?
No, not at all. I was very young when I joined and I was plunged into a masters degree, I learned a lot from the best players in the world. I'm sure they helped me to become the player I am today. Not all footballers can say they played for Real Madrid, it was difficult for me to say no. I started off well there - even though the idea was for me to go out on loan; I stayed for a year and that team made a mark on me.
What do you remember of your Madrid debut under Mourinho?
I'd like to remember the positive things. Mourinho is a coach who you can learn good things from - because he has a lot of good things to give. When I signed for Madrid, the plan was for me to go back to Racing on loan, that was clear in my mind. But I ended up doing the pre-season with Madrid, Mou wanted to take a chance on me but it's very complicated at Madrid. I'm one of the first young players who went to Madrid like that, afterwards there were others like me.
Do you think the young players who have recently joined Madrid have it easy that you did nine years ago?
Maybe. Young players now are well-prepared, physically and mentally. There is more work done to prevent injuries and things like that which is something that didn't happen so much in my era. Young players come more prepared to be among the elite.
Do you ever ask yourself what kind of player you might have been if you haven't suffered three ACL injuries?
Sometimes it does cross your mind, sure. But in a way having those injuries has given me so much... they made me mature, made me take more care of what I eat, look after myself more and how I train. It also taught me the importance of enjoying my game. It might seem strange to some people but we footballers suffer too - even when the team wins, if we haven't played well it's hard. Now I don't let those things affect me. Watching the game from the sidelines, while out injured for months, teaches you a lot of things.