Real Madrid in scoring crisis yet Mariano still condemned
Despite concerns around Madridistas about their lack of clinicalness in front of goal, one of their well-paid strikers remains ostracised.
The significant depth of Real Madrid's squad (26 to call upon) was always likely to create victims. And as we pass the quarter mark of the 2019-20 season, Mariano Díaz appears to be the man who has been most affected by this situation.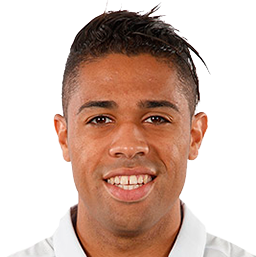 Mariano pitchtime non-existent
The 26-year-old Spanish striker is the only player from the first team squad (not including the long-term injured Marco Asensio) who has not yet played a single minute of an official match. In fact, worse than that, he has hardly even been called up to the bench, other than the game a couple of weeks ago away to Mallorca. Like Brahim, Mariano was looking to get his fresh chance after the return of Zinedine Zidane to the dugout, but, unlike his Andalusian teammate, the striker has not yet forced his way into the reckoning at all.
Part of the reason for his lack of selection compared to other so-called 'fringe players' has been that injuries in his area of the field have not smiled on him in the same way. Both Karim Benzema and Luka Jovic have, more of less, remained immune to any serious knocks and have shared the striking responsibility. They have both also escaped any risk of catching that FIFA virus due to their personal issues with their national teams, unlike players in other positions. Although Zidane has repeatedly muttered his mantra that he needs everyone in the squad, the minutes table tells the true story, at least for the early part of the season.
Minutes played in LaLiga and Champions League 2019-2020 (to 3 Nov 2019)
Player
Minutes
Player
Minutes
Casemiro
1,230
Modric
364
Ramos
1,140
Mendy
360
Benzema
1,124
Odriozola
344
Varane
1,080
Jovic
319
Kroos
1,078
Militao
300
Courtois
1,035
Rodrygo
280
Carvajal
990
Nacho
225
Hazard
684
Areola
225
Bale
596
Isco
185
Marcelo
585
Brahim
9
Valverde
440
De la Fuente1
0
Vinicius
430
Altube1
0
James
422
Mariano
0
Lucas V.
364
Asensio2
0
Source: Opta
With the exception of Brahim, who was suffering from injury, Mariano is the one who played the least minutes in Real Madrid's pre-season preparations, 41 minutes split between Tottenham (11) and Fenerbahçe (30). Academy player De la Fuente played 156 mins, and likewise, Seoane 100 mins and Javi Hernández 74 mins, while even the outgoing Kubo and Lunin (103 mins and 45 mins respectively) and the injured Asensio (64 mins) enjoyed more pitch time across the friendly period.
This lack of use is a reason that many expected the forward to be on his way out of the Bernabéu before the transfer market had closed. The club handed his iconic number 7 shirt to galáctico signing Eden Hazard, and waited for him to find his appropriate pastures new. In the end, no move happened, despite interest at home and abroad, and he was given squad number 24. Zidane did not have him in his plans for the season's push towards a domestic title but he remained nonetheless, with his salary a sticking point for suitors.
For Mariano to stake a claim he is going to require an injury to one of the two strikers ahead of him in the pecking order. That said, unless he can do something to convince Zidane of his merits, even the likes of Hazard, Rodrygo or Vinicius may be used first.