REAL MADRID
Colombia call up the injured James Rodríguez
James Rodríguez has been called up to the Colombia squad despite being injured just days after injured Gareth Bale was called up by Ryan Giggs for Wales.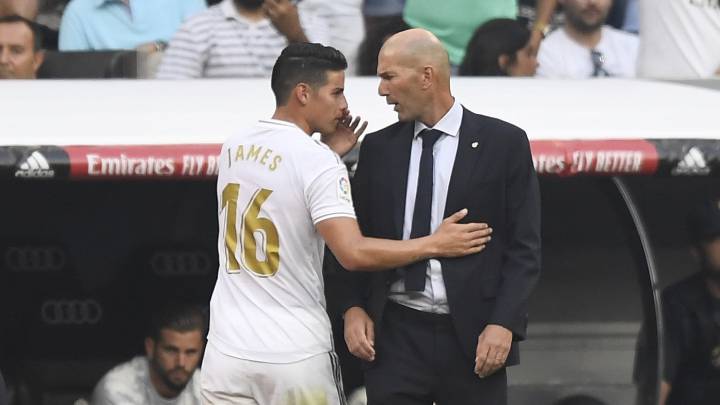 The next international break is turning into a pain in the head for Real Madrid. On Tuesday, Wales called Gareth Bale up after spending a month exercising on the margins of Zinedine Zidane's main squad due to an injury suffered against Croatia in the previous international break (there has been no medical report published as Bale doesn't want that information shared).
This Wednesday, James was called up to Colombia's squad despite his own mysterious injury troubles. He has only played 12 minutes against Galatasaray recently with no update on his condition either.
Carlo Queiroz called up the 28-year-old for friendlies in November against Peru and Ecuador. His comments after calling up the Real Madrid player can be read in several ways: "In Spain, they do their work and we do ours," he said. "If he wasn't okay, he wouldn't have been called up."
James injury shrouded in mystery
Is he injured? Or is he still recovering from injury? Does Quieroz know something that they don't in Spain?
James started the season well. It seemed as though he had come through his summer of discontent amd was ready to finally settle down at the Bernabéu. That hasn't worked out though as his performances never convinced and he started to miss more and more gametime. He has played 422 minutes, 33.39% of the total.
The problems have returned for both Bale and James. The last international break, James was not called up because he wanted to stay in Madrid to convince Zidane of his desire to break into his plans. That hasn't transpired: he played 90 minutes against Mallorca and failed to make an impact, along with the rest of his teammates. He only played 12 minutes in the Galatasaray game. After that, his trip home for the birth of his child followed by a mysterious injury kept him out of the Leganés game. Madrid have not released a medical report on his injury and Quieroz seems to think he is fine. If he didn't, as he said, he wouldn't have named him in the squad.