Barcelona: Luis Suárez to play with calf injury against Celta
The Uruguay forward will risk missing the friendly against Argentina to be on hand if required after a miserable week for Barça in his absence.
Ernesto Valverde needs a knight in shining armour after last weekend's defeat at Levante and a goalless draw against Slavia Prague in the Champions League and despite having hundreds of millions of euros worth of talent in his attacking line it is Luis Suárez who will answer the call against Celta on Saturday.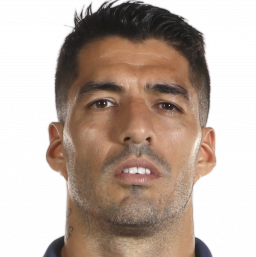 The Uruguay forward, who was expected to miss the game with a calf injury, will play with pain-killing injections even at the risk of missing La Celeste's glamour friendly against Argentina during the international break.
Suárez is one of few Barça players to be performing at anywhere near their accustomed level this season and is the side's top scorer with eight goals in all competitions. Messi has enjoyed a mini renaissance after waiting until 6 October to get off the mark but struggled to wrest control of the Levante game back after Suárez limped off. Against Slavia, the Argentinean was dropping deep enough to require oxygen and making increasingly desperate attempts to break the Czech's back line single-handed.
Valverde to persist with Dembélé and Griezmann
Neither Ousmane Dembélé – who has struggled with injury this season – nor Antoine Griezmann appear capable of filling the role Suárez plays and it is a little early to expect 16-year-old Ansu Fati to provide the answer to the question nobody wants to ask on a weekly basis.
However, Valverde may elect to persist with the patchwork triumvirate of Messi, Griezmann and Dembélé from the off in Camp Nou against a Celta side who are in deep trouble at the foot of the table and have the joint-lowest (6) goals-for tally in the division.
In all likelihood Suárez will be held in reserve and only called on if required, with Valverde stating recently that he feels Fati is a more potent threat coming off the bench than as a starter. The Spain under-21 international will be Plan B on Saturday. If that fails, the Barcelona coach will turn to his safety net, Suárez.