Real Madrid fans respond to Ramos-Benzema penalty debate
Following a statistic posted by Mister Chip, we asked Madridistas for their thoughts on who should be on spot kick duty for Los Blancos.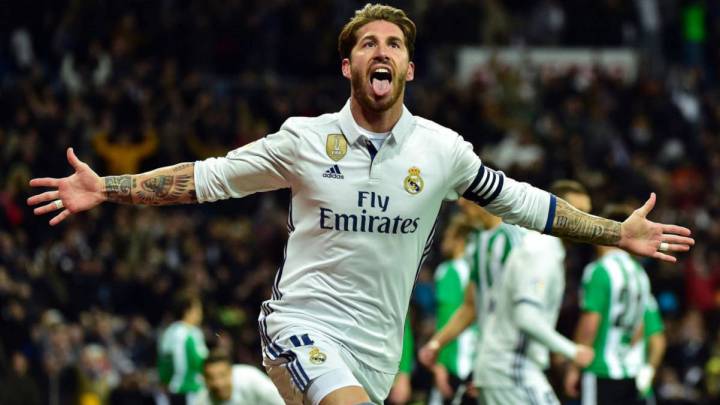 It was our very own Mister Chip who unwittingly planted the seed with one of his usual statistical insights. And then the debate over whether Sergio Ramos should continue as the Real Madrid penalty taker or if he should hand the duty to Karim Benzema ensued.
Madridistas for Benzema
After Madrid's captain put the visitors two goals ahead from the spot against Eibar, he then handed the responsibility for the third goal - after another penalty award - to his French striker. Benzema had already opened the scoring for Los Blancos with a tidy finish in the opening minutes of the game. Several eyebrows were raised to see Ramos hand away a chance for him to score himself (especially after he hadn't done the same to allow Rodrygo his hat-trick against Galatasaray).
"Benzema has taken eight penalties in official matches for Madrid and has scored them all," read the tweet from our regular contributor, before going on to instil confidence in both these players being among the world's best from 12 yards.
EIB 0-3 RMA (29') - Benzema ha lanzado 8 penaltis en partidos oficiales con el Real Madrid y los ha marcado todos.

Entre las estadísticas de Ramos y las de Benzema en penaltis, es más que evidente que dos de los mejores especialistas del mundo juegan en el mismo equipo.

— MisterChip (Alexis) (@2010MisterChip) November 9, 2019
And he's right. Ramos has scored 15 of the 16 he has taken in a Madrid shirt. But we wanted to know if fans wanted the striker to be given the role to aid his chances of lifting the Pichichi award for top scorer in LaLiga at the end of the season, even if just to help morale. He currently sits on nine, one ahead of Messi, Loren and Gerard. So we asked our followers.
"Should Ramos give Benzema penalty duty to help him in his fight for the Pichichi?
It didn't take long for more than 20,000 of our readers to resond to a simple yes/no question and almost three quarters (71%) believed the Frenchman should take over.
Since the departure of Cristiano Ronaldo, Benzema has had to take more responsibility when it comes to goalscoring, and can now eye the top scorer award, something that he hasn't since arriving in Madrid in 2009. The Portuguese forward scored 71 (15%) of his 450 goals from the penalty spot during his time in the Spanish capital. Those 71 converted were from a total of 83 he took (an effectiveness of 85%), while Benzema, as we said, has yet to miss.
The Frenchman now has 233 goals to his name for Madrid, and only eight of them have been penalties. If he had been on the man to take them instead of his teammate, he could well be sitting on over 300.