1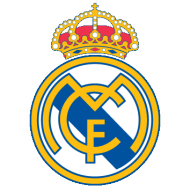 2
Sergio Ramos 51',
Carvajal 68'
Carvajal nicks winner for Real Madrid at Mendizorroza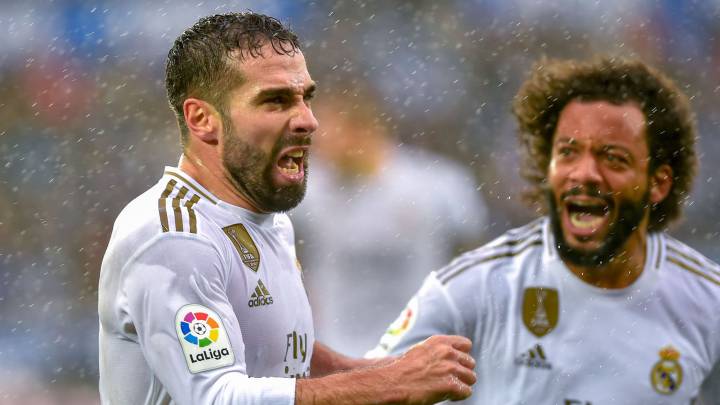 Alavés vs Real Madrid: as it happened!
GAME OVER! Real Madrid win 1-2 after a scare in the second half. Rain in Alaves really had an effect in the second half but three points for the current league leaders on the same weekend that Atlético Madrid and Barcelona play each other is a double dose of good news for Madrid and Zidane.
Foul by Joselu on Ramos. That should do it now.
Silly mistake from Madrid and Valverde has the chance to end this. He strikes wide. Sloppy from Alaves.
Into the last two minutes now.
Another really late offside call. Marcelo with a wild pass into his path.
Crossed into the back post after being played short. Duarte reaches but just falls backwards and can't connect.
Alaves continue to apply pressure. EIGHT minute of added time after the ref's headset malfunctioned.
Mendy on for Isco as they try to tame Oliver Burke on the right.
Another corner. Headed towards goal and Areola reacts to save. Another close call.
Lucas Perez gets it and he shoots. Blocked for another corner! Close.
Corner in and it's headed towards goal. Hits Kroos and out for another corner. It curled over the bar and might have caught Areola out had it been on target.
Another corner and it's punched out for another corner.
Casemiro with a backheel now and it's out for a corner.
Valverde with a lovely backheel to Isco. He squares and it's cleared. Last few minutes now as Mendy warms up to come on.
Offside from Burke but not before he could cross and give Real Madrid a fright. Late flag.
Wakaso off now for Manu Garcia.
Militao with a silly yellow. He lines up to take a free and then tells Areola to take it. Booked for timewasting.
Valverde coming on for Madrid. Off goes Modric.
We are back in action and Casemiro gets taken down by Duarte. And the Alaves player is booked.
We have a brief delay to proceedings as the referee has a malfunction with his equipment. Players on the field trying to stay warm.
GOAL! Carvajal score. Ball comes in over the top and it's headed down by Isco. It hits the post and bounces back out to Carvajal. Real Madrid back ahead.
PENALTY! Ramos with an elbow to Joselu's face and it's a penalty.
Burke with a good run into the box and he squares. Cleared!
Ball launched in to Benzema from Bale and he volleys well wide. He hit it well but wide.
Modric with a stray pass to Carvajal and Oliver Burke picks it up. He runs it out over the endline.
Vidal hits the ground under a challenge from Ramos. No penalty says the ref after checking with VAR.
Oliver Burke comes on now for Alaves. Luis Rioja off.
Modric fouled by Wakaso as he stands in his way and obstructs him. He's already on a yellow and on very thin ice.
Rioja to Lucas and he doesn't know what to do. He neither shoots or tries to dribble and just loses it. Alaves have improved since Madrid's goal.
It looks like it hit his arm but it hit off his knee and then onto his arm. Possibly, it's really hard to see. Refere doesn't see anything to change his mind so play continues.
Call for handball. Lucas Perez pass into Vidal and Modric stops it. Looked like it hit his chest or torso. Let's see.
Alaves want to respond immediately and are pressuring the goal. A couple of clearances from Madrid later and Alaves have a throw.
He is back heading clear now as the ball is whipped in dangerously. Out for a corner.
GOAL! Ramos with the finish. Kroos with a perfect pass into the box and the captain heads it home with a glancing finish.
Kroos with a free now as the rain continues to fall.
Casemiro launches himself into a tackle. No free for that one as Real Madrid win it back now.
We are back underway! No changes at the half for either team.
Lashing rain now in Vitoria. Teams coming back onto the field.
There is the half-time whistle. Fair game so far but Madrid probably edging it. The Lucas - Joselu axis quite dangerous for Alaves. Benzema lively as is Isco for Madrid.
Into the third minute of added time. Alaves want the half-time whistle as Madrid throw it around the back.
Pina booked for catching Carvajal late in the air. Third yellow of the game after Vidal and Modric as we approach half-time.
Isco gets to the ball before Joselu and he goes down like a sack of potatoes. He grabs his ankle but not free. He remains down too. Home fans not happy. Isco got the ball first but carried through a bit. Hard to know these days if that's a foul or not.
Wakaso fouled now by Kroos. Catches him in the back as the pair jump in the air for the ball.
Wakaso fouls Marcelo. The Brazilian complaining about being fouled several times.
Modric getting some treatment on the field now. Unclear as to what is wrong with him but he's off the field and Madrid down to 10 for the moment.
Casemiro launches a missile of a shot towards goal. Pacheco saves and parries out for a corner. Good effort from the Brazilian.
Modric with the ball at the edge of the box and has a chance to shoot. He should have but holds it and gets dispossessed.
Lucas Perez gets the ball in a nice position. He was offside but he gets a shot away before the flag goes up. Areola saves with his feet. Good save but it wouldn't have counted had it gone in anyway.
There's that ball over the top again. Looking for Carvajal but it's too low and hard again.
Modric gets booked. Looked very harsh and it might have been Duarte's reaction to the foul that got him the yellow. Modric is not happy.
Alaves fans really into this now and so are Alaves. They're playing some nice football.
Madrid being whistled every time they touch the ball.
Quick ball insie to Benzema. He doesn't know where he is and gets a foot to it as it bounces but it goes behind him. It rolls perfectly to Isco and he strikes low and forces a good save from Pacheco.
Shot from Duarte and it takes a deflection. Lucas Perez tries to reach for it but it's out for a corner.
Ramos and Joselu clash. The Alaves attacker ends up on the ground but not free and he's not happy. Straight up the other end and Wakaso is fouled by Marcelo. All kicking off now as Joselu and Ramos share some words. Ref in to sort both of them out.
Another ball into the box. Bale gets a heel to it but he's reaching and it falls kindly to Pacheco.
Bale now after Madrid win it back in a dangerous position. Carvajal's low cross is put behind for a corner.
Alaves on the attack now. Benzema offside from a long ball but he's off. The ref blows the whistle after Alaves win it back and Garitano wants advantage to be played. Ball ends up coming in from the right and Lucas Perez takes it down and shoots. But it had gone out for a goalkick.
Ball crossed in from Duarte and Areola out with a diving catch. Alaves looking competent moving the ball forward through the middle. Wakaso with a nice pas that time.
Carvajal fouls Rioja with a nasty kick to the legs. Free Alaves.
Another ball in search of Carvajal but it has too much pace on it. Out for a goal-kick.
Marcelo down the left and plays to Benzema. He tries to return the favour but Alaves recover and put it out for a throw. Real Madrid starting to dominate now but Alaves not retreating. They're looking to attack when they can.
Carvajal in over the top. He takes it down and squares to Isco. His right-footed effort is over the bar. Great chance for Madrid and Isco maybe should have hit the target.
Bale pokes over the bar but both he and Benzema were offside. Pacheco restarts.
Militao with a strong challenge to throw Joselu off the ball. He has been involved early on as he was the one with the tackle on Vidal earlier too.
Nice cross in from the left for Alaves and Ramos gets to it first with Joselu looking to get on the end of it.
Benzema inside to Modric. Madrid building now and it get sent in from the left. Bale with a glancer that hits off Navarro and comes off the post. Alaves react quickest and scramble it away.
VAR shows Vidal being clipped on the foot and the referee says his decision was right. Play continues.
YELLOW CARD! Aleix Vidal races into the box and gets booked for diving. It will go to VAR and Vidal seems okay with that. He thinks he was touched.
Isco in behind and he races to catch his first touch. But he was offside. Replays says it's correct, just about. Madrid upping the ante here.
Carvajal gets a nudge in the back and Kroos has a chance to send a ball into the box. The big hitters arriving in the box now and it makes its way to Casemiro. He chips it back inside and Real Madrid continue to attack with Ramos caught offside.
Isco looks for Bale with a cross-field ball but it's straight into Pacheco's waiting arms and Alavés start again.
Alaves with plenty of the ball to start. Real Madrid just getting settled. Wakaso whips one out to the left and it's behind Duarte. Throw for the visitors.
Teams out on the field and ready to rock and roll. Chilly up north for this one!
Zidane had lost faith in some of these players. This tweet says:
'Since the Mallorca disaster, Real Madrid have played eight games. James (injured), Vinicius, Jovic and Odriozola haven't returned to the team as starters since. Militao is back today and Isco, who played against PSG, is also back.'
Alavés are coming off two wins in a row. They beat Valladolid and Eibar without conceding a goal. Lucas Perez has scored seven in eight games. That was seven in a row before the game against Eibar.
Casemiro has started every game so far this season for Real Madrid.
Benzema looking to more further ahead of Messi, Loren Moron and Gerard Moreno in the race for Pichichi. He has 10 goals and those sitting in joint second have 8 each.
Alavés XI: Pacheco, Martín, La Guardia, Navarro, Duarte, Wakaso, Vidal, Pina, Rioja, Joseulu, Lucas.
Bale gets his first start in almost two months. His last start came on October 5th against Granada! He has played twice since returning from injury against PSG and Real Sociedad, both at home, but there won't be too many whistles for him today at Mendizorroza.
Real Madrid XI: Areola; Carvajal, Militao, Sergio Ramos, Marcelo; Modric, Casemiro, Kroos; Benzema, Isco, Bale.
Oliver Burke has played with Nottingham Forest, West Brom, Celtic, Bradford and RB Leipzig. He's not at Alavés and could play today. Here's an interview with the Scottish attacker ahead of the Real Madrid game in The Guardian. Burke talks about feeling like a footballer again and adapting to life in LaLiga.
It's 12 degress in Vitoria and Real Madrid arrived last night. There is a fairly high chance of rain though. It lashed against PSG on Tuesday night and that worked out okay for Real Madrid as they beat the Ligue 1 side 3-1.
Hello and welcome to our live online coverage of Alavés vs Real Madrid! Kick-off is at 13:00 CET and we will have team news and build-up before the game. Who replaces Hazard? Does Bale start? Will Modric regain his position in midfield? All of those questions will be answered soon.
.