Zidane has ready-made plan for suspended Casemiro
The Brazilian midfielder has been the go-to man for Real Madrid this season, but following his Camp Nou yellow card another line-up is needed.
Casemiro picked up his fifth yellow card against Barcelona in Wednesday's Clásico and is now inieligible for selection against Athletic Bilbao on Sunday. As one of Zinedine Zidane's key players, this gives the manager a big decision to make for what is by no means an easy three points at the Santiago Bernabéu, as Real Madrid look to maintain their title challenge.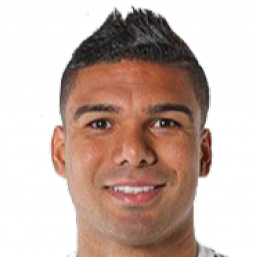 A Casemiro-shaped hole
Zidane has, through his selection choices, clearly shown his dependence on the Brazilian. Casemiro has been the most used in the squad since the start of the LaLiga campaign with 1,920 minutes, ahead of second-placed Sergio Ramos on 1,500 mins and then Karim Benzema on 1,395 mins. With the exception of 20 minutes against Levante, and then completely missing out on the pre-Clásico game in Valencia to avoid suspension for Camp Nou, he has been an ever-present.
With Casemiro out, the door is now open to a player who only a year ago was lifting the Ballon d'Or award above his head. Luka Modric was brought on from the bench against Barcelona on Wednesday, something that he has had to get used to this season. In 16 games, the Croatian has only started eight. Everything points to Zidane opting for the same midfield that took to the field in the Mestalla, where Casemiro was held back, and likely the same XI of Courtois; Carvajal, Varane, Ramos, Nacho; Modric, Valverde, Kroos; Rodrygo, Bale and Benzema. The one difference could be the inclusion of Ferland Mendy in place of Nacho, after the Frenchman got more minutes under his belt midweek.
Casemiro has recorded the most ball recoveries in the Champions League after the group stages (50) and lies second in this statistic in LaLiga (125). He is expected to return to action on 4 January against Getafe at the Alfonso Pérez Coliseum. That is then followed by the newly-formatted Spanish Super Cup.