De Jong opens the Barcelona door to De Ligt
The Netherlands and Barcelona star discussed the possibility of his friend making the move to the Catalan giants.
Barcelona midfielder Frenkie de Jong suggested this Tuesday that his friend and Juventus player Matthijs de Ligt, who he played with at Ajax, could make the move the Barça in the future. "He took the decision [to go to Juventus] and, in general, things are going well for him in Turin", said De Jong in an interview with Netherlands' daily 'De Telegraaf', "but that doesn't mean he couldn't come to Barcelona in a few years".
De Ligt: from Ajax to Juventus to Barcelona?

De Ligt signed for the Italian outfit last summer, putting to bed rumours linking him to Barcelona, but his defensive errors have seen question marks raised over his future in black and white.
De Jong also talked about his first half season at Barça, saying things were going well, but noting that the team "has to improve", and be more consistent. "We play a great game and then you're left wondering, one game later, where did that good football go", he said.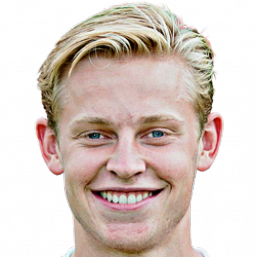 The 22-year-old also said he didn't mind playing in a slightly different position to the one he occupied at Ajax. "My versatility is an advantage, as the coach says. Now I play mainly on the left side of the centre, also because Arthur (Melo) is injured. I'm really happy to have played a lot in these first months," he said.
The Netherlands star was self-critical, stating that he hadn't reached his full potential in Spain. "I've been able to show my ability at times, I can do so much more. I'm not as dominant as I was at Ajax. In my current position I need to score goals and set them up."