2
David López 22',
Wu Lei 87'

2
Luis Suárez 49',
Vidal 58',
Frenkie De Jong 74'
Espanyol salvage point against Barcelona with late Wu Lei strike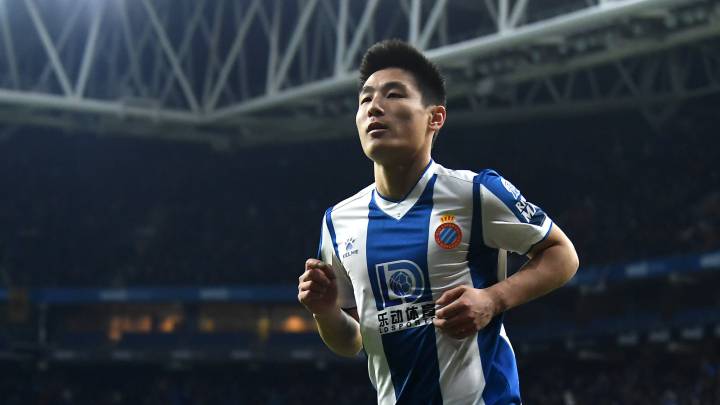 Espanyol vs Barcelona: as it happened!
Incredible scenes as Aberlardo, who played with Barcelona for many years, gets a point against his former club in his first game as manager of Espanyol.
Messi is fouled and Barcelona will want to slow this all the way down.
There was hopes of a penalty there but ref said no. Barcelona cough it up from the goalkick and ref says players were far enough away for the kick. Restart.
They have a chance to win it! Calleri blasts over. Barcelona have completely collapsed.
GOAL! Wu Lei finishes. What a strike that was after Espanyol refused to lie down. He recieved the ball at a nice angle and he struck across Neto to finish.
Roca gets it after his corner was cleared and he sends it back in low. Neto grabs it.
A couple of corners in quick sucession for Espanyol.
Espanyol push forward again.
Ansu Fait on for Griezmann.
Suarez sends a cross in and it's out to Alba. He sends it in too and Messi launches himself at it. Cleared by Espanyol.
Incredible ball over the top to Wu Lei. He reaches for it and gets a head to it. Neto makes the save as Espanyol try to make their man advantage count.
De Jong with a mistake and gets caught out. He pulls Calleri back and gets himself a second booking and sent off.
Wu Lei comes on for Melendo as Espanyol's last change.
Vargas with the cross but it's way too deep for Calleri, who can't change his run. Out for a goalkick.
Espanyol haven't hug their heads and the continue to look dangerous. Messi does too though and he drives forward before losing possession.
Iturraspe replaces the goalscorer, David Lopez.
De Jong gets himself booked for a foul on Vargas, who was trying to break free.
Messi with an almost impossible run (if it wasn't Messi) and he somehow finds Suarez with a nutmeg for a defender. Suarez blazes it at Lopez and he saves for a corner.
Marc Roca gets himself booked for a foul on De Jong. He stands on his foot after he passed the ball.
Arturo Vidal! He heads home from a Suarez cross. He picks him out at the back post and Lopez tries to keep it out and can only palm it up into the roof of the net.
Lovely cross into the box after a nice run by Didac and it's headed out for a corner. Calleri lurking as per usual.
Suarez with a nice outside of the boot cross and it's headed out by Espanyol. Corner for the visitors.
Suarez down in a heap and the medics come on. Got a stud to the knee as two players slid for the ball. He should be alright.
Espanyol back to square one.
GOAL! Suarez with the finish. Equaliser for Barcelona and it just took five minutes in the second half. Alba delivers and Suarez opens out his foot to finish.
Sergi Darder tries his luck from distance. He shouldn't have.
De Jong plays it out to Alba and he launches a cross into the box. It hits Suarez and goes out for a goalkick.
Arturo Vidal replaces Rakitic at the break.
We are ready for actionin the second half.
Barcelona emerge out onto the field and Espanyol follow them soon after.
First half over. Lively and Espanyol look increasingly dangerous on the break. They'll have to be too because Barcelona are creating more chances as the game goes on.
Messi with the shot after him and Griezmann link up well. Corner for Barcelona.
We will have one minute of added time.
Barcelona playing with fire again. Gomez crosses and headed into the air before it's cleared.
Calleri and Pique battle for the ball in the air and Calleri leads with his elbow, straight into the defender's eye.
He does shoot and gets it on target but it's into Diego Lopez' hands.
Rakitic is fouled and Messi stands over it. It's too far out to the right for a shot. But he might fancy it. In that area where it is possible. Not likely though.
And straight after that, Suarez finds space and pokes one off the post. Barcelona turning up the heat.
That's the best chance of the game for Barcelona. Ball shot by Messi and it rolls into Diego Lopez' hands.
Corner for Espanyol. Barcelona marking slightly tighter this time. Ball dropped in deep and it's headed back into the middle. Busquets has a little handful of Calleri's jersey but nothing in it. Ball goes out for a goal-kick.
Free is whipped in and headed wide. Espanyol holding Barça off for now.
First yellow of the game goes to Javi Lopez as he slides in late on Griezmann.
Espanyol improving here as Barcelona get more ambitious with their passing in an effort to unlock the defense. They're getting more frustrated too.
No way through for Espanyol yet. They have all the possession but giving up very few touches inside the penalty area.
Griezmann plays it through to Messi but he is squeezed out and falls in the penalty area. Referee says no free as David Lopez kind of catches him. Referee plays on.
Espanyol nibbling away at Barcelona players in possession. Referee keeping play going well but talking to the hosts as the play carries on and telling them to calm down.
Messi spins and shoots now but it dribbles straight to Diego Lopez.
Neto stood standing looking at it. There was nothing he could do.
GOAL! Free is clipped in perfectly and David Lopez, the man who was fouled, glances it home. 1-0 to Espanyol after suffering for the opening 20 plus minutes.
Now De Jong finds himself on the wrong side of the law as he jumps into David Lopez and leads with his arm.
Lenglet jumps into a tackle as Javi Lopez breaks. He got the ball but referee says it's a free.
Messi wriggles his way out of trouble with some spinning and close control but he loses it and Espanyol clear again. Wash, rinse, repeat scenario for Espanyol here, who remain under the cosh but keeping Barça out of dangerous areas.
Marc Roca does battle with Griezmann in the middle of the field and referee says he fouled the Frenchman twice. Gives the free to Barcelona and they attack down the left again.
Pique with a foul on Melendo. He swears he didn't go anything wrong but that's what they all say. Espanyol with some possession now but Pique is fouled by Calleri as the ball is crossed in.
Messi whips a cross in from the left. It's headed up into the air and Suarez falls over as Naldo backtracks. Ref says no penalty and I think even the Uruguayan would admit that wasn't a spot kick.
Corner comes in and Pique heads back into the middle. Espanyol clear but it's out by Espanyol.
Red needs to keep a lid on things here. Alba pulls Gomez' jersey and there some afters. The referee interenes to calm things down.
Messi with a perfect pass out to Alba but he passes backwards out on the left straight to an Espanyol player.
Alba clattered into by Javi Lopez and he follows through. Free for Alba. Espanyol fans loving it at the moment though.
Rakitic with a pass of target for Messi. Throw for Espanyol.
Messi with a nice run just outside the box but Espanyol surround him and he loses the ball under his feet. Barcelona win it back though and continue to attack.
Espanyol seeing very little of the ball to start and it looks like that's the way this game will go. Barcelona in their yellow strip attack and Griezmann crosses. Headed out by Espanyol.
We are underway in the Barcelona derby. Espanyol pressing high to start and the fans approve. Or maybe they're just whistling Piqué.
Espanyol are in the tunnel and waiting to emerge onto the field. Barcelona getting one last team talk before meeting their rivals in the tunnel.
The battle starts tonight under Abelardo. Barcelona can retake the lead at the top of LaLiga after Madrid's win today. Espanyol are five points adrift the very bottom of the league.

The former Tottenham Hotspur manager, Mauricio Pochettino, was the last man in charge at Espanyol to have beaten Barça in LaLiga, and will take his seat this weekend as a VIP guest at the game.
Messi has scored 25 goals in this fixture but only five of them have come away from Camp Nou.
Messi and Suarez start again in the first game of the year, like they have done since 2015. They lost on the 4th of January 2015 against Real Sociedad without Messi and Suárez and since then, there has been no tinkering with teamsheets to ring in the new year. They're joined by Griezmann tonight.
Abelardo says "I don't deny my past but now, I am the first Espanyol fan!"
The new Espanyol manager played for Barcelona 257 times.
Messi and Suarez were back late from their Christmas holidays but Valverde hasn't decided to hold them back tonight. They start alongisde Griezmann in attack.
Espanyol XI: Diego Lopez, Javi Lopez, Bernardo, Naldo, Didac, David Lopz, Marc Roca, Victor Gomez, Darder, Melendo, Calleri.
STAT via FC Barcelona:
Barça have more league wins against Espanyol (99) than any other team. Victory on Saturday, and Barça will have completed their first century against a single club.
Neto will play in goals after Marc Andre Ter Stegen was ruled out for Barcelona with tendon problems in his left knee. Arthur and Ousmane Dembélé are still out too. Barcelona play Atlético on Thursday in the Spanish Super Cup in Jeddah, Saudi Arabia, so we will see if Valverde picks a team with that in mind.
Abelardo will manage his first game for Espanyol after a short and doomed spell in charge by Pablo Machín. He lost 8 of 18 games in charge and the final straw was a loss at home to fellow strugglers, Leganés, before Christmas.
Hello and welcome to our live online coverage of Espanyol vs Barcelona from RCDE Stadium on Saturday 4th January 2020 with kick-off coming your way at 21:00 CET.
.