Real Madrid: Vinicius seizes new opportunity
Vinicius has benefitted from Gareth Bale's fall from favour and is back ahead of Rodrygo in the pecking order. He was a nightmare for Koundé in Saturday's game.
In the Real Madrid attack, only Karim Benzema's place is assured; the rest are permanently in a position where they have to win their place. Vinicius is making a strong claim for a regular place in Zidane's starting line-up. Now, he is less less obsessed with scoring and prefers to focus on other aspects of his game - the creative, imaginative side, the things he is good at. The Brazilian made the most of the 28 minute-run-out he was given at the end of yesterday's game against Sevilla to show his full repertoire of pace of dribbling skills and for almost half an hour, he was a nightmare for Jules Koundé. Vini brightened up the final minutes of Madrid's 2-1 win over Sevilla and has taken advantage of Gareth Bale's latest fall from favour - the Welsh forward didn't even see his team mate's display as he upped and left the Bernabéu eight minutes before the final whistle. 
With Eden Hazard still recovering from injury and Rodrygo's fluctuating form keeping him out of contention, it's a good moment for Vinicius to stake his claim for a place. He's well over his experiences of last season when he was still shaking off his a tag as a novice in the European game. Since his magical hat trick against Galatasaray in November, Rodrygo has only scored once - in the 1-3 win against Club Brugge.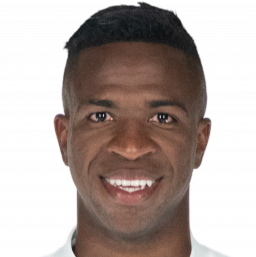 Opportunities to shine in the Copa del Rey
Vinicius is keen to gain more playing time and he will have more opportunities this month when Madrid enter the Copa del Rey - Zidane's team take on Unionistas in Salamanca on Wednesday. It was during Madrid's Cup run last season that Vinicius started to find his rhythm. Julen Lopetegui felt that the player wasn't quite ready for the demands of first team football but his successor Santiago Solari handed the teenager his debut in Melilla. It turned out to be a productive evening for the 18-year-old who dished out two assists in the 0-4 win. He capped that performance with another great display in the return leg at the Bernabéu - scoring his first Cup goal for the club and setting up another (for Marco Asensio).From that Copa del Rey campaign to the present one, Vinicius has another chance to make his mark.