Barcelona top dogs claim the team is confused and disorganised
During the half-time interval at Mestalla, several players openly criticised the team's performance. "There are more players behind the ball than in front of it".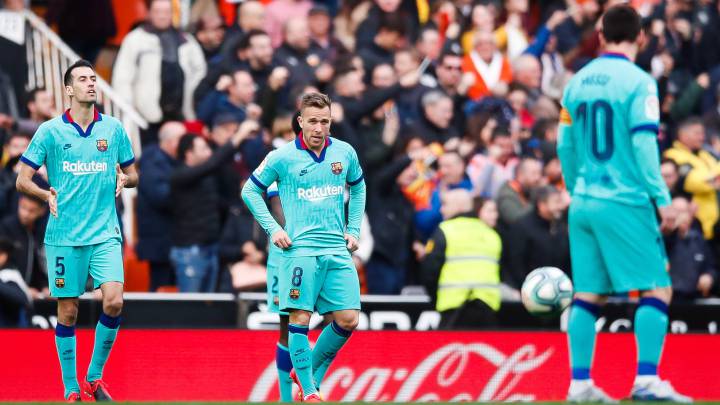 The intrinsics of Quique Setién's tactical board haven't filtered through into the minds of Barça's players. It's taken three games - against Granada and Valencia in LaLiga and Ibiza in the Copa del Rey, to find out that assuming the coach's ideas is not going to be a simple exercise. In terms of team performance, Barça only shown any semblance of focus and order in the 1-0 win over Granada. As for the other two outings, the team's display evidently left a lot ot be desired.
Yesterday's 2-0 defeat at Mestalla underlined the lack of connection between the squad and Quique Setién. While the coach, accompanied by Éder Sarabia, tried to correct the numerous tactical mistakes the team had made against Valencia, a few of the more experienced players held a brief meeting of their own to find out why the team had imploded and what they were going to do next.
Barcelona players try to figure out why the team collapsed
The basic problem was that there was simply no order at all to Barça's game. One player described the situation: "It's going to be impossible if we continue this way; we have more players behind the ball than in front of it and shouldn't be happening. We need top be more penetrating and move the ball about quicker because we are making it too easy for Valencia".
Those words were said when the score stood at 0-0. But the danger signs were already clear after the first 45 minutes - Valencia had missed a penalty and hit the crossbar while in contrast, Barcelona had mustered just one shot on target - from Messi, who sent his shot straight into Domenech's hands.
The mood within the Barça dressing room was even bleaker after the game. The team's game had improved a little during the second half, but losing at Mestalla - their first defeat away to Valencia in three years has left Real Madrid with the chance to snatch leadership and left doubts within the squad. Some of those doubts are about Setién and his methods. Time is against him and the team look directionless and confused.