Coronavirus UK: Police chief calls for public to play their part this weekend
Forecasts from the Met Office suggest that a mini-heatwave could be on the way for the UK, but experts urge the public to adhere to government measures despite the warm weather.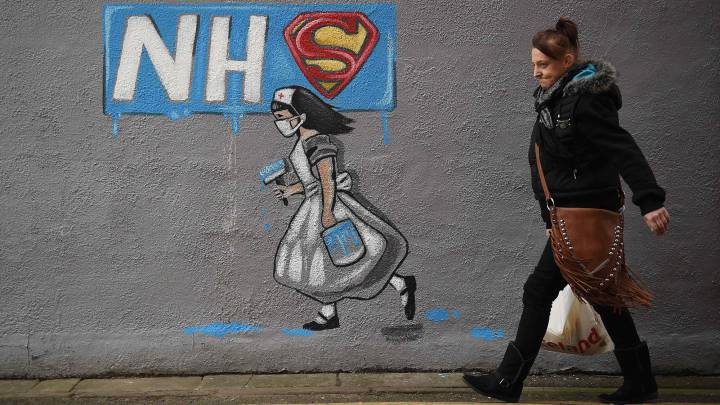 The UK remains in a state of lockdown with all non-essential movement banned to help limit the spread of the coronavirus. However with the temperature in southern parts of Britain expected to reach close to 20C in the coming days it presents another headache for the government and police force.
Chief Constable Shaun Sawyer from Devon and Cornwall Police called on the public to act in the national interest during what could be a "pivotal weekend" in the fight against Covid-19. Police face the prospect of large crowds in public places due to the weather, despite the restrictions currently in place.
Speaking on BBC Breakfast, he said: "This is a national endeavour, everyone plays their part, it's the time to put others before self and we're seeing so many people across local government doing their part, [and in] the NHS of course".
This message has been echoed by local councils and tourism bosses who are encouraging people to stay away from coastal areas, national parks and other well-known destinations. This advice relates to the government's attempt to limit the rate of infection to prevent the NHS being overwhelmed by a large volume of patients at any one time.
People are being told to stay at home and not be tempted out by good weather expected over the weekend

But what are social distancing and self-isolation?https://t.co/yjRe3ZGL27

— BBC News (UK) (@BBCNews) April 4, 2020
A leading scientist and government adviser, Professor Neil Ferguson of Imperial College London, also spoke to the BBC to outline what needs to be done to beat the virus and lower the restrictions:
Reduce numbers
"The critical thing first is to get case numbers down, and then I'm hopeful... in a few weeks' time we will be able to move to a regime which will not be normal life, let me emphasise that, but will be somewhat more relaxed in terms of social distancing and the economy, but relying more on testing."
However that prediction is based on the assumption that the country will observe the lockdown and stay indoors despite the favourable weather. If that were not the case, Prof Ferguson fears that Britain would remain "at quite high levels of infection for weeks and weeks rather than seeing quite a rapid decline as the type seen in China".
With police forces across the country bracing themselves for a weekend where some may flaunt the government guidelines, the head of the Metropolitan Police Federation Ken Marsh has called for greater powers to crack down on those breaching lockdown rules.
Police were last week given powers to issue £60 on-the-spot fines, but Mr Marsh believes that the 30,000 London-based officers that he represents are still hamstrung in some cases. He called for an extension of current measure to allow parents to be fined if children and teenagers are gathering in public places.
"We've got to take them home", said Mr Marsh, "But why can't we fine their parents? Otherwise, what's the deterrent?"
Latest figures showed that 3,605 people with the virus in the UK have now died, with an additional 684 coronavirus-related deaths recorded on Friday.
Anyone can spread coronavirus. You must now:

▶️ Only go out when absolutely necessary for food, medicine, work or exercise
▶️ Always stay 2 metres apart 🚶🏾‍♀️↔️🚶🏾‍♂️

❌ Do NOT meet others outside your household, even friends and family#StayHomeSaveLives pic.twitter.com/Gc4CvONPG6

— NHS (@NHSuk) March 24, 2020
See also:
Global confirmed cases of Covid-19 pass 1,000,000
Live coverage of the coronavirus crisis
You can stay up-to-date with the latest developments in the coronavirus pandemic by following our daily live blog.