Coutinho could be Setién's surprise star back at Barcelona
Quique Setién says he's a big admirer of Brazilian Philippe Coutinho and the man on-loan at Bayern Munich could be back at the Camp Nou next season.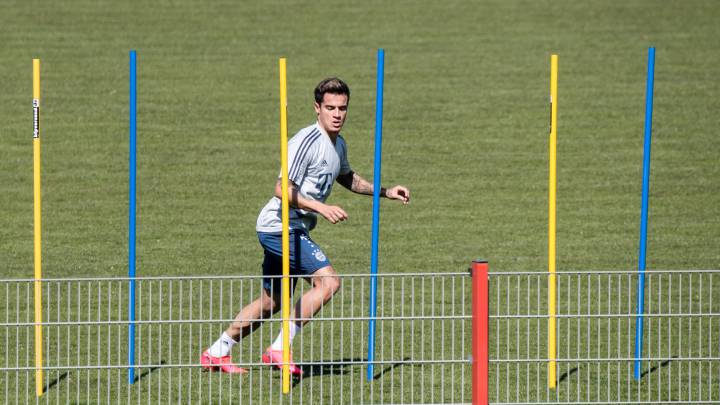 Who would have thought it? A massive global pandemic that is devastating lives and economies could play a role in seeing Philippe Coutinho returning to Barcelona next season.
Coutinho back to Camp Nou?
The Brazilian, let us not forget, is the most expensive signing in the history of the Catalan club, but is currently playing on loan at Bayern Munich, a club that has already announced it does not intend to exercise the first refusal right for the footballer. And this after being let go following a disappointing spell at the Camp Nou.
It has been clear that the Barça board had seen the former Liverpool star as a key element in the transfer market to be used as a currency to sign new players, but football's financial landscape has now changed due to Covid-19. The player himself has been in charge of filtering stories through his representatives that his priority is to return to the Premier League, although the manager of the Blaugranas may have other plans for him.

In an interview with Spanish radio, RAC1, Quique Setién has said that the Brazilian is a player that he likes and that he has in mind for next season.
"I think that Coutinho is a great player, I like him a lot. He is a Barça player. You have to pay the release clause or pay a fee to Barça [for him], but he wants to return here.
"I am counting on him being here at the beginning of next season. I have to speak to him to ask. If it's necessary, I will speak to him."
'Cow-tinho' the right man for Setién
Coutinho went to Bayern on loan in exchange for 8.5 million euros and the German club have a purchase option of 120 million euros. After stating they would not be taking advantage of that, the player's agent starting looking elsewhere, convinced that a return to Barcelona was unlikely, and the English top flight, where Chelsea and Arsenal have shown an interest, was the preferred destination. If the Blues can be convinced, Ngolo Kanté would be the asset they'd most enjoy swapping him for.
This all may change though now that Setién is at the helm. Maybe he can find the spark that Anfield fans saw on several occasions and, if he can bring him back to the Camp Nou, maybe some 'Cow-tinho' headlines are not too far away.