REAL MADRID
Real Madrid: No movement on Varane's contract renewal
PSG wanted Varane last summer but he decided to stay because of how poorly last season finished. His current deal expires in 2022 and negotiations haven't started.
Raphael Varane celebrated his 27th birthday on Saturday in the middle of one of his best seasons as a Real Madrid player. The French defender has avoided injuries and his performances have been notable: 3,000 minutes (third in the team), four goals (equaling his top goal-scoring season in 2016-17) and one assist. After a turbulent end to 2018-19 with interest from PSG in the summer, he decided to stay in Madrid and he has not been affected by any of this.
The next few months are important for Varane and Madrid. He finishes his contract in 2022 and AS understand there has been no movement in terms of a renewal. For players who finish their contract in just over a year, they are entering a crucial time for extensions.
The coronavirus will affect any and all successions. Players and their agents, who enter into the last 18 months of their current deals without movement on an extension, feel like the ball is in their court given the threat of leaving for free.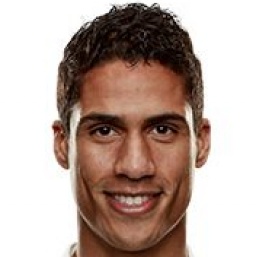 Madrid are monitoring the situation and tend to manage these situations well. While they have not made that first call, they do not consider the situation critical just yet given their strong relationship with Varane. In April, PSG made Varane a transfer target and while nothing has happened on that front, Manchester United also see the player as an option.
Varane plans to stay at the Bernabéu where he has won everything and where he has spent the last eight years. The club don't see money as being the motivating factor in contract discussions. Varane might, however, want to move outside of his comfort zone and try his hand in a different league and on a different adventure.
Varane didn't want to leave last summer because of Madrid's catastrophic end to last season. LaLiga was an impossible task and they were eliminated by Ajax in the Champions League and in the semi-finals of the Copa del Rey. He didn't want to leave in such a difficult moment and he contributed to the return of Zinedine Zidane.
The situation is one that can not be neglected with Sergio Ramos, 34, also on a contract that needs attention. Likewise, Nacho's future is not assured and Militao's performances have not been up to scratch. Teams might look at Varane, 29-year-old in 2022, arriving on a free as very appealing. He will not be short of offers.
In nine seasons at Madrid, Varane has won four Champions League, two league titles, one Copa del Rey, four Club World Cups, three European Super Cups and another three Spanish Super Cups. An incredible haul with the 2018 World Cup thrown in there too at international level.