Real Madrid: Jovic broke heel falling off wall in Belgrade
Serbian daily Kurir quoted sources close to the Real Madrid striker's family as saying Jovic injured himself at home in Belgrade and not in Madrid.
Real Madrid striker Luka Jovic broke his heel falling off a wall at home in Belgrade and not training in Madrid as initially reported, according to a report in local media. Quoting a source close to the Serbia international, Kurir stated that Jovic had suffered the injury while still in Belgrade and not after his return to Madrid on 4 May. "He really hurt himself!" the source is quoted as saying. "He fell off a wall, I don't really know how to explain it and I don't know how it happened. Basically, it was all just an accident."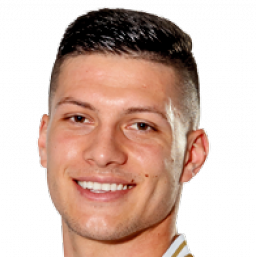 Jovic's father, Milan, also spoke to Kurir about his son's injury but although he concurred it happened in Belgrade, he said that Jovic had picked it up while training. "He's somewhat depressed and afraid" Jovic's father said. "It's a terrible blow. He was training every day in Belgrade and was feeling degrees of pain. Who could have known it would be something so serious?" 
Jovic linked with Real Madrid exit this summer
However, other sources close to Jovic told AS that the striker injured himself on 7 May while training at his home in Madrid. The club released a statement on Friday 8 May on Jovic's injury: "After the tests carried out today on our player Luka Jović by the Real Madrid Medical Services, he has been diagnosed with an extra-articular fracture in the calcaneus bone of his right foot. Pending evolution."
Jovic has found playing time in short supply since his €60m move to Madrid from Eintracht Frankfurt last summer with the 22-year-old scoring twice in 24 appearances. In recent weeks he has been linked with a move away from the Bernabéu amid reported interest from AC Milan.