Coronavirus summary: deaths, cases, news - 23 May
Coronavirus live global: latest Covid-19 news - Saturday 23 May
Mexico update
Mexican health authorities registered 3,329 new cases of the novel coronavirus in the country and 190 new deaths, a health official said on Saturday, via Reuters.
This brings the total number to 65,856 cases and 7,179 deaths.
Oxford's Covid-19 vaccine now "has 50% chance of success"
The University of Oxford's COVID-19 vaccine trial has only a 50% chance of success as the coronavirus seems to be fading rapidly in Britain, the professor co-leading the development of the vaccine told The Telegraph.
Adrian Hill, director of Oxford's Jenner Institute, which has teamed up with drugmaker AstraZeneca Plc to develop the vaccine, said that an upcoming trial, involving 10,000 volunteers, threatened to return "no result" due to low transmission of Covid-19 in the community.
"It's a race against the virus disappearing, and against time," Hill explained. "At the moment, there's a 50% chance that we get no result at all."
The experimental vaccine, known as ChAdOx1 nCoV-19, is one of the front-runners in the global race to provide protection against the new coronavirus causing the Covid-19 pandemic.
Palestinians report first coronavirus death in Gaza
A woman has died in Gaza Strip after contracting coronavirus, the Palestinian enclave's first known fatality from the global pandemic, the health ministry said on Saturday.
The Gaza health ministry described the fatality as a 77-year-old woman who had entered via the Egyptian border on 19 May and had been kept in quarantine since. She suffered from a prior chronic illness, the ministry said.
Gaza has reported only 55 coronavirus infection cases among its population of two million. Meanwhile, in the Israeli occupied West Bank, where Palestinians have limited self-rule, there have been two deaths and 423 cases.
Daily death toll under 50 in Spain
Spain's Health Ministry confirmed that 48 people had died of Covid-19 illness during the past 48 hours - the lowest daily figure since 16 March. The total number of fatalities related to Covid-19 in the country now stands at 28,678, with registered infections reaching 235,290.
The Madrid region, which has been worst hit in Spain by the crisis, reported 59 new hospitalizations of coronavirus patients, and seven admissions to intensive care units in the last day.
Japan expected to lift state of emergency on Monday
Japan's Prime Minister Shinzo Abe is expected to make a decision on whether to completely lift the emergency restrictions on Tokyo and Hokkaido at the start of next week. Restrictions may also be lifted in Kanagawa, Chiba and Saitama prefectures, the last remaining areas under lockdown measures among the country's 47 prefectures.
Clinical testing of Russian Covid-19 vaccine to start in early June
Clinical testing of the coronavirus vaccine being developed by Gamalei National Research Center for Epidemiology and Microbiology could get underway early next month, TASS report.
The vaccine, which has already been safely tested on apes, will be trialled on medical staff who have caught Covid-19 directly from patients. "If everything goes successfully, we should be able to file papers to the Ministry of Health to obtain permission for clinical testing of this vaccine," director Alexander Ginzburg explained.
Covid-19 cases in France continue decline
The number of people in hospital with coronavirus in France fell by 205 to 17,178 on Saturday, continuing a gradual decline that has lasted more than five weeks since a high of 32,292 on 14 April.
The number of people in intensive care fell by 36 or 2.1% to 1,665. France however, did not publish a revised number of deaths on Saturday and said the Covid-19 toll will be updated on Monday. As of Thursday, a total of 28,215 people had died from the virus.
Spain's coronavirus death toll climbs by 48
Spain's overnight death toll from Covid-19 rose by 48 on Saturday to a total of 28,678, the health ministry said. The number of diagnosed cases rose to 235,290 from 234,824 cases the previous day, the ministry added.
Thailand begins coronavirus vaccine trials on monkeys
Thailand has started testing a coronavirus vaccine on monkeys after gaining positive from trials on mice. Thailand's minister of higher education, science, and research and innovation, Suvit Maesincee, said researchers had moved testing of the vaccine to monkeys and hoped to have a 'clearer outcome' of its effectiveness by September.
Thailand announced on Wednesday that it was developing a vaccine - one of at least 100 potential vaccines being developed worldwide - and hoped to have it into production by next year. The Thai vaccine uses messenger RNA, which prompts body cells to produce antigens, molecules on the surface of viruses, that spur the immune system into action. It is being developed by the National Vaccine Institute, the Department of Medical Science and Chulalongkorn University's vaccine research centre.
Health workers in Kuala Lumpur, Malaysia, get a swab from a woman in a makeshift centre tent set up in the Kuala Lumpur Hospital parking lot, amid the coronavirus pandemic (Photo by: REUTERS/Lim Huey Teng)
Brazil cases continue to rise
The number of coronavirus cases in Brazil has now exceeded 330,000, making the South American country the second-worst affected nation in the world.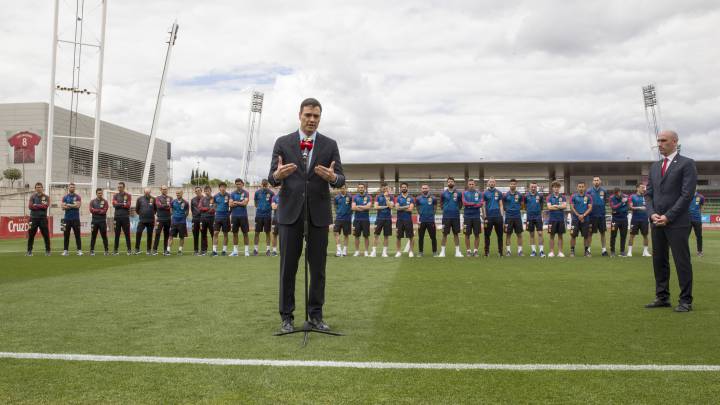 UK politician under fire for lockdown breach
The UK government has been accused of attempting to cover up a lockdown defying breach made by Dominic Cummings, an adviser to Prime Minister Boris Johnson
Disruption to global immunization system could delay Covid-19 vaccinations
(Reuters) Massive disruptions to global immunisation programmes from the Covid-19 pandemic have health experts fearful that much of the developing world will not be able to get a vaccine for the new coronavirus, even once one is ready.
U.N. agencies and the GAVI vaccine alliance said on Friday that 80 million children in at least 68 countries may be at risk of diphtheria, measles and polio because routine immunisation efforts have been thrown into disarray by travel restrictions, delivery delays, and parents' fear of leaving home.
If these continue to disrupt programmes, GAVI chief executive Seth Berkley said, much of the world may also be unprepared to administer vaccines against Covid-19 being developed by more than 100 projects worldwide.
Japanese schools to reopen
The Japanese Education Ministry has issued guidelines for the reopening of schools, including a two-metre distance between pupils.
Brazil cases surge
Brazil has now registered the second-highest number of coronavirus cases worldwide, according to WHO figures.
Dr Fauci's day
The public face of the White House's coronavirus task force has given an interview laying out what his typical day consists of during the Covid-19 crisis.
UK to impose 14-day quarantine for international arrivals from June 8
Britain will introduce a 14-day quarantine for almost all international travellers from June 8, interior minister Priti Patel said on Friday, with anyone breaking the rules facing a 1,000 pound ($1,218) fine.
The government said there would be some exemptions, including road haulage and freight workers, medical professionals travelling to help with the fight against the coronavirus and those coming from Ireland.
"Now we are past the peak of this virus, we must take steps to guard against imported cases triggering a resurgence of this deadly disease," Patel said at the government's daily news conference.
Brazil jumps to world No. 2 in coronavirus cases, behind the U.S.
Brazil became the world No. 2 hotspot for coronavirus cases on Friday, second only to the United States, after it confirmed that 330,890 people had been infected by the virus, overtaking Russia, the Health Ministry said.
Brazil registered 1,001 daily coronavirus deaths on Friday, taking total deaths to 21,048, according to the Health Ministry.
In Sao Paulo, the worst hit city, aerial video showed rows of open plots at the Formosa Cemetery as it rushed to keep up with demand.
Far-right President Jair Bolsonaro has been widely criticized for his handling of the outbreak and is at the center too of a deepening political crisis.
Coronavirus live coverage: welcome
Hello and welcome to our global coverage of the Covid-19 pandemic, which has now registered over five million cases worldwide.
Join us for the latest news and numbers as they emerge throughout the course of the day.