Which U.S. states are still enforcing travel resrtrictions and self-quarantine?
While many states have either rescinded or never imposed travel restrictions, there quite a few still enforcing quarantine measures on out-of-state travellers and returning residents.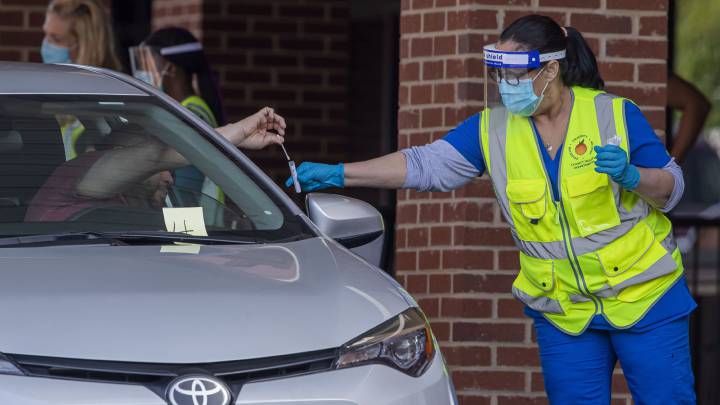 On Wednesday, New York, Connecticut and New Jersey announced that travelers arriving from states with high coronavirus rates will be required to self-quarantine for 14 days.
The travel advisory applies to anyone coming from a state with a positive test rate higher than 10 per 100,000 residents over a 7-day rolling average or a state with a 10% or higher positivity rate over a seven-day rolling average, according to a joint-state announcement.
As it stands travelers from eight states would be required to quarantine for 14 days upon arrival in the tri-state area: Alabama, Arizona, Arkansas, Florida, North Carolina, South Carolina, Texas and Utah.
New York, Connecticut and New Jersey join the list of states that have imposed travel restrictions and quarantine measures. And while many states have either rescinded or never imposed restrictions, several states still have measures in place. Below is a list of those states that are still enforcing restrictions on out-of-state travelers or returning residents.
Follow our live coverage of U.S. coronavirus news and reaction.
Alaska
Travelers to Alaska must quarantine for 14 days unless they can present upon arrival a negative COVID-19 PCR test taken within the last 72 hours.
Florida
Visitors from Connecticut, New York, and New Jersey must quarantine for 14 days.
Hawaii
Like Alaska, Hawaii will allow out-of-state travelers to avoid quarantine if they can present a recent negative COVID-19 test, with the measure coming into effect on August 1. Travelers who cannot present a negative test will need to quarantine for 14 days.
Idaho
While the state has removed the requirement for out-of-state visitors to quarantine for 14 days, Governor Brad Little is still encouraging those individuals to do so.
Kansas
The Kansas Department of Health and Environment updated its list of states with widespread community transmission to include Alabama, Arizona, and Arkansas. Kansas residents who have traveled to those states will need to self-quarantine for 14 days. The list already includes Maryland, Colorado, Louisiana, New Jersey, Illinois, Florida, California and Washington.
Massachusetts
Since March 27, all people, except essential workers, traveling to Massachusetts have been directed to self-quarantine for two weeks.  
Nevada
Since March 31, out-of-state visitors have been advised to self-quarantine for 14 days, however the travel advisory issued by the state government has not been made law.
New Mexico
As of June 1, New Mexico has lifted the quarantine requirement for some business-related travelers. However, other travelers are still required to quarantine.
North Dakota
All visitors from states classified by the Centers for Disease Control and Prevention as having widespread COVID-19 outbreak are required to self-quarantine.
Utah
Travelers entering Utah must complete a travel declaration within three hours of entering the state. The form includes questions related to COVID-19 symptoms and travel history.
Vermont
Vermont requires all state visitors to self quarantine, except from counties across New England with similar COVID-19 caseloads to Vermont starting June 8.
Virginia
As of May 4, 2020, all visitors or residents who have traveled internationally, or on a cruise ship or river boat, or to an area of the U.S. with high rates of community spread, must self-quarantine for 14 days.